Latest 'When Calls The Heart' Season 6 News: Creator Brian Bird Shares Update
April 7 will be another "When Calls the Heart"-less Sunday.
The Hallmark Channel period drama has been on hiatus for the last few weeks as creatives work to change up the unaired Season 6 episodes after Lori Loughlin's (Abigail) exit from the series.
There hasn't been much news about the future of the show, only that it hasn't been canceled and will return with new episodes soon. Hallmark has not yet shared whether the character of Abigail will be recast or cut out completely and what, if any, reshoots need to be done.
Jack Wagner (Bill Avery) recently posted to Instagram about returning to Vancouver, which is where "When Calls the Heart" is filmed, and he tagged the show in the comments and included the "hearties" hashtag. It's unclear, though, if he's in the area to redo scenes for the show or just there to film his new Hallmark movie, "Wedding March 5," which is set to begin production on Monday, according to Creative BC.
Hallmark had no comment when International Business Times reached out about Wagner possibly filming new scenes for "WCTH."
The show's return date has also not yet been revealed. But, apparently, the network and the show's co-creator, Brian Bird, do already know the date themselves.
One Twitter user asked Bird last week if he's aware of when "When Calls the Heart" Season 6 will come back, and he simply replied, "Yes, but I guess you'll just have to wait along with the rest of the #Hearties until we're ready to announce it."
Just a couple of days later, he spent April Fool's Day teasing Hearties with a new photo of the Hope Valley set, along with a note thanking them for their patience during the show's hiatus.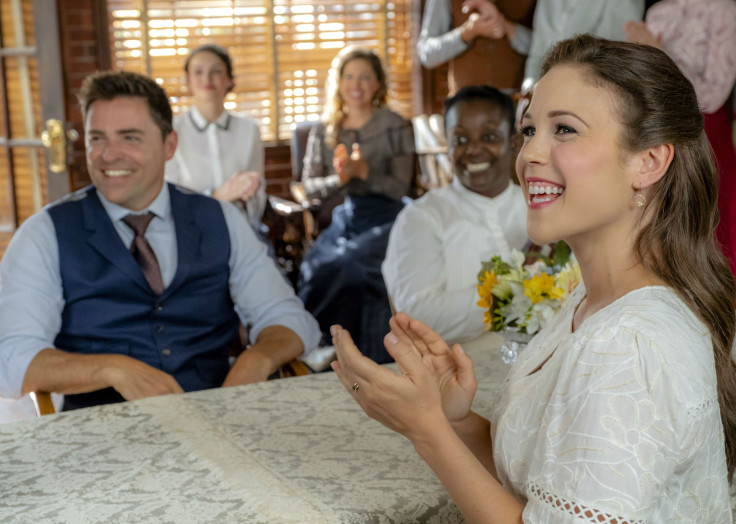 "When Spring brings hope, #Hearties. What Hope Valley looked like at the crack of dawn today," Bird tweeted. "Thanks for your continuing patience and never lose heart. Keep watching and waiting for news of the return of Season 6 of @WCTH_TV on @hallmarkchannel and @SCHeartHome."
Bird isn't the only one from the "When Calls the Heart" team to reach out to Hearties this week. Paul Greene (Dr. Carson Shepherd) let fans know on Twitter he appreciates all of their "support and commitment" and that the cast, crew and fans will "get through this all together."
"We are all excited to get back to Hope Valley soon," he ended the tweet.
Seconding his comment, the other half of Team Infirmary, Andrea Brooks (Faith Carter), shared Greene's tweet with her followers and added a couple heart emojis to it.
While an official air date for Season 6, episode 4 of "When Calls the Heart" has not yet been revealed, Hearties should at least feel a bit more at ease knowing that a date has been set and that Bird will announce it as soon as he's given the go-ahead.
© Copyright IBTimes 2023. All rights reserved.