LeBron 61 Points: Heat Star's Career High Is Just One Point Short Of Carmelo Anthony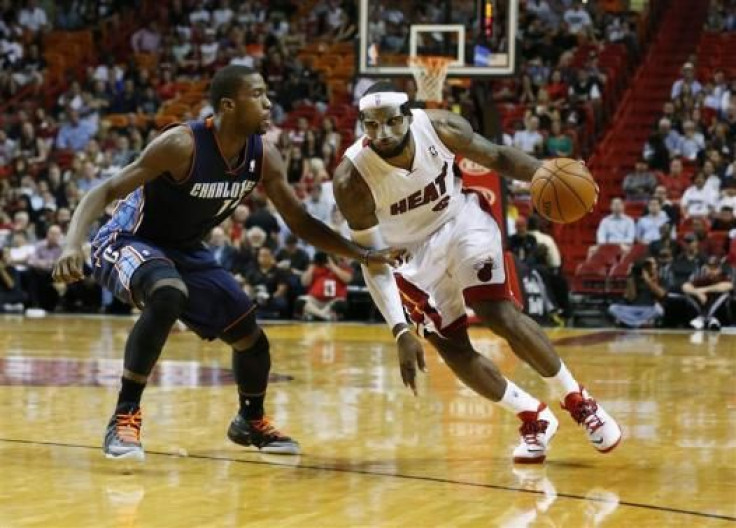 Maybe it's the mask that made him act like a superhero, but whatever it was, LeBron James proved he is not ready to concede the regular-season MVP award just yet.
On Monday night at AmericanAirlines Arena, James dazzled home fans with a career high 61 points to lead the Miami Heat over the Charlotte Bobcats, 124-107. The crowd gave James a lengthy ovation for his superb performance, which included seven rebounds and five assists.
The win lifted the Heat to a 43-14 record, and kept Miami within two games of the Indiana Pacers, who lead the Eastern Conference with a 46-13 record.
James converted 22 of his 33 shots from the field, which included eight three-pointers on 10 attempts.
"I felt pretty good in the first half but halftime can always kind of derail things and slow things up," James said, who wore a clear mask after donning a dark one last week. "But I was able to get things going once again in the third quarter and I knew it could be one of those nights."
"There was an efficiency to what he was doing," said Heat coach Erik Spoelstra. "The rim looked like an ocean for him."
James, who is engaged in an MVP duel with the Oklahoma City Thunder's high-volume scorer Kevin Durant, was one point shy of the league high this season. On Jan. 24, the Bobcats were victimized by New York Knicks star Carmelo Anthony, who scored 62 points on 23-of-35 shooting.
Before his outburst on Monday, James's season high was 42 points, which occured just less than two weeks earlier. On Feb. 18, James made 16-of-23 shots on the road against the Dallas Mavericks.
Durant still leads the league in scoring (31.6 points), followed by Anthony (28.0) and then James (26.9).
© Copyright IBTimes 2023. All rights reserved.