LeBron James Injury: 2014 NBA Finals Has Heat In Danger Of Dropping Both Games In San Antonio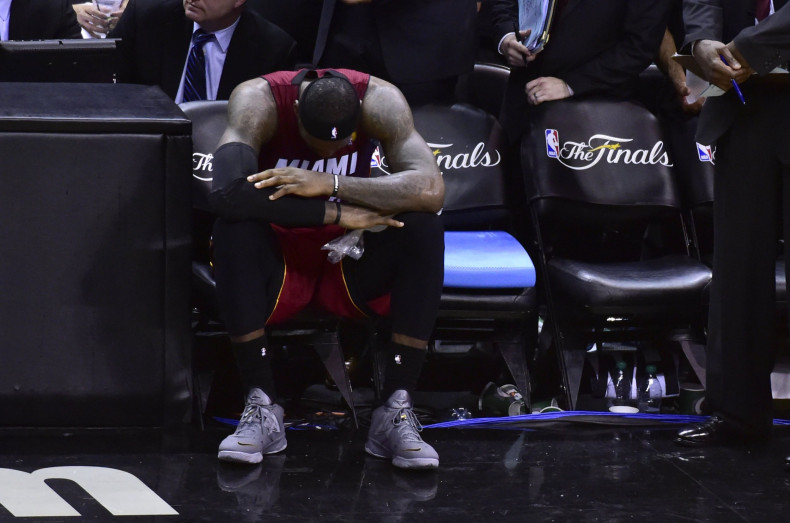 Cringing in pain and frustration, LeBron James limped off the court with a leg cramp as the Miami Heat fell to the San Antonio Spurs in Game One of the 2014 NBA Finals on Thursday night.
With 7:31 left in the fourth quarter, James asked out of the contest. After he went to the bench, the Spurs went on a 26-9 run to close out the contest. James did return for one offensive possession, but couldn't walk after scoring a layup. He was taken out again and never returned.
The injury was serious enough that James headed to the locker room, before the game ended. He received an IV in the training room and was unable to attend the post-game press conference.
Prior to James's injury, Miami appeared to have control over the game. San Antonio was playing sloppy basketball, finishing the contest with 22 turnovers. Once James left the floor, the Spurs looked like a completely different team.
Miami can surely recover from a loss in the series opener. They lost Game One of the Eastern Conference finals, as well as Game One of last year's NBA Finals against San Antonio. Still, the Heat let a golden opportunity slip away. The Spurs are a dominant home team, having now won eight straight home playoff games by at least 15 points. The Heat don't have home-court advantage, and may not get a similar chance to steal a game in San Antonio for the rest of the series.
The Spurs are in a very good position, following their win. They survived what could end up being their worst third quarter of the series, and Tony Parker looked fine, despite suffering an ankle injury last week.
Miami fell apart when James went out. If the four-time MVP finds himself in foul trouble in Game Two, the Heat could suffer a similar fate.
The Heat began the series as the favorite to win the championship, but that is no longer the case. Sportsbook.ag has made Miami a +175 underdog, following their Game One loss.
James's injury isn't likely to affect him for the rest of the series. The air conditioner at the AT&T Center did not work during the game, which contributed to the All-Star's ailment. James should be able to avoid a similar problem, though he does have a history of suffering from cramps.
In Game Four of the 2012 NBA Finals, cramps forced him to leave in the fourth quarter against the Oklahoma City Thunder. Miami went on to win that game and the series.