Lizzie Borden Journals: Will Lawyer's Notes Reveal Truth About Murder Case?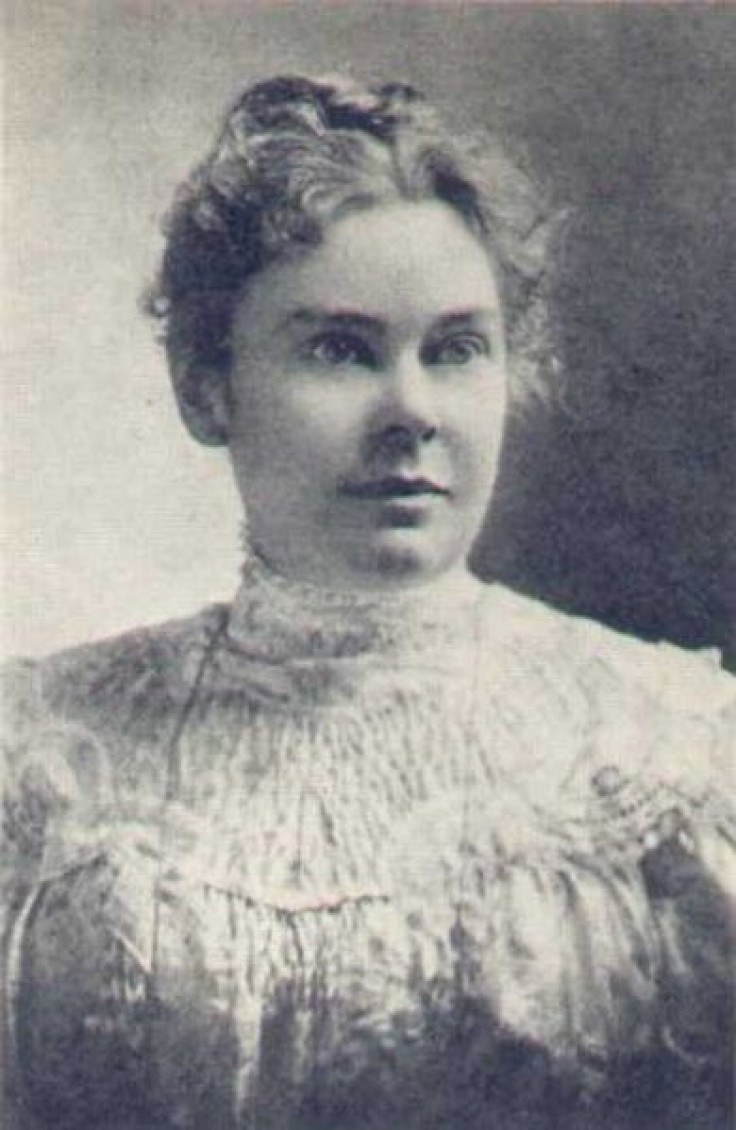 Lizzie Borden, a quiet Sunday school teacher who became notorious after being charged in the murders of her father and stepmother, is back in the spotlight 120 years later, thanks to the discovery of her lawyer's handwritten journals.
Borden, then 32, was found innocent of the deaths of Andrew and Abby Borden after her trial in 1892.
The bloody circumstances of the case, however (her father and stepmother were butchered with a handless hatchet in their home), rumors that Andrew Borden was a cruel and misery father estranged from his daughter, and the fact that no one was ever convicted of the murders, all combined to paint Lizzie Borden in the worst light possible.
Many generations later, Borden's legacy has been cemented with a disturbing children's rhyme: Lizzie Borden took an axe/and gave her mother forty whacks/and when she saw what she had done/she gave her father forty-one.
That legacy, however, may be about to change. Lizzie Borden's lawyer, Andrew Jackson Jennings, kept a meticulous record of both his preparations for the trial and never-before-seen letters and testimony to be used for the defense.
After having been passed down for generations, the two leather-bound diaries were donated by Jackson's grandson, Edward Waring, to the Fall River Historical Society in Fall River, Mass.
And based on the excerpts revealed by curator Michael Martins, some of the details recorded in the journals are sure to change how people view Lizzie Borden, and her murder case, forever.
'Legend, innuendo and outright lies.'
It's all new material, compeltely unpublished, Martins gushed to the Boston Globe. It's the only file Jennings retained, and it's the first idea we have about how the defense went about building its case.
Edward Waring made the decision to keep his grandfather's journals private until his death because he feared that Jennings, who had bad handwriting, might be misquoted by historians and the press.
The lawyer's diaries including newspaper clippings with his notes, lists of people who were interviewed for the defense, Jennings' own observations in the case, and support letters between Lizzie Borden and her father Andrew published in 2011 by Martins and fellow curator Dennis A. Binette in a book called Parallel Lives.
Those looking for a smoking gun in the actual Borden murders are likely to be disappointed in Martins' find. But for those looking for the truth behind the picture of Lizzie Borden as a cold-hearted, brutal axe-murdress, Jennings' journals provide much insight.
Most of what is known about Lizzie Borden is based on legend, innuendo and outright lies, Martins said. Fact has been suppressed by fiction, and the fiction is much more interesting to a lot of people.
Relationship With Father Is 'New Side To The Story'
Jennings' journals about the Lizzie Borden case are very fragile. Martins has been unable to read them in their entirety yet, and won't be on display at the Fall River Historical Society until they are properly preserved.
Martins has, however, revealed some excerpts from the journals already, including support for his previous contention, outlined in Parallel Lives, that Lizzie and Andrew Borden, far from being estranged, were actually quite close.
Borden's father has become almost as infamous as his daughter over the past 120 years. Local legend paints him as a cruel man who kept his two daughters in near-poverty and was estranged from Lizzie just before he died.
Circumstantial evidence, like the fact that Borden attempted to buy cyanide the day before the murders and burned several dresses that had paint on them after the fact, convinced many that Andrew's daughter had butchered her father and stepmother both to seek revenge and to get her father's money.
Jennings' journals paint a very different story.
You have to create villains in order to justify the murders, and Andrew Borden is portrayed as evil, Martins told ABC News. But he gave his daughters a lot more than some other fathers were giving theirs.
Far from living in a small flat with no heat and little food, Martins asserts that Borden's house was one of the first to have running water in Fall River, Mass. It had heat and flush toilets, and both Broden's daughters plently of space, clothing and food.
Many of the townspeople, including one of Lizzie's friends, told Jennings that his client had a very well-stocked bank account, and had little financial motive to kill her father.
Borden's lawyer's notes also show that he interviewed people who knew the Borden family well, and so could comment on Andrew Borden's relationship both with Lizzie and her sister, Emma.
According to them, Andrew Borden was not estranged from his daughter at all. In fact, the pair of them were very close, and one man Jennings interviewed described how Lizzie's father was always happy to receive letters from her when she was traveling.
These are assertions supported by the letters published in Parallel Lives, and which Martins hopes will show those interested in Borden's story that most of the accepted fact is wrong, and we know it's wrongwhen it comes to the Borden murder case.
Lizzie Borden cared for her father very deeply, Martins told ABC News. There was a tremendous outpouring of grief in the letters, and that's a new side to the story.
Evidence in the Borden Case
When it comes to the Lizzie Borden murder case, however, it's unlikely that the story of the quiet librarian turned brutal killer will ever fade from public memory.
Assertions that Andrew Borden had upset his daughters by dividing his property among other relatives, that he did things like chop the heads off of pigeons his daughter cared for, and that Lizzie had fallen out with her stepmother to the point of only calling her Mrs. Borden all continue to hold currency with sensationalists.
The home where Andrew and Abby Borden were murdered, meanwhile, is now the Lizzie Borden Bed and Breakfast Museum, holding tours and serving guests under the slogan, Where we treat everyone like family.
Books have been published on several more unorthodox angles in the case, including the possibility of a relationship between Borden and the maid, Bridget Sullivan. Lizzie Borden has also been the subject of numerous films, TV shows, docudramas, ballets and plays.
For those still fascinated by this more fantastical view of the Borden case, Jennings' journals should give enough new information to pique readers' interests.
When the murder trial ended, much of the evidence was given over to Jennings, eventually donated to museums in the 1960s by his daughter Marion Jennings Waring.
During the trial, however, he documented each item of evidence meticulously, giving some of the most detailed accounts on record of such grisly memorabilia as bloodstained pillows and the infamous handless hatchet.
The discovery of these two leather-bound journals will doubtless reopen interest in the case of a woman some passionately defend and some revile, a woman who found herself a notorious figure after her murder trial and ended up living in a mansion with her sister after it, using her new-found fame to generate income and entertain celebrity guests.
The Fall River Historical Society is located at 451 Rock Street in Fall River, Mass. It is currently closed for the season, and will reopen on May 1, 2012.
FOR FREE to continue reading
✔️ Unlock the full content of International Business Times UK for free
offer available for a limited time only
✔️ Easily manage your Newsletters subscriptions and save your favourite articles
✔️ No payment method required
Already have an account?
Log in
© Copyright IBTimes 2023. All rights reserved.