Marjorie Taylor Greene Ally Tells Different Story On Capitol Mob: 'It Was Not Antifa'
Rep. Marjorie Taylor Greene, the controversial Georgia Republican, has been among those who have spread false claims the Nov. 3 election was stolen from former President Donald Trump. She has also claimed left-wing radicals were responsible for the Jan. 6 attack on the Capitol.
But a close ally of Greene's tells a different story.
In a video posted on Jan. 7, Anthony Aguero says there was no Antifa presence in the crowd, according to CNN.
"We were all there," the conservative social media personality and activist said in the video. "It was not Antifa and it was not BLM [Black Lives Matter]. It was Trump supporters that did that...I'm the first to admit it, being one myself...I walked amongst those people."
Greene and Aguero have been linked on issues such as immigration and the border wall and have attended political events together.
Aguero also reportedly live-streamed a video as he left the Capitol on Jan. 6.
"A message was sent," Aguero said. "These politicians are not going to continue to get away with the abuse as they've been doing. We will continue to press on these individuals."
"Guys, I was able to make it inside the chambers and I have footage that I'm going to provide for you guys as we made our way in there," he continued.
The day after the attack, Aguero blasted Republicans for attempting to distance themselves from the violence.
"Now you have people on the right acting like they're holier than thou, holier than holy," Aguero said in a video. "'Oh, I'm appalled. I don't condone this.' What the hell do you expect conservatives to do? Do you want us to continue to sit there? Complacent, continue to take the higher route and keep getting [expletive] in the [expletive]...I'm sick and tired of the hypocrisy."
Aguero told CNN that the videos he uploaded were not his and were screen recordings from other people's posts. The outlet noted he does appear on camera in two of the videos and can be heard speaking in others. He did confirm he was at the Capitol on Jan. 6.
The FBI had no comment on whether Aguero was among those under investigation for criminal activity related to the insurrection.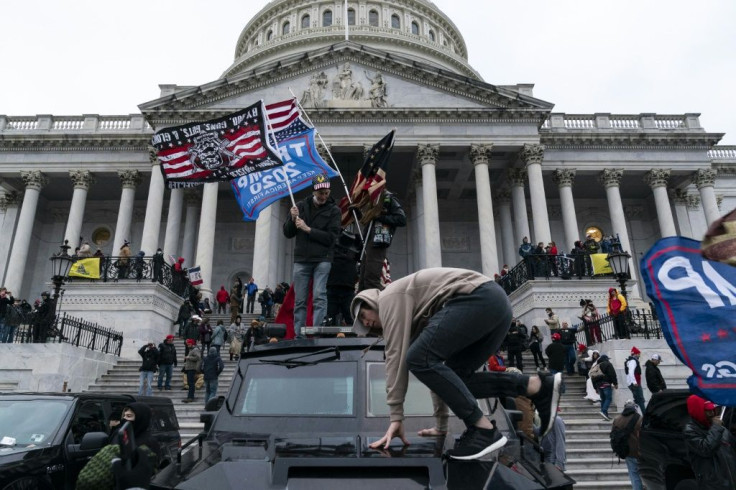 © Copyright IBTimes 2023. All rights reserved.