McConnell Slams Marjorie Taylor Greene For 'Loony Lies', GOP Rep. Kinzinger Wants Her Ousted
KEY POINTS
McConnell issued scathing remarks about Greene
House Democrats are moving to strip Greene of her committee assignments
Kinzinger said he supports the ousting of Greene
Senate Minority Leader Mitch McConnell on Monday slammed Rep. Marjorie Taylor Greene, R-Ga., for her "loony lies and conspiracy theories."
McConnell issued a three-sentence statement first shared with The Hill in which he referred to some of the disturbing conspiracy theories Green has touted. While he never directly named Greene, there's no doubt McConnell, R-Ky., was referring to the freshman lawmaker when he called her a "cancer for the Republican Party."
"Loony lies and conspiracy theories are cancer for the Republican Party and our country," McConnell said. "Somebody who's suggested that perhaps no airplane hit the Pentagon on 9/11, that horrifying school shootings were pre-staged, and that the Clintons crashed JFK Jr.'s airplane is not living in reality. This has nothing to do with the challenges facing American families or the robust debates on substance that can strengthen our party."
Greene delivered a scathing response to McConnell's comments. "The real cancer for the Republican Party is weak Republicans who only know how to lose gracefully. This is why we are losing our country," she wrote on Twitter.
House Democrats are laying the groundwork to strip the Georgia representative of her committee assignments, if House Minority Leader Kevin McCarthy doesn't oust her first.
Meanwhile, the House Rules Committee is scheduled to meet Wednesday to pass a resolution that would remove Greene from the Education and Labor Committee as well as the Budget Committee.
Some Republicans said they doubt McCarthy would remove Greene, as she still has the support of former President Donald Trump. However, other GOP members, including Rep. Adam Kinzinger of Illinois, support the resolution.
"Of course she should be removed. While we can't prevent her from calling herself a Republican, we can take a stand, and need to," Kinzinger told The Hill.
Greene, who represents Georgia's 14th Congressional District, has posted what many consider to be despicable far-right conspiracy theories on her social media pages. She was one of at least a dozen GOP congressional candidates who voiced support for QAnon, which spews the theory that Trump is battling a shadowy cabal of Democratic pedophiles.
On Jan. 26, it was revealed that Greene had indicated her support for the execution of top Democratic leaders before she was elected to the House of Representatives. Greene liked a post that said "a bullet to the head would be quicker" to remove Speaker Nancy Pelosi.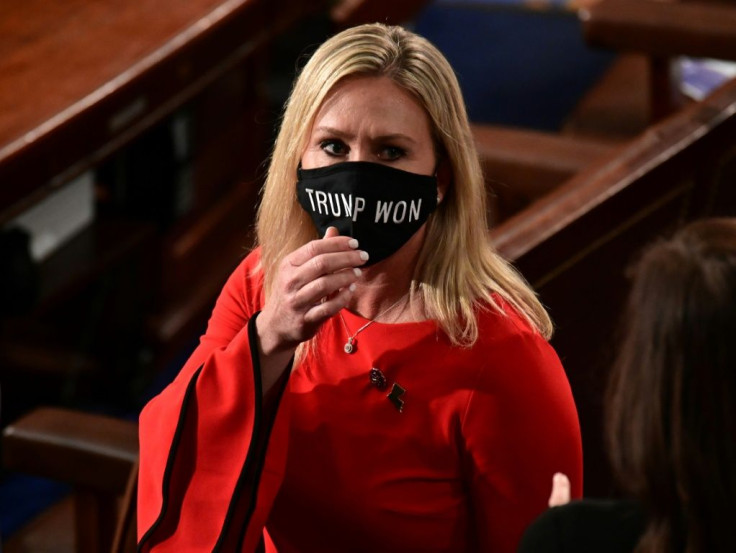 © Copyright IBTimes 2022. All rights reserved.
FOLLOW MORE IBT NEWS ON THE BELOW CHANNELS