'Married At First Sight: The First Year' Spoilers: Jamie Wants Babies But Does Doug Agree? Watch 2 New Sneak Peek Videos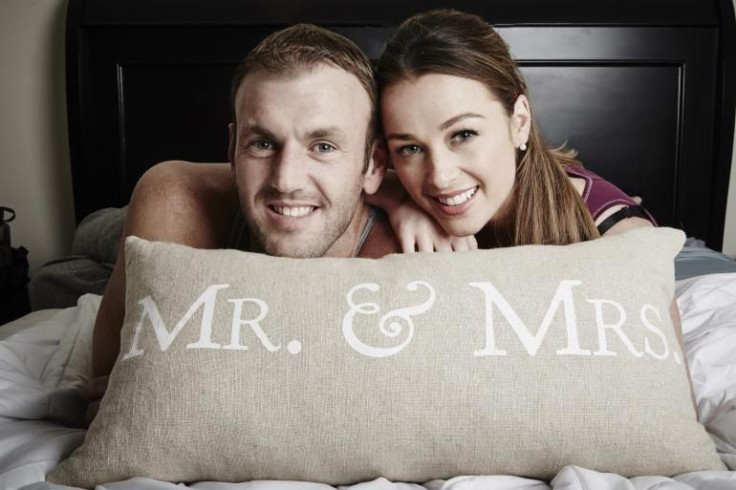 "Married at First Sight" fans can rejoice: the spinoff "Married at First Sight: The First Year" is almost here, and the first sneak peeks are out. The videos of the premiere show the couples in the middle of their first year of marriage. Jamie Otis and Doug Hehner as well as Cortney Hendrix and Jason Carrion were married the first time they met based on the recommendations of a team of experts. After a month of marriage, they determined that they wanted to continue and make it work. But the sneak peek videos show that they'll face many struggles during the first year.
Sneak Peek No. 1
Jason is working on his training at the fire academy, which takes up most of his time. However, things are about to get more stressful when he learns that Cortney has lost her job.
"I'm being, like, nicely let go from my job," Cortney tells a friend. "I haven't told Jason about the whole work thing yet."
Cortney fears her unemployment will definitely affect their marriage. "With Jason being in the academy, the last thing we need is for me to lose my job, and it's going to hurt our relationship," she reveals.
While Cortney worries about the future of her marriage, it seems Jamie is ready to take the next step with Doug. As previously reported, Jamie is ready to become a mother. "I am ready to have babies and do it with someone who is as excited about it as I am," Jamie says.
Doug isn't quite as ready for fatherhood. "I don't think that bringing a child into our lives would really help the relationship at all," Doug tells the cameras.
Watch the sneak peek of the premiere of "Married At First Sight: The First Year" below:
Sneak Peek No. 2
Doug might want Jamie to work out the issues she has with her own mother before considering motherhood. In another clip, Jamie invites her mom to dinner with her siblings, and she wasn't even sure that she would show up. She apparently hasn't seen her in some time. She explains that her mother's absence led to her becoming the guardian of two of her siblings when she was 20 years old.
"I wanted to be so happy and so excited that she's there, and really I'm just not and, you know, it's difficult," Jamie says.
One of Jamie's sisters mentions sleeping over at Doug and Jamie's new place. "Hopefully we have furniture for you guys to crash on," Doug says.
"It's okay," her sister says. "It's not like we haven't lived without furniture before."
Jamie's mother tries to talk to the family, but Jamie isn't really happy about it. "Don't act as if you've always been there for us and you know us oh so well, because you don't," she says to the camera.
She knows her mother is making an effort, but it makes Jamie angry. "My mom is trying. Like, it breaks my heart 'cause – but I'm so negative," Jamie says as she starts crying.
Watch the "Married at First Sight: The First Year" sneak peek on the official Facebook page.
"Married at First Sight: The First Year" premieres Tuesday, Jan. 13, at 9 p.m. EST on FYI. Which couple do you think will have an easier first year? Sound off in the comments section below!
© Copyright IBTimes 2023. All rights reserved.