Measles: Authorities Warn Of Potential Exposure At Seattle Airport, Another Site
KEY POINTS
A measles case was confirmed in a King County resident
The woman was at the two sites while infectious with measles
Those who may have been exposed to the infection should check their vaccination status
Health authorities in Washington are warning of potential measles exposure at two sites – one at the Seattle airport and another at a hospital.
Public Health-Seattle & King County confirmed officials are investigating a confirmed measles case in a woman. The patient, who was said to be a resident of King County, happened to be at Seattle-Tacoma International Airport and Providence Swedish First Hill hospital while infectious before she was diagnosed with measles.
Those who were at the airport's South Satellite (Gate B6) to the baggage claim (Carousel 04) from "12.26 p.m. - 3.00 p.m." on Jan. 18, or at Providence Swedish First Hill's emergency room from "2.00 p.m. – 4.55 p.m." on Jan. 20 could have been exposed to the infection.
The advisory included the time the woman was in these areas, as well as two hours after that. This was because the measles virus can live in the air for up to two hours even after the infectious person has already left.
"If you were at the locations at the times listed above and are not immune to measles, the most likely time you would become sick would be between 1/25/2023 – 2/10/2023," authorities warned.
The patient was reportedly unvaccinated and likely contracted the infection outside the U.S. As the Centers for Disease Control and Prevention (CDC) explained, measles cases in the U.S. tend to originate from international travel. This is why people travelling internationally are advised to get fully vaccinated before leaving "regardless of their destination."
Those who may have been exposed to the virus are being advised to find out their measles vaccination status. Some, particularly those at higher risk for developing measles complications, should contact their healthcare provider to find out if they can get vaccinated after the exposure, authorities suggested.
People who develop an "illness with fever or with an unexplained rash" after the potential exposure should contact their healthcare provider. One should call first before going to the clinic to avoid exposing others to measles.
So far, the risk to general public is said to be "low," according to Public Health - Seattle & King County. This is because "most people" in the community have immunity to measles.
"(T)he measles vaccine is very effective," said Dr. Eric Chow, the communicable disease chief for Public Health – Seattle & King County. "Two doses of measles, mumps and rubella (MMR) vaccine provides about 97% protection against getting infected by measles and that protection lasts a lifetime."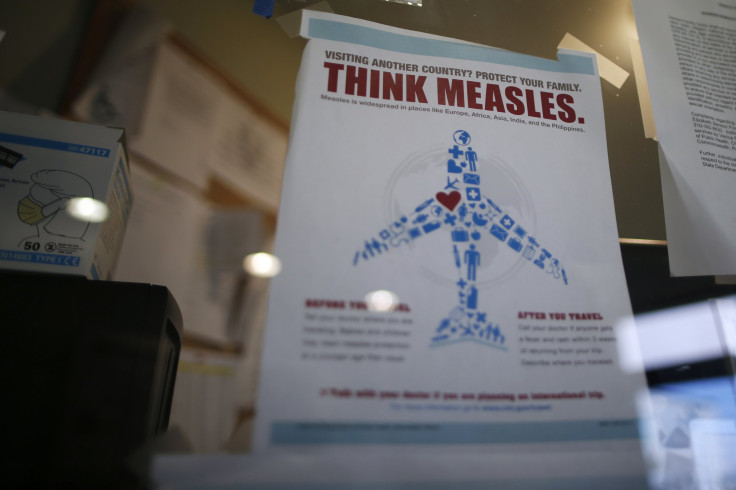 © Copyright IBTimes 2023. All rights reserved.