Is Meghan Markle Allowing Prince Harry To Mess Up Amid Tension In Marriage Rumors? Experts Speak Up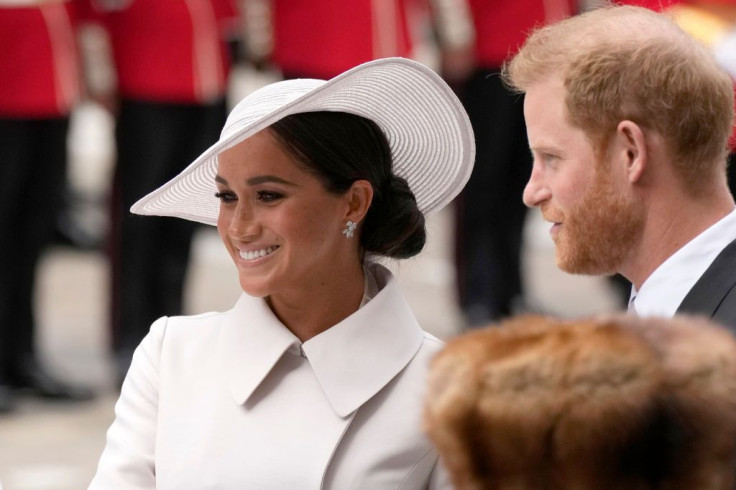 KEY POINTS
Lee Cohen claimed Meghan Markle didn't intervene with Prince Harry's whereabouts due to marital strife
Cohen also speculated that Markle had probably extracted all she could from the U.K. and Prince Harry
Charlotte Griffiths argued and said Markle had probably helped her husband, but it didn't work well
Meghan Markle has been silent amid Prince Harry's legal battle with the press, and royal experts have mixed opinions about the matter.
Broadcaster and journalist Rebecca Twomey, former Congressional staffer for the Foreign Affairs Committee and columnist Lee Cohen, and Mail on Sunday editor-at-large Charlotte Griffiths joined Dan Wootton in a recent episode of "GB News." In their conversation, Wootton asked the panel their take on Markle seemingly keeping quiet amid her husband's battle with the press.
Cohen agreed that Markle should have helped her husband. He mentioned the rumored tension in the Duke and Duchess of Sussex's marriage, which could explain Markle's move not to intervene with her husband's whereabouts.
"Just when you think Harry has burned every bridge, every boat and he outdoes himself. And normally, a spouse, particularly a media-savvy celebrity like Meghan Markle, one would expect her to be protective of her husband, but perhaps there are some other things at foot," Cohen said. "Perhaps, even, dare I suggest what Lady Colin Campbell and the duchess' sister Samantha Markle have suggested that perhaps there is tension in the marriage, particularly post-born coronation."
Aside from the rumors of marital strife, Cohen speculated that maybe the "Suits" actress was done with her husband because she had already "extracted" all she could from him.
"Perhaps, Meghan feels that she's extracted all of the benefits from the royal family that she can, extracted all the benefits from her husband's country, the United Kingdom, that she can, and even perhaps extracted all the benefits from her husband himself," Lee added.
Wootton asked Griffiths what she had heard about the Duke and Duchess of Sussex's relationship. The TV presenter also wondered if it was a factor why Markle seemingly allowed her spouse to "make a fool [of] himself on a grand scale."
Unlike Cohen, Griffiths believed Markle was helping her husband in the background. Unfortunately, her tactic didn't work.
"Well, I'm hearing the same rumors as you are, which is that there is a very unusual amount of distance between them at the moment. But I hate to tell you this, I think that Meghan is behind some of these clangers lately," Griffiths claimed before briefly mentioning the paparazzi car chase in New York that raised several eyebrows.
The Duke and Duchess of Sussex flew to the Big Apple, where Markle was among the honorees of Gloria Steinem's Women of Vision Awards.
A day after the event, their rep released a statement saying they were involved in a "near catastrophic" car char with "aggressive paparazzi" for "over two hours." Several didn't believe the announcement, with one photographer on the scene calling the Sussex's account "crazy hyperbole."
"I think what we're seeing is the intervention," Griffiths continued. "Yeah, this is Meghan helping Harry not to make a fool of himself. Unfortunately, it's obviously gone very badly wrong and you know, her advisors, her new team of U.S. advisors, are very much behind his actions lately."
She continued, "Even if they are having difficulties in their marriage, they are still married, and she is still very much the leader of Team Sussex, always has them right from the very beginning, and, you know, I think this is the intervention. I just don't think it's going very well."
International Business Times could not independently verify the claims.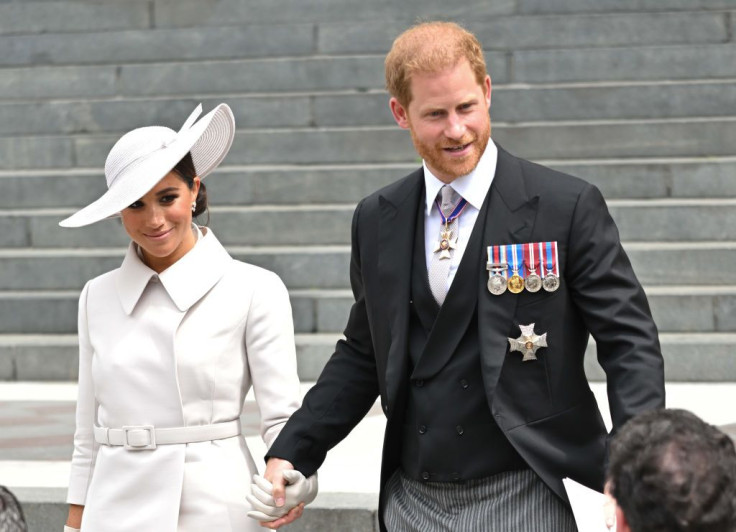 © Copyright IBTimes 2023. All rights reserved.