Meghan Markle, Camilla's Hand Holding 'Clumsy' But 'Genuine,' Promises 'Change', Expert Says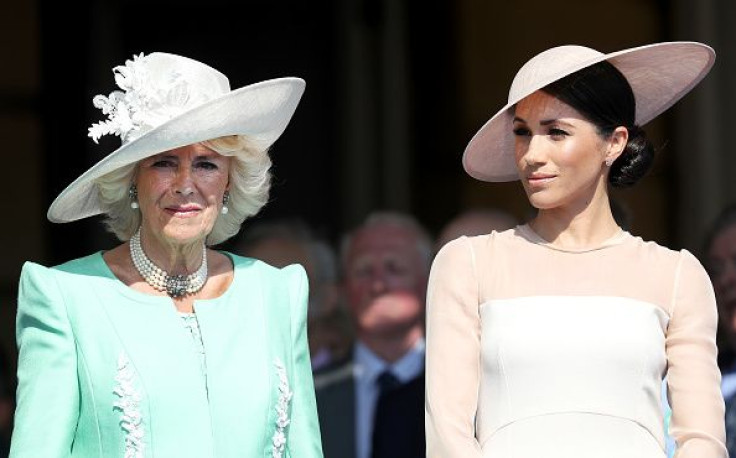 Meghan Markle and Camilla Parker-Bowles' hand holding is genuine.
On Tuesday, the Duke and Duchess of Sussex attended Prince Charles' garden party. Camilla was also present during the event, and during their meet and greet, the royal and Markle held each other's hands.
According to body language expert Judi James, their affection was clumsy but genuine and proved that Markle is bringing change to the royal family. "Camilla and Meghan perform elongated touch here in the way that close relatives will often do to single themselves out from mere social acquaintances," James told Express. "The whole gesture is clumsy but that reflects the newness of it."
"Camilla goes for the usual polite touch but Meghan's tactile warmth adds an extra small grasp and then it's a bit of a free for all," James continued. "They're setting new parameters of open affection though and it will be interesting to see if Meghan's touch techniques win through and we see changes among all the generations of royals."
James also explained that while hand-holding is not a sign of affection all the time, it's a "genuine" bonding for the royals.
"Thanks to Trump, hand holding is now all the rage in world politics but that is mainly as a response to all the alpha posturing that preceded it," the expert added. "It's a fear reaction when world leaders threaten conflict before displaying intense unity but in the case of the royals were seeing the start of a display of genuine family bonding."
In related news, the palace recently released three royal wedding photos. James was impressed with them and said that she considered the Duke and Duchess of Sussex in league with Hollywood A-list couples.
"It is very sexy and flirty, she is sitting between his legs on the step below him. They clearly adore one another and it looks like a luxury perfume advert," James told Daily Mail. "It is perfect and the most romantic wedding shot we've ever seen."
In other news, Germaine Greer previously said she was positive that Prince Harry and Markle's marriage will work. However, it will be at Markle's expense.
"Yes, but it will be at somebody's cost," Greet told RT. "I think it will be at Meghan's."
© Copyright IBTimes 2023. All rights reserved.