Meghan Markle Got What She Wants From Prince Harry But 'Won't Split' With Him: Royal Biographer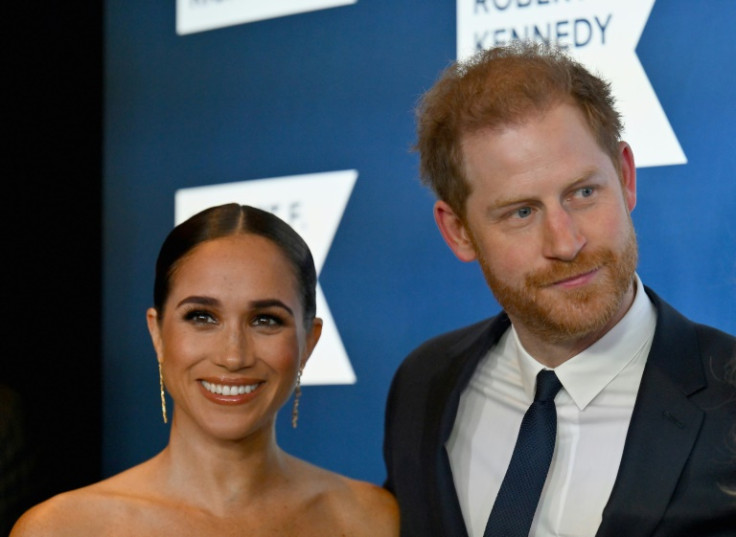 KEY POINTS
Angela Levin weighed in on the report that Prince Harry is planning to return to Africa to film a documentary
The biographer claimed Harry is doing the project to "keep the money coming from Netflix"
She suggested that Meghan Markle may be ditching Harry and focusing on her "PR" and solo projects
A biographer of Prince Harry thinks Meghan Markle won't split with her husband, but people may see a lot less of him in the future.
Angela Levin, a veteran journalist on royal affairs, joined GB News host Nana Akua in a "Royal Round-Up" segment, where she shared her thoughts on the reports that the Duke of Sussex wants to step away from Hollywood and celebrity life and plans to return to Africa alone to film a new Netflix documentary.
"I think it's actually a disaster waiting [to happen]," Levin said of Prince Harry's reported plans. "He loves Africa, and he's obviously going there in the hope that he can make a decent broadcast. He wants to do that just to keep the money coming from Netflix."
She continued, "However, there are rumors coming from Meghan's side that 'he's decided he doesn't want to be in the spotlight anymore. You won't see much of him. Meghan is used to it and she does very well, but Harry doesn't.'"
The royal commentator claimed that this may indicate that Markle is ditching Prince Harry and focusing on solo projects.
"In other words, I take it to say — and this is really unpleasant but I think it might very well be what is going on — that she's got enough of it now and she's had what she wants from him. She can go forward with her new PR and all the things that are going to be offered to her and love it, and Harry we will hardly see," Levin suggested.
Despite this, the "Harry: A Biography of a Prince" author said she believes that the former "Suits" star would not break up with Prince Harry because people would lose interest in her once she is no longer a royal wife.
"But she's not going to split with him. Of course, she won't because if she does, she loses a lot of people's interest because that's what they're really interested in. And I think it's tragic," Levin claimed.
International Business Times could not independently verify this information.
In recent months, Markle signed with top Hollywood talent agency WME for representation. Acting will not be a primary focus for the duchess, but the agency said in a statement that it "will be focusing on building out her business ventures across multiple facets of the agency and its broader ecosystem, including film and television production, brand partnerships and more."
Rumors also surfaced that Markle may be planning to revive her blog The Tig after shutting it down in 2017.
According to documents obtained by Us Weekly in March, Frim Fram filed a document with the U.S. Patent and Trademark Office in February, looking to revamp The Tig as a website focused on "commentary in the field of travel," as well as interior design, health and wellness, food preparation and cooking and other lifestyle and fashion areas.
Markle's name wasn't specifically listed on the paperwork, but the logo that is featured as part of the trademark request matches the original design used on her blog, according to the outlet.
Meanwhile, Page Six reported last month that Prince Harry is planning to film a new documentary in Africa. However, unnamed sources told the outlet that the royal has not been able to move forward with his plans yet due to the ongoing Hollywood writers' strike.
But Prince Harry has another project set to air on Netflix soon: his "Heart of Invictus" documentary.
The project, which follows the annual games for service members and veterans that the prince founded, will premiere in August.
Meanwhile, Levin claimed during a previous GB News appearance that she thinks the Duke and Duchess of Sussex's marriage is "very nearly finished" and that the couple have "sort of separated."
"I think that the marriage is very nearly finished, and it will be," Levin told Paul Murray. "She will sort of walk away. She's not there when she's needed."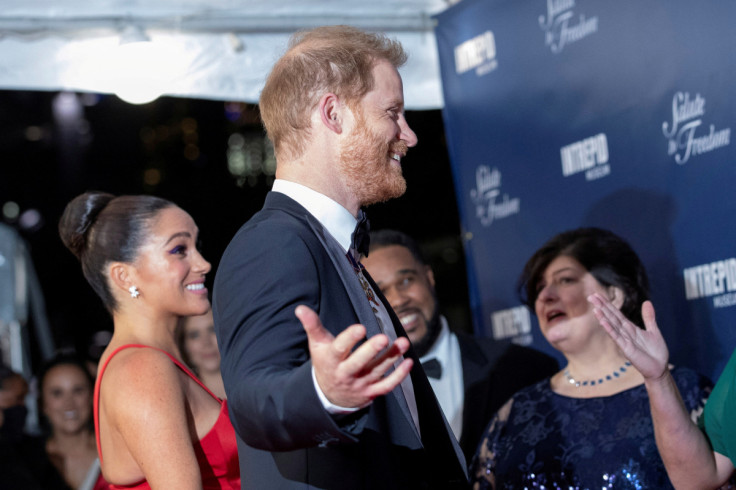 © Copyright IBTimes 2023. All rights reserved.