Royal Experts React To Prince Harry Missing Close Friend's Wedding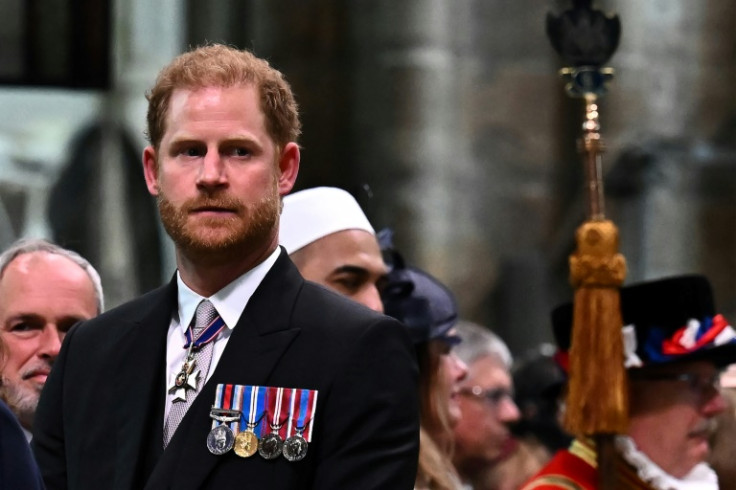 KEY POINTS
Rebecca English and Richard Eden discussed Prince Harry's absence from his pal Jack Mann's wedding
Mann appeared in a group photo from Harry and Meghan Markle's 2018 wedding
English claimed that some of Harry's friends think their "loyalty" to him has not been repaid
A royal expert claimed that there was "some surprise" that Prince Harry did not attend his pal Jack Mann's wedding last week.
Rebecca English, a royal editor for the Daily Mail, and Richard Eden, a diary editor for the same outlet, joined host Jo Elvin in a new episode of the royal podcast "Palace Confidential," where they discussed the Duke of Sussex's absence from Mann's wedding to Isabella Clarke at St. Peter's Church in Sutton in Suffolk, England, on July 1.
"Yeah, this was interesting. It was the wedding of one of Harry's best friends," Eden said.
Prince Harry and Mann had shared a tight bond. According to Eden, they reportedly became friends while attending Royal Military Academy Sandhurst.
Mann also appeared in an intimate photo from Prince Harry and Meghan Markle's royal wedding reception in May 2018 that the couple shared with Netflix for their eponymous docuseries, which aired in December 2022. The snap showed Prince Harry and Mann smiling in a group shot alongside Henry Warhurst, Charlie Gilkes, Mark Dyer and more.
"He's someone he graduated with at Sandhurst military academy," Eden said of Prince Harry and Mann's friendship. "At the same time, they were commissioned into the Blues and Royals together. And Jack Mann's played a key role in Harry's life. He was at the wedding. During the Netflix series, we saw some photos private photos from the wedding, and one of them was this sort of 'band of brothers' type of picture, where Jack was with Harry and his other close friends. So, there really was some surprise that Harry and Meghan weren't at this wedding."
Elvin noted that the estrangement between Prince Harry and his family seemed to have "trickled down into the wider circle of friends as well."
English chimed in, claiming, "100%, and as for why, there are a lot of people who are genuinely disgusted by what he's done since leaving the royal family. They feel very hurt by some of the revelations that he's made."
"[Prince] William and Harry, when they were growing up, they created a very close-knit circle of friends around each other," the journalist added. "So there were people who said, 'We've been very loyal to [Harry] over the years and we don't feel that loyalty has been repaid."'
Eden said that it's still unclear if Mann and Prince Harry have become estranged, but he noted that the royal previously revealed in his memoir "Spare" that his relationships with several friends became strained after he and his wife sat down for an interview with Oprah Winfrey in 2021.
"He talks about how he's fallen out with friends. He has done a lot of damage to those old relationships. At this wedding, there were other mutual friends of William and Harry like Thomas van Straubenzee, so it does seem to be quite a sad situation," Eden said.
Eden noted Prince Harry did not seem to have had a big commitment last weekend for him to miss the wedding.
"Yeah, [the Sussexes] could have something on we don't know about," English opined. "But I think, as the royal family has found out, that anything they're invited to becomes so much about them and the dynamics between them and other members of the royal family that it's quite frankly not worth the hassle."
Prince Harry and Markle were spotted smiling and holding hands while leaving a building in California on June 30, a day before Mann's wedding.
The couple was seen in public again Tuesday when they watched a Fourth of July parade with their children Archie, 4, and Lilibet, 2, in Montecito.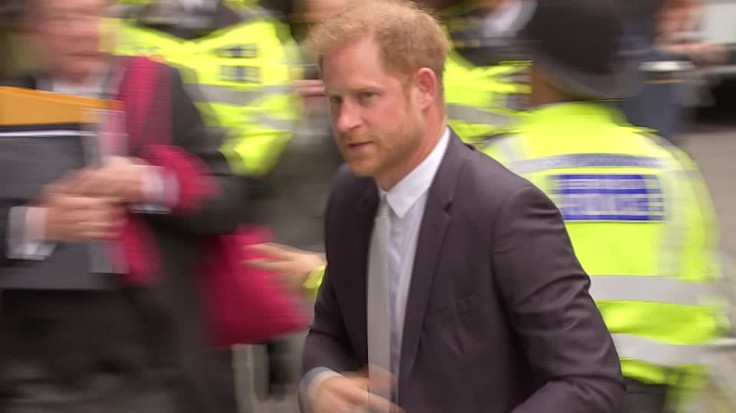 © Copyright IBTimes 2023. All rights reserved.