Miami Heat – San Antonio Spurs Game 6: TV Channel, Where To Watch Free Online Stream, Betting Odds, Prediction, Preview For Tuesday's 2013 NBA Finals Contest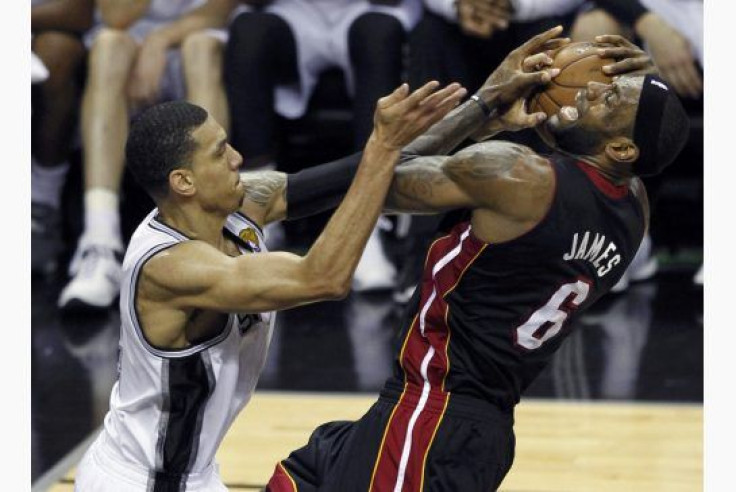 The Miami Heat will look to keep their title hopes alive in Game Six of the 2013 NBA Finals on Tuesday night. The defending champs will host the San Antonio Spurs, who enter the contest with a 3-2 series lead.
Preview
All eyes will be on the Heat's LeBron James when he takes the floor at American Airlines Arena. The MVP hasn't performed like he did in the regular season and the first few rounds of the playoffs. James is still averaging 21.6 points, 10.8 rebounds and 6.8 assists per game in the Finals, but he's been much less efficient than he was the rest of the year. He's shooting 43.6 percent from the field and averaging over 20 field goal attempts per game.
Dwyane Wade has done his best to give James the help he needs. He filled up the stat sheet in Games Four and Five, averaging 28.5 points, 5.0 rebounds, 7.0 assists and 3.5 steals per contest. They were his highest-scoring outputs of the postseason.
Even if James and Wade can play up to their abilities on offense, the series could end on Tuesday if Miami's defense doesn't improve. San Antonio has been lights out from the field, hitting 60 percent of their shots in Game Five. Manu Ginobili had an impact similar to Wade's, scoring 24 points and dishing out 10 assists, after struggling in recent weeks.
Players like James, Wade, Tim Duncan and Tony Parker may have entered the Finals as the biggest stars, but Danny Green could be the deciding factor in which team takes home the Larry O'Brien Trophy. The shooting guard is in the midst of an historical hot streak, making 65.8 percent of his three-pointers against Miami. Chris Bosh, though, assured the media prior to Game Six that the Heat would contain the sharpshooter, saying, "Green won't be open tonight."
Despite the Spurs' hot shooting and the Heat's need to win two straight, Miami is still the favorite to win the series. The online betting website Bovada puts their odds of winning the title at -130.
2013 NBA Playoffs
Miami: 97 PPG, 90.4 OPPG, 37.7 RPG, 20.8 APG, 46.9 FG%, 37.2 3FG%
San Antonio: 101 PPG, 92.7 OPPG, 42.4 RPG, 22.8 APG, 46.9 FG%, 38.5 3FG%
Betting Odds
Miami -6.5, 191 (Heat -300, Spurs+250)
Where To Watch Live Stream Online
TV Channel
ABC
Series Schedule
Game 1: San Antonio 92, Miami 88
Game 2: Miami 103, San Antonio 84
Game 3: San Antonio 113, Miami 77
Game 4: Miami 103, San Antonio 84
Game 5: San Antonio 114, Miami 104
Game 6: at Miami, Tuesday, June 18, 9 p.m. ET, ABC
Game 7: at Miami, Thursday, June 20, 9 p.m. ET, ABC*
Prediction
Every time Miami's backs have been against the wall in this series, they have responded. After losing Game One, the Heat beat the Spurs by 19 points. Heading into Game Four down 2-1, they won in San Antonio 109-93. With Miami on the verge of elimination, look for James to have a special performance and extend the 2012-2013 NBA season by two more days.
Miami 103, San Antonio 89
© Copyright IBTimes 2023. All rights reserved.