Miami Heat - San Antonio Spurs NBA Finals 2013 Game 5: TV Channel, Schedule, And Team News For Sunday's Championship Series Game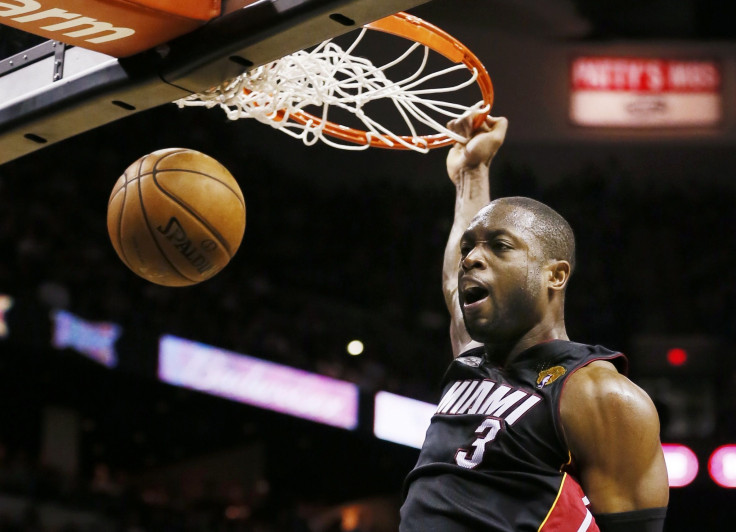 The Miami Heat have their second chance to take the series lead against the San Antonio Spurs in the NBA Finals on Sunday, and they may not get another.
A pivotal Game Five of the Finals takes off at AT&T Center, in the last home game of the season for the Spurs. Miami was supposed to dominate these playoffs, but after losing Game One, this series has see-sawed, with neither team able to take full control.
The series is now tied, 2-2.
Heat News
In Miami's Game Four 109-93 victory, guard Dwyane Wade looked very much like a player out to prove his critics wrong and returned to the 2006 Finals MVP form when he guided the Heat to the franchise's first title. Wade finished with a playoff-high 32 points on 14-for-25 shooting, in his third game of the postseason with 20-plus points.
If Wade can keep up that production, along with MVP LeBron James dominating as usual, the Heat should expect a victory in Game Five. James stuffed his stat sheet with 33 points, 11 rebounds, and four assists with two steals and two blocks in Game Four.
Chris Bosh also recorded his third straight double-double, with 20 points and 13 rebounds. Bosh had two double-doubles total in the previous three rounds of the playoffs.
The Heat offense started to click again with guard Mike Miller in the starting lineup for Game Four, but he oddly scored zero points and took one shot, acting more as a decoy. That move also put James at center on defense.
Head coach Erik Spoelstra may not be able to pull the same trick twice.
Spurs News
As Tony Park goes, so goes the Spurs. He posted a solid 15 points and nine assists, but San Antonio wilted in the fourth quarter of Game Four. Parker at times looked bothered by his injured hamstring suffered in Game Three.
Parker's injury is more than sore, and he reportedly said his hamstring could tear at any moment. He also said if this weren't the Finals, he would be out of the lineup.
Tim Duncan did score 20 points with five rebounds, and Kawhi Leonard had 12 points and seven rebounds, but the Spurs need the offense to flow through Parker and to take better care of the ball.
Eighteen turnovers limited the number of bombs San Antonio could drop from three, and allowed Miami to take control with a 28-17 fourth quarter.
As a team the Spurs were eight-for-16 from deep, with Gary Neal continuing his hot shooting off the bench for 13 points.
TV Channel
ABC
Series Schedule
Game 1: San Antonio 92, Miami 88
Game 2: Miami 103, San Antonio 84
Game 3: San Antonio 113, Miami 77
Game 4: Miami 109, San Antonio 93
Game 5: at San Antonio, Sunday, June 16, 8 p.m. ET, ABC
Game 6: at Miami, Tuesday, June 18, 9 p.m. ET, ABC
Game 7: at Miami, Thursday, June 20, 9 p.m. ET, ABC*
© Copyright IBTimes 2023. All rights reserved.