Michelle Obama Spearheads New Plan to Overhaul Military Meals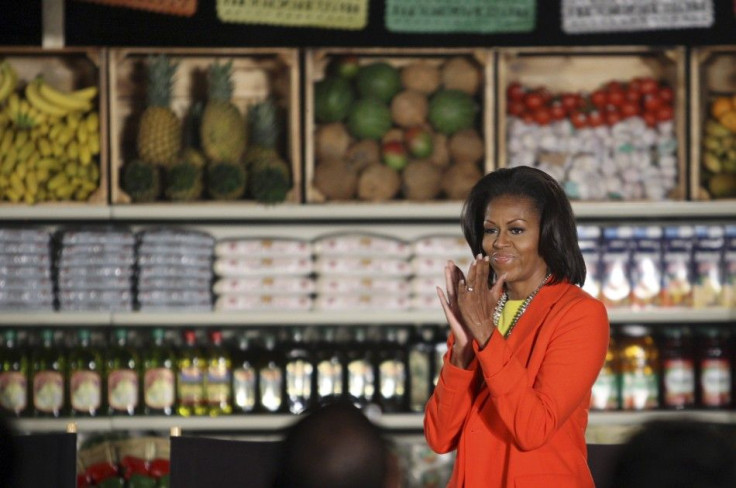 WASHINGTON (Reuters) - Obese Americans in the military are a national security hazard and first lady Michelle Obama wants to see that change.
Obama, who has spearheaded a healthy eating and fitness program for children for two years, will lend her voice on Thursday to the military's efforts to overhaul the food it serves.
In an event in Little Rock, Arkansas, Obama will join top Pentagon officials to announce a new obesity and nutritional awareness campaign that will change nutrition standards across the services for the first time in 20 years.
The changes will bring more fruits, vegetables, whole grains and food choices that are lower in fat to 1,100 service member dining facilities in the coming months.
According to the White House, more than one quarter of 17- to 24-year-olds are too overweight to serve in the military. Active members of the military are also becoming more overweight, a Pentagon official said, and that causes a readiness problem.
The Department of Defense considers obesity not only a national problem but a national security issue, Assistant U.S. Secretary of Defense for Health Affairs Jonathan Woodson told reporters in a call to discuss the first lady's visit to Arkansas and other states to promote healthy eating.
Our primary focus is on the health and well-being of service members, their families, and our retirees, Woodson said in remarks to be delivered in Little Rock. Obesity is a preventable problem which, if combated, can help prevent disease and ease the burden on our overall Military Health System.
There is a lot of money involved. Woodson says the U.S. military spends about $4.65 billion in food services each year. It also spends an estimated $1.1 billion a year on medical care associated with excess weight and obesity.
In an effort to promote good choices, the military will redesign menus and try to supply healthier foods in mess halls and on bases and in vending machines and snack bars on military bases.
The first lady, who has been doing the rounds of television talk shows and late-night comedy shows to promote her Let's Move campaign to improve the nation's eating and exercise habits, said changes by the Pentagon would send an important message.
Whenever our men and women in uniform step forward, Americans take notice. When our service members make healthy eating a priority in their lives, the rest of us are more likely to make it a priority in our lives, she said in remarks prepared for delivery at Little Rock Air Force Base.
Simply put, this is America's entire military once again stepping forward to lead by example.
(Editing by Peter Cooney)
© Copyright Thomson Reuters 2023. All rights reserved.