Microsoft Surface Pro Release Date Nears: Storage Capacity Estimates Were Wrong, Tests Say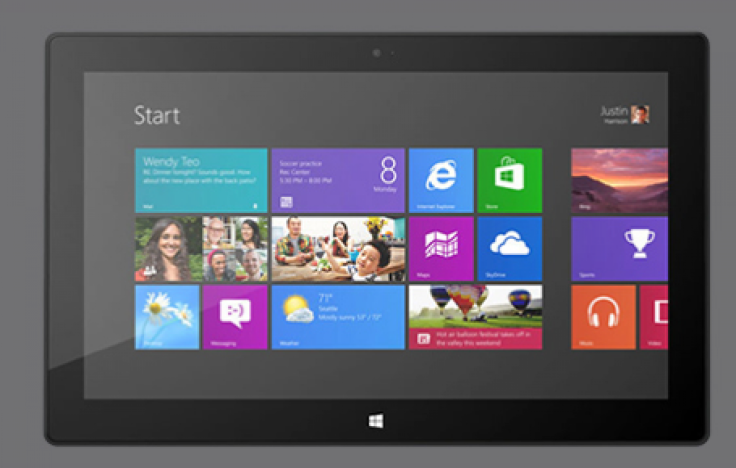 Last month, we learned that Microsoft's Surface Pro, set to launch Saturday, comes with less storage space than advertised. Now, tests are showing that those new figures aren't accurate either.
At the end of January, Microsoft issued a statement to tech website Softpedia saying that the 128GB Surface Pro will only come with 83GB of usable storage. Windows 8 and other native software will occupy the other 45GB, the company said.
However, the folks over at ZDNet decided to put Microsoft's new hybrid gadget through a series of tests to see how much the Pro model can really store. The trial found that the Surface Pro actually has 89.7GB of free usable space, a minor increase of about 6GB from the previous number. This inaccurate figure is said to have come from a discrepancy between preproduction and final shipping hardware.
"A source inside Microsoft tells me the employee who confirmed the numbers did so using preproduction machines that contained different disk images and a debug code that is different from final shipping units that will be on sale beginning this weekend," Bott wrote.
Microsoft's own figures also indicated that the 64GB Surface Pro would only come with 23GB of free storage, but the company corrected itself earlier this week. Turns out, the entry-level Surface Pro will come with 6-7GB of additional space, bringing the total to about 30GB. When speaking to the Verge, Microsoft said that earlier estimates "were conservative."
Bott also found that removing a recovery partition from the device would also free up some space. This partition accounts for 7.81GB of space on the 128GB model, according to the ZDNet writer. Deleting this partition gives the Surface Pro more free space than a competing 128GB Macbook Air. However, the Surface Pro only has 89.7GB of free space versus the 92.2GB on a Macbook Air of the same advertised capacity when the partition is left in place.
Microsoft is prepping its Surface Pro to hit stores this weekend, but the tablet's storage space isn't the only feature that had fans confused in recent months. A while back, Microsoft admitted that the Surface Pro would come with less battery life than the Surface for Windows RT. Earlier this week, the company's corporate VP Panos Panay took to Reddit to answer fan's queries and revealed why.
"That said, we picked a smaller battery to be sure we were able to give you the same performance and to keep it thin," the Microsoft executive said during his Reddit AMA. "This kept the weight under 2 lbs. and still kept it thin enough to take advantage of our great Windows work for inking and give you a great inking experience (like pressure sensitive inking, ability to do kanji, great sketching). While these trade-offs are challenges as much as they are opportunities, we think given the performance and experience you'll be getting, it's an excellent product."
The Surface Pro is only expected to come with four hours of battery, which is troubling for a tablet but even more so considering its meant to function as a laptop as well. The Surface for Windows RT, in contrast, boasts up to eight hours of battery life on a full charge.
While there may be some uncertainties about the tablet's storage space and battery, Microsoft's Surface Pro has received largely positive reviews thus far. Beginning Saturday, users have the option to purchase the Pro via Microsoft's official store or Best Buy. The 64GB (or 30GB) version will begin at $899, while the 128GB (or 89.7GB) edition sells for $999.
© Copyright IBTimes 2023. All rights reserved.