Microsoft?s Tablet, Much Awaited, Dubbed 'Surface'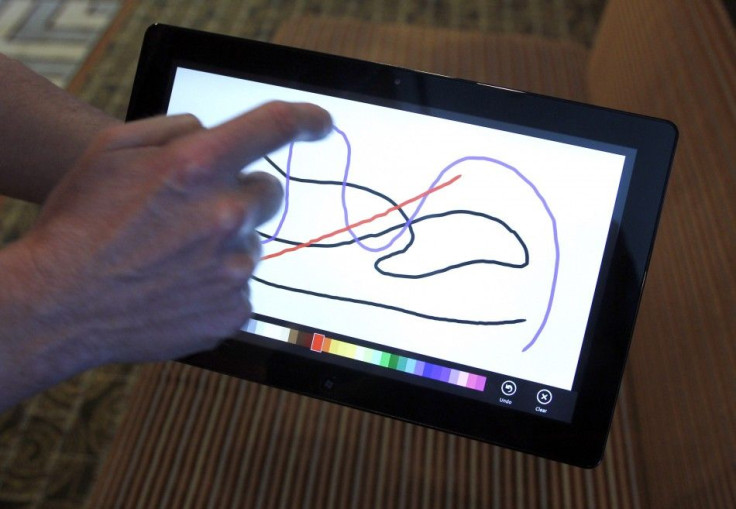 Microsoft (Nasdaq: MSFT), the world's biggest software company, introduced its first tablet, Surface, to battle Apple (Nasdaq: AAPL) in the fast-growing market for tablets.
The Redmond, Wash., developer of Windows software, said the 10.6-inch tablet will run Windows 8 when it's released in the second half and be powered by a chip from Britain's ARM Holdings (Nasdaq: ARMH), which supplies the chips to the iPad as well as to Apple's iPhone family.
Neither a shipment date nor price was specified by CEO Steve Ballmer, who presided over the announcement in Los Angeles Monday night. But he said Microsoft will ship the first Surfaces with chips from ARM, followed about 90 days later with Surfaces with chips from long-time partner Intel Corp. (Nasdaq: INTC), the No. 1 chip supplier. Intel also sells chips to Apple for the Mac family of PCs and laptops.
The ARM version will weigh less than 1-1/2 pounds and have a thickness of 9.3 millimeters, Microsoft said. The surface of the new tablet uses a process Microsoft calls Vapor Mg (pronounced Vapor Mag), which gives the handheld device a sheen akin to a luxury watch, using a magnesium finish, the company said. It will also come with a 3-millimeter touch cover to allow users to run the tablet with fingers, much as users interact with the iPad family.
Microsoft didn't announce where it will procure the Surfaces. It's likely they will be manufactured by the same Chinese and Taiwanese contract manufacturers used by Apple as well as Amazon (Nasdaq: AMZN) for their rival products.
Microsoft shares Tuesday rose more than 4 percent, closing up 86 cents at $30.70 or 2.8 percent, not far below their 52-week high of $32.95.
Earlier Monday, bookseller Barnes & Noble (NYSE: BKS), confirmed it wouldn't participate in the event, which rules out a Microsoft version of the Nook e-reader. On April 30, Microsoft said it would invest $300 million into a joint venture company with Barnes & Noble to develop a product to compete against the Kindle Fire from Amazon, the No. 1 e-retailer, as well as the iPad from Apple, the world's most valuable technology company.
Other analysts and industry blogs had predicted that Microsoft would finally come up with a tablet that compatible with the Windows 8 OS, scheduled for shipment next quarter.
Ballmer said at the International Consumer Electronics Show in January that his company would support products designed around a chip from Britain's ARM Holdings (Nasdaq: ARMH).
Indeed, for years under CEO Steve Jobs, IBM and the old Motorola were the exclusive chip suppliers to Apple before the Cupertino, Calif., company started to buy chips from Intel (Nasdaq: INTC), the No. 1 chipmaker.
Other chips for display and graphics may come from Intel rival NVidia (Nasdaq: NVDA).
Analysts at Bernstein Research suggested Microsoft will price the tablet competitively to build share against Apple, which is still expected to control about 61 percent of the market this year, researchers at IHS iSuppli estimated last month, with total tablet sales around 127 million.
The move would be crucial for Microsoft because the tablet market is exploding while the one for PCs is gaining only slightly. Selling Windows 8 rights to tablet makers would give it a foothold in a new sector and provide a rival to Apple as well as Google (Nasdaq: GOOG), the No. 1 search engine, which wants to introduce upgrades to its Android OS.
Google last month completed its $12.5 billion acquisition of Motorola Mobility to move into the smartphone and tablet sector, as well as to obtain 17,500 patents in the mobile sector.
Still, there have been flops in the tablet sector. Last year, Hewlett-Packard Co. (NYSE: HPQ) botched its introduction of the TouchPad under former CEO Leo Apotheker, who was ousted in September after the company withdrew the product.
HP under new CEO Meg Whitman has promised a new tablet but provided no details.
Other companies have already introduced tablets based on Android include Samsung Electronics (Seoul: 5930); Lenovo Group of China (Pink: LNVGY), the No. 2 PC maker and Sony Corp. (NYSE: SNE).
Apple shares rose Tuesday to $58.41, up $1.87. Barnes & Noble shares fell 41 cents to $14.63. Amazon shares rose $1.37 to $224.03.
© Copyright IBTimes 2023. All rights reserved.