Microsoft's Windows Phones, A Tough Sell In The US And China, Are Catching On In India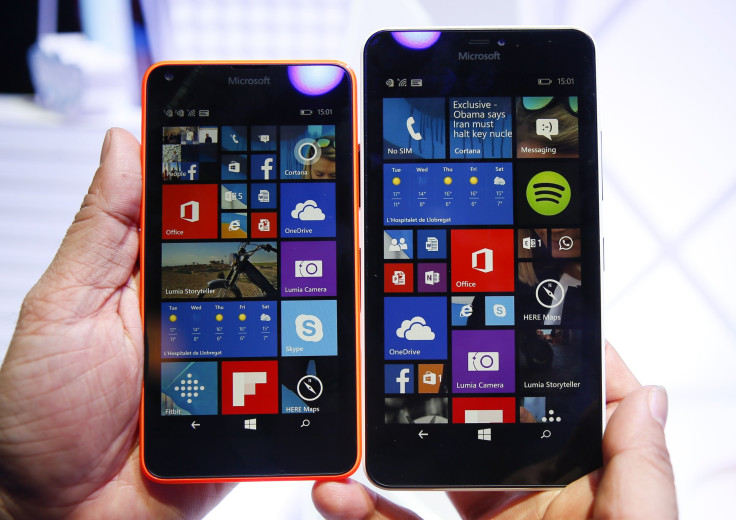 Microsoft Corp. is not a very big player in the U.S. smartphone market and an insignificant one in China, but it is making some quiet gains in India, thanks to aggressive pricing and the popularity of its software. That momentum could grow with the low-cost Lumia 640 and Lumia 640XL that Microsoft introduced on Monday at the Mobile World Congress event in Barcelona, Spain.
Global availability of the phones is set for April, and analysts expect India, the world's third-largest smartphone market, to be among the first regions to get them. Likely priced in the $150 to $200 range, the Lumias could move the needle for Microsoft, which has a small but significantly growing user base in India, especially among young urban professionals who earn enough to afford a midrange Lumia that promises to deliver higher-end features on 5-inch-plus screens.
In India, the Nokia heritage (acquired by Microsoft in 2013) remains a strong pull in a market that was once dominated by the Finnish company's feature phones, and Microsoft still has a good brand. "Windows phone sales have been increasing steadily in India in the past two years, especially as Microsoft started to expand its lower-priced range with really good devices," Jessica Kwee, an analyst at research firm Canalys in Singapore, said.
In that period, Canalys estimates close to 3.8 million Windows phones were shipped to India, of which 1.26 million were shipped in just the last six months of 2014, a 34 percent growth over the previous six months and double the numbers shipped in the first half of 2013.
Those numbers put Microsoft ahead of Apple Inc. in India by smartphone shipments, with a market share just shy of 3 percent of the 45 million or so smartphones shipped to India in the second half of 2014. Apple sold roughly half as many smartphones as Microsoft during the same period.
Both Apple and Microsoft are still outside the top five in India. In the last quarter of 2014, the top five smartphone vendors in India were Samsung (22 percent), Micromax (18 percent), Intex (8 percent), Lava (7 percent) and Xiaomi (4 percent), according to research firm IDC.
Windows 10
The attraction among professionals is compatibility with Microsoft applications. "I quite liked the visually attractive user interface" of the Windows tiles, Mrigopriya Tamuli recalled about her purchase of a Nokia Lumia 720 about a year ago. "Also Nokia was known for their quality, the battery," the 29 year-old PR professional in Bangalore said.
"Another thing is the phone is handy to do small edits on a document or a PowerPoint right there," which is very useful in her line of work, Tamuli said. Microsoft seems to have zeroed in on that as well, with its "achieve more" pitch to young professionals for the new smartphones.
"Microsoft is the only company now offering the capability of having the same app experience across devices, with the same office experience on the phone, too," Tarun Pathak, a senior analyst covering mobile devices and ecosystems at Counterpoint Technology Market Research, said in an email. Counterpoint estimates that Windows OS had close to 4 percent share in India in the last quarter of 2014.
Developers, too, will be keen to engineer "universal apps" that work the same way across the ecosystem of devices, as it boosts their monetization opportunity, he said.
"I estimate a strong traction of these devices in emerging geographies, including India, due to aggressive pricing," he added. "It's already going strong in some parts of Europe, like Italy."
Rising Sales
Devices priced below $200 accounted for more than half of the Windows Phones shipped to India in the last quarter of 2014, Canalys estimates. So the Lumia 640 and Lumia 640XL should do well, ranging from 139 euros (around $155) for the 640 3G model to 219 euros (around $245) for the LTE version of the 5.7-inch 640XL.
"Historically speaking, Microsoft's device prices in India are generally quite similar to the manufacturer-recommended price, especially at launch" Kwee said, so prices in India may not vary too much from the figures arrived at based on the euro-rupee conversion rate.
That would put the Lumia 640 3G model in the ballpark of 9,600 rupees, and it would cost around 15,125 rupees for the 640XL version that supports LTE. That probably won't attract the first-time smartphone buyer upgrading from a feature phone, but "it does bring more variety to the Lumia portfolio, adding a 5.7-inch phone into the more budget-friendly range," Kwee said.
For the more price-conscious, Microsoft already offers phones such as the dual-SIM Lumia 435, which runs on Windows 8.1 and currently costs 5,665 rupees (about $92) on Indian online shopping site Flipkart.
Kwee expects the new Lumia 640 phones will be marketed to more experienced smartphone users, including those who were using the first Lumia 5x or 6x series models (e.g., the Lumia 520 or even older), looking to upgrade their phone.
The 640's camera has an 8-megapixel sensor, and the 640XL has 13 megapixels with Carl Zeiss optics. Microsoft is also offering a one-year Office 365 personal subscription with the 640XL model, with 1 terabyte of online storage. One can still get 15 gigabytes of free online storage without the Office subscription.
© Copyright IBTimes 2023. All rights reserved.