Midwest Tornado: Path of Destruction in Pictures (PHOTOS)
The massive storm system that ripped through the Midwest, killing at least a dozen people along the way, appears to have come to an eerie standstill.
The affected regions now stand in sharp contrast to what they were before severe weather battered some of the Midwestern states of America. Reports indicate that piles of debris were splattered for miles and entire blocks of houses flattened. The violent storm, according to various reports, is also said to have tossed trailers and downed trees and power lines.
There are hundreds of homes damaged, millions of dollars in damage. The hospital is severely damaged. There's a mall with 10 stores that was destroyed, Illinois Mayor Eric Gregg told Reuters News.
According to a BBC report, structures in Missouri towns of Branson, Buffalo, Cassville, Lebanon and Oak Ridge were reduced to rubble.
The theatre next to me kind of exploded. It went everywhere. The hotels on the two sides of me lost their roofs. Power lines are down. Windows are blown out, John Moore, owner of a diner that was reportedly damaged by the storm, said in a statement to the BBC.
All in all, six states including Nebraska, Kansas, Missouri, Illinois, Indiana and Kentucky were ravaged by the destructive storm, Reuters said. Latest reports from Accu Weather indicate that the Tornado watches issued over other states prone to the storm threat have eased to an extent. However, the weather service also said that there are winds gusting to an estimated 40 mph in Woodbine, Kentucky with severe lightning.
The destructive storm that hit during the early hours of Wednesday spawned a series of tornadoes. At least 18 tornadoes were sighted and more than 100 people were said to be injured, Reuters said.
Here are some pictures that captured the scenes of the disaster.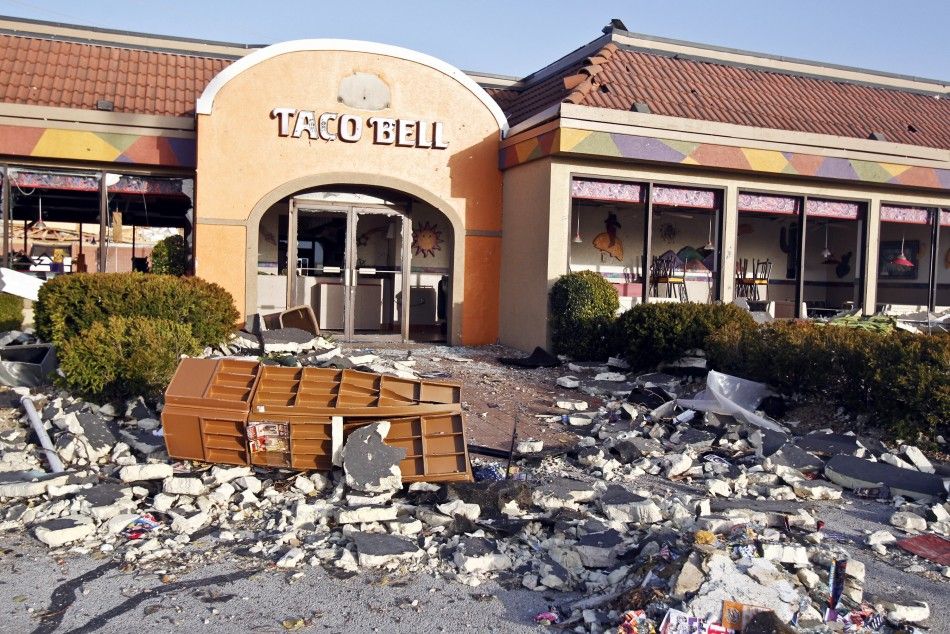 © Copyright IBTimes 2023. All rights reserved.