Moody's Cuts French Banks' Ratings as Euro Crisis Deepens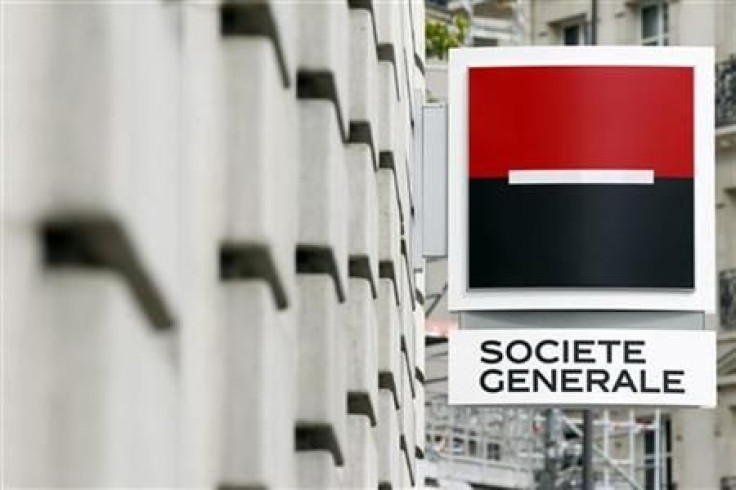 Moody's Investors Service cut the credit ratings of France's Credit Agricole SA and Societe Generale Wednesday, citing their exposure to Greece's debt, a fresh blow to euro area leaders struggling to restore confidence.
The ratings agency left BNP Paribas on review for a ratings downgrade, saying the bank's profitability and capital base provides adequate cushion to support its Greek, Portuguese and Irish exposure.
In a sign of the international alarm over the crisis, China and the United States urged Europe's leaders to prevent the euro area debt mess -- now threatening Italy -- from spreading.
President Barack Obama urged "more effective coordinated fiscal policy" by the euro area states. Chinese Premier Wen Jiabao said Beijing was willing to help its biggest trading partner, but added that Europe must stop the crisis from growing.
Investors are increasingly skeptical the debt debacle in the 17-nation currency area can be stemmed. Credit markets are factoring in a 90 percent chance that Greece will default on its debts and they demanded the highest risk premium on Italian five-year bonds at auction on Tuesday since the country joined the euro in 1999.
"What we have to take note of now is to prevent the sovereign debt crises from spreading and expanding further," Wen said Wednesday.
Trying to contain the crisis, Italy is expected to approve a 54-billion-euro ($73 billion) austerity package on Wednesday, although news of the measures has so far done little to reverse investor alarm over whether the euro area's third-biggest economy can manage its debts.
Prime Minister Silvio Berlusconi's government has tabled a confidence motion which would force it to resign if it lost. An initial vote is scheduled for around noon GMT (8 a.m. EDT) ahead of final approval of the austerity package around 1800 GMT.
Greek Prime Minister George Papandreou will hold a conference call Wednesday with French President Nicolas Sarkozy and German Chancellor Angela Merkel. The call is scheduled for 1600 GMT, Papandreou's office said.
A rebound in stock prices and the euro stalled in Asia on Wednesday as investors remained spooked about the crisis. German government bonds opened higher.
In an attempt to restore confidence, both BNP Paribas and Societe Generale have announced plans to sell risk-weighted assets to help ease investor fears about funding challenges.
BNP said on Wednesday it would sell 70 billion euros ($95.7 billion) of assets and reduce U.S. dollar funding needs by $60 billion by the end of 2012.
Moody's cut SocGen's debt and deposit ratings by a notch to Aa3 from Aa2 with a negative outlook on its long-term debt ratings. For Credit Agricole, it downgraded its bank financial strength rating one notch to C from C+, and cut its long-term debt and deposit ratings by one notch to Aa2 from Aa1.
It kept long-term Aa2 rating of BNP Paribas on review for possible downgrade.
Bank of France Governor Christian Noyer said the Moody's action was relatively good news.
"It's a very small downgrade and Moody's had a higher rating than the other agencies so it's just put them on the same level or slightly better than the others," Noyer said.
A combination of a banking crisis akin to the global credit crunch, a Greek default and a financial meltdown in Italy could tear the euro zone apart.
"I think there is a possibility, if the wrong steps are taken, that the system goes off the rails," Sergio Marchionne, the CEO of Italian carmaker Fiat, told reporters in Frankfurt when asked if the euro's survival was at risk.
Merkel on Tuesday sought to quash talk of an imminent Greek default or its exit from the euro zone. Confused statements from Germany and France over whether they would issue a joint statement on Greece sent markets gyrating up and then down on Tuesday.
Greece has said it would run out of cash in a few weeks and needs an 8 billion euro tranche in October to pay wages and pensions.
Merkel said in a radio interview that Europe was doing everything in its power to avoid a Greek default and urged politicians in her coalition to weigh their words carefully to avoid creating turmoil on financial markets.
Her economy minister said earlier this week there should be "no taboos"" in stabilizing the euro, including an orderly bankruptcy of Greece. And lawmakers from her coalition have said in recent days that Greece may have to leave the euro zone -- a move Citigroup's chief economist warned would lead to "financial and economic disaster."
"As soon as Greece has exited, we expect the markets will focus on the country or countries most likely to exit next from the euro area," Willem Buiter said in a note on Tuesday.
Merkel, in an interview with RBB inforadio, said Europe would use all the tools at its disposal to prevent a Greek default and warned that an exit from the bloc would immediately lead to "domino effects."
CHINA SUPPORT
Wen didn't specify what steps China, with more than $3 trillion in foreign exchange reserves, might take to help Europe.
But a senior Brazilian source told Reuters on Tuesday that the so-called BRICS -- Brazil, Russia, India, China and South Africa -- were in early talks on increasing their holdings of euro-denominated debt to help ease the crisis.
"We've said countless times that China is willing to give a helping hand and we'll continue to invest there," Wen said in a speech at a World Economic Forum event in China.
He suggested though that the EU would have to reciprocate Beijing's help by moving to grant China "market economy" status, which would lower its exposure in trade to anti-dumping cases.
Obama told Spanish journalists in a group interview published on Tuesday that euro zone leaders needed to show markets they were taking responsibility for the debt crisis. Weakness in the global economy would persist so long as it is not resolved, he said.
In a measure of Washington's concern, Treasury Secretary Timothy Geithner will take the unprecedented step of attending a meeting of EU finance ministers in Poland on Friday.
It will be his second trip to Europe in a week after he met his main EU counterparts at a G7 meeting last weekend. Obama said that while Greece is the immediate concern, an even bigger problem is what may happen should markets keep attacking the larger economies of Spain and Italy.
"In the end the big countries in Europe, the leaders in Europe must meet and take a decision on how to coordinate monetary integration with more effective coordinated fiscal policy," the news agency EFE quoted him as saying.
Geithner is likely to urge euro zone finance ministers on Friday to speed up ratification of changes to their bailout fund, but a U.S. official said he would not push for an increase in the fund's size.
ITALY TOO BIG TO BAIL?
Greece, Ireland and Portugal have all been bailed out by rescue packages, but many see Italy as too big to bail out. Its public debt burden is equal to 120 percent of GDP, second only to Greece. However, sluggish growth means it will struggle to whittle down its 1.9 trillion euros in debt.
"Italy is the key to contain this crisis. It is the last window of opportunity before a serious prospect of a meltdown of the euro," Domenico Lombardi, president of the Oxford Institute for Economic Policy and a senior fellow at Washington's Brookings Institution, said.
A Financial Times report that Rome had asked China to buy "significant" quantities of its bonds in recent talks provided little support to markets. Indeed, an Italian ministerial source told Reuters the talks had centered on possible Chinese investments in Italy's industrial sector, not its bonds.
(Additional reporting by Reuters bureaus; Writing by Neil Fullick and Kavita Chandran, Editing by Dean Yates)
© Copyright Thomson Reuters 2023. All rights reserved.
FOLLOW MORE IBT NEWS ON THE BELOW CHANNELS