Mother Charged With Murder After Children Found Hanging In Basement
A Pennsylvania mother was charged with murder after her two children were spotting hanging in the basement of her house.
Lisa Snyder, 36, was arrested Monday morning and was facing two counts each of first- and third-degree murder combined with two felony counts of endangering the welfare of children, according to the court documents. She was being held without bail at the Berks County Jail.
On Sept. 23, two of her children, Conner, 8, and Brinley, 4, were found hanging with a dog leash in the basement of their Albany Township home in Pennsylvania. Deputies arrived at the scene after Snyder called 911. She told them that Conner was a victim of bullying at school which triggered him to end life. The unresponsive children were flown to the hospital and were given life support. However, they were pronounced dead on Sept. 26. The Lehigh County coroner ruled both deaths as homicide.
Snyder tried to frame the deaths as a murder-suicide by telling officials the boy took Brinley along because he was afraid to attempt suicide alone. However, court documents say Conner "never expressed that he was bullied or suicidal."
"Eight-year-olds, generally, that I am aware of, do not commit suicide so of course, we had questions almost immediately," District Attorney John Adams told in a news conference.
Adams said Snyder didn't show up in the basement even for once while paramedics worked to resuscitate her children.
"I would agree that we all may think that a mother of children who are found hanging would make every effort possible to save them," he said. "That was not done in this situation."
Investigators reviewed Snyder's internet search history in the days leading up to the death of her children. Snyder was found to have searched for "carbon monoxide in a car how long to die," "hanging yourself," "does a hybrid car produce carbon monoxide while idling," "almost got away with it," court documents said, citing authorities. She also visited a website with information about hanging, according to WBRC.
Conner and Brinley were "hanging approximately three feet apart from a single wired cable with plastic coating." Investigators said the dog leash with 250-pound limit was bought from Walmart the same day. Snyder coiled it around the main support beam in the basement and managed to lead the kids onto the two barstools that were found knocked over next to them, Fox 32 reported.
"Two children's lives were lost here," Adams said. "This was a very emotional investigation for all of those involved."
Snyder was also accused of sending at least three explicit photos of herself engaged in sexual acts with a black and a white dog to an unidentified person. She was also charged with having sex with a dog, Allentown Morning Call reported.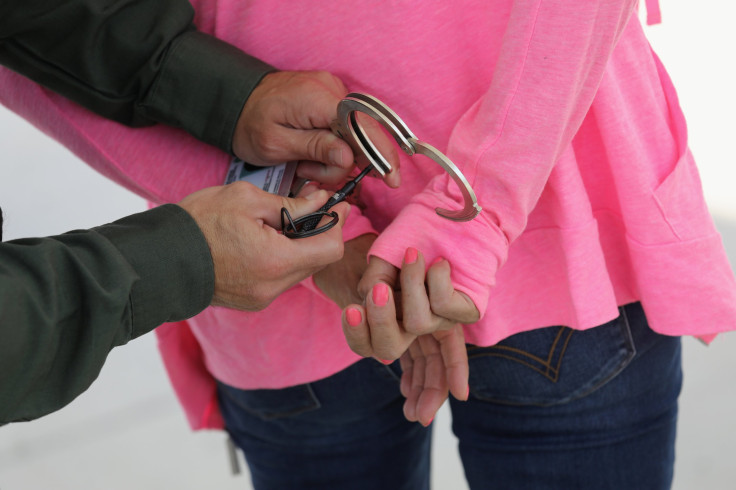 FOLLOW MORE IBT NEWS ON THE BELOW CHANNELS