Mum With Cancer Gets Times Square Billboard To Find A Husband For Her Daughter
KEY POINTS
Beth Davis was informed in 2020 that she had developed metastatic breast cancer
She wants to leave Molly "in good hands" and hopes to see her married soon
The mother and daughter visited Times Square to see the billboard for themselves
A cancer-stricken mother's longing to see her daughter walk down the aisle has led to an image of the young woman stretching across a massive billboard at Times Square, New York, with the message: "Date my daughter."
Last week, Beth Davis and her daughter, Molly, stood captivated as they saw the 47-foot-by-25-foot ad next to a billboard promoting Olivia Rodrigo's "Sour" album.
"Poor Olivia," the proud mother, Beth Davis, told the New York Post. "My daughter outshines her."
Beth, 61, was first diagnosed with cancer in 2004 and in 2020, doctors told her that she developed metastatic breast cancer. Since finding out the cancer spread extensively to her bones, the mother set out on a mission to find the right match for her daughter, "to know I am leaving her in good hands."
"I would like to see my daughter well-settled," Beth said.
Beth, who used to work in pharmaceutical sales, hopes to walk Molly down the aisle with her 62-year-old husband, Rick, a medical writer, according to Pechip.
"Considering that I have serious health issues, there is urgency," said Beth as she hopes to keep the cancer under control for another two years with Ibrance tablets.
To see her daughter have her 'happily ever after,' Beth decided to set up a profile for Molly on Wingman, an unconventional dating app where friends and family can find potential matches for their loved ones. "Ever since learning her breast cancer had spread, Beth's been on a mission to locate a good man for her daughter, Molly," reads the Wingman profile.
Wingman founder, Tina Wilson, came across the profile and was moved by the message. So Wilson arranged for the ad to go up amidst the flashing neon lights and giant billboards of Times Square.
Molly, a medical-device salesperson in Boston, also weighed in on seeing her face along with a photo of her mother with the words, "I'm Molly's wingman and her mom."
"It casts a wider net," Molly said. "I want someone who adores me and someone I adore as well. I want someone who adds to my life. If this broadcasts that, it will all be worth it."
Beth was more than happy to be her daughter's wingman and said, "It is only fair since Molly acted as my wingman, escorting me to various oncology appointments."
Last weekend, the mother and daughter stopped by the billboard and reveled in the glory of seeing their faces in the brightly lit street.
"We stepped out of an Uber, turned a corner and there Molly was," said Beth. "I threw back my head, my glasses fell off and I giggled. We both jumped up and down with excitement. Most people get 15 minutes of fame. But we are getting a whole month."
To anyone interested in asking Molly out on a date, the daughter said she would like to take things slow at first. "Smart, kind and humorous would be the trifecta," she said about her ideal match. "Someone with the essence of Chris Hemsworth or Ryan Reynolds."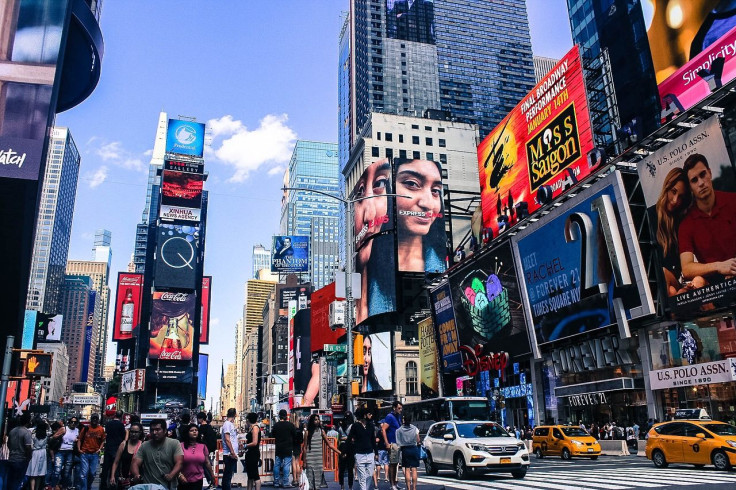 FOLLOW MORE IBT NEWS ON THE BELOW CHANNELS