Navy Ship USS Porter Collides With Oil Tanker By Strait Of Hormuz [PHOTOS]
A U.S. Navy guided-missile destroyer, USS Porter, collided with a Japanese-owned and Panamanian-flagged bulk-oil tanker, M/V Otowasan, on Sunday at 1 a.m. local time just outside the strategically important Strait of Hormuz between the Gulf of Oman and the Persian Gulf, according to the U.S. 5th Fleet.
The accident tore a hole in the destroyer's starboard side, but it left sailors on both ships unharmed, the 5th Fleet reported.
The crash between the destroyer and the tanker was not "combat related," the 5th Fleet said. The cause of the collision is under investigation.
The Porter was able to navigate to Jebel Ali in the United Arab Emirates under its own power. The damage is now being assessed and eventually will be repaired.
The Porter was inbound through the Strait of Hormuz as part of a scheduled deployment, while the Otowasan was outbound.
"We're just happy that neither ship sustained any injuries or casualties," Lt. Greg Raelson, a representative of the 5th Fleet, told the Navy Times.
It is the fleet's second collision in four months in the crowded waterway. Previously, an amphibious assault ship hit an oiler while on its way to San Diego.
The U.S. deployed naval ships to the area to ensure Iran does not carry out repeated threats of a blockade of tanker traffic in what is one of the world's busiest oil routes. The Islamic Republic has promised the blockade as retaliation against tough sanctions by Western nations.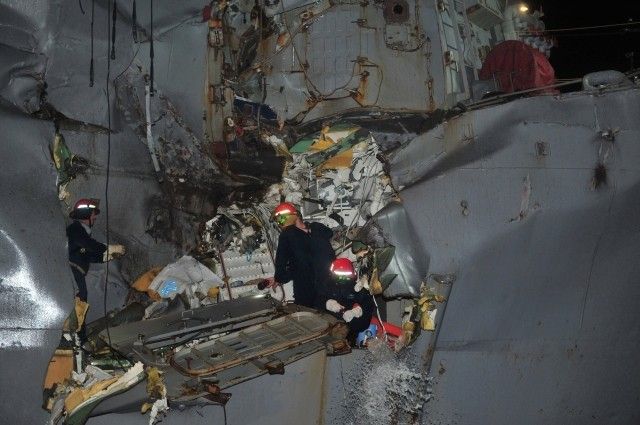 © Copyright IBTimes 2023. All rights reserved.