NBA Finals 2014 Betting Odds: Miami Heat, OKC Thunder, Chicago Bulls Among Favorites To Win Title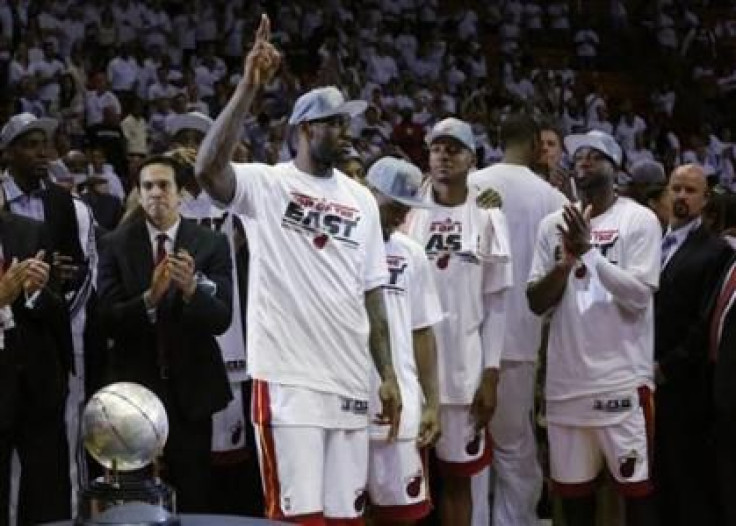 The Miami Heat took one step closer to making history on Thursday night with their Game Seven victory over the San Antonio Spurs. By winning the 2013 NBA Finals, the champs are just one more title away from accomplishing the first three-peat since the Los Angeles Lakers did it from 2000-2002. According to the most recent betting odds, there's a very good chance the Heat will win their third straight next season.
The online betting Web site Bovada has made the Heat overwhelming favorites to win the 2014 NBA Finals. Less than 24 hours after beating the Spurs, their betting odds are listed at 2/1. Miami has been favored to win it all every year, since the Big Three of LeBron James, Dwyane Wade and Chris Bosh came together.
The Oklahoma City Thunder had a disappointing finish to the 2012-2013 season, being knocked out of the second round in five games. With Russell Westbrook expected to be completely healthy at the start of next year, the No.1 seed from the West is expected to have a rematch of the 2012 NBA Finals. They have the second-best odds at 11/2.
While Westbrook's injury opened up the West for the Spurs, Derrick Rose's injury gave the Heat an easier path to the Finals. The Chicago Bulls beat the Heat in Game One of their second-round series without their star point guard, are expected to be even more of a threat in 2014 with his return. At 15/2, they come in ahead of San Antonio, whose odds are listed at 17/2, following the Game Seven loss.
The Los Angeles Clippers and Los Angeles Lakers odds are set at 18/1 and 22/1, respectively, but those numbers could change drastically in the coming weeks. The Clippers are looking to re-sign Chris Paul and the Lakers are hoping Dwight Howard accepts their max-contract offer. Both teams are the favorites to keep their star free agents, but there have been rumors that the Houston Rockets and Atlanta Hawks are possible destinations for either one.
Other notable teams include the New York Knicks at 18/1, Boston Celtics at 33/1 and Brooklyn Nets at 40/1. Below are the complete betting odds for the 2014 NBA Finals.
Miami Heat 2/1
Oklahoma City Thunder 11/2
Chicago Bulls 15/2
San Antonio Spurs 17/2
Indiana Pacers 16/1
Los Angeles Clippers 18/1
New York Knicks 18/1
Houston Rockets 20/1
Memphis Grizzlies 20/1
Los Angeles Lakers 22/1
Denver Nuggets 25/1
Golden State Warriors 25/1
Boston Celtics 33/1
Brooklyn Nets 40/1
Dallas Mavericks 40/1
Atlanta Hawks 50/1
Milwaukee Bucks 75/1
Minnesota Timberwolves 75/1
Philadelphia 76ers 100/1
Portland Trailblazers 100/1
Utah Jazz 100/1
Cleveland Cavaliers 150/1
New Orleans Pelicans 150/1
Sacramento Kings 150/1
Toronto Raptors 150/1
Washington Wizards 150/1
Detroit Pistons 300/1
Phoenix Suns 300/1
Charlotte Bobcats 500/1
Orlando Magic 500/1
© Copyright IBTimes 2023. All rights reserved.