NBA Trade Rumors: Brook Lopez, Lance Stephenson Linked To Thunder, Hornets, Nets Deal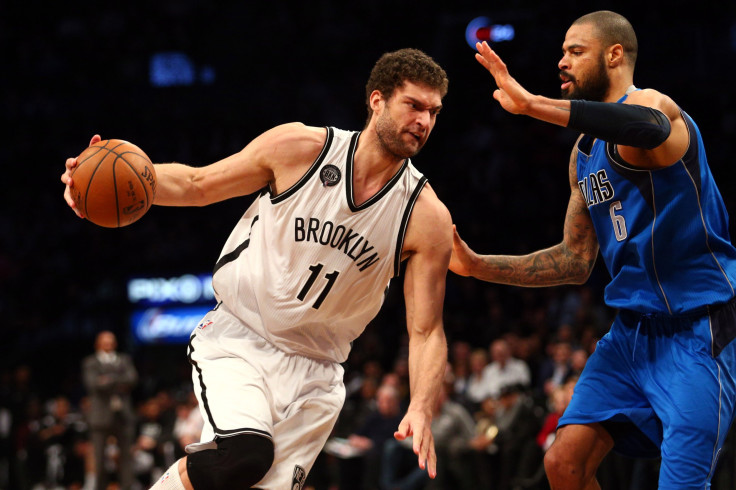 The first mega-NBA trade was put on hold Friday, but there's still big chance the New Orleans Hornets, Oklahoma City Thunder and Brooklyn Nets get a deal done. With all three teams either clinging to the postseason or hoping to move up the standings, a discussed trade involving six players and nearly $97 million in salary could be beneficial to all sides.
The main components of the potential trade are Brooklyn Nets center Brook Lopez and Charlotte Hornets guard Lance Stephenson, with Brooklyn guard Jarrett Jack and OKC's Jeremy Lamb, Grant Jerrett and Kendrick Perkins.
ESPN's Chris Broussard first broke the story late Thursday night, with Lopez heading to Oklahoma City and Stephenson landing in Brooklyn, with Jack, Lamb and Jerrett heading to Charlotte.
Perkins was reportedly added to the deal, and would potentially join the Nets, according to USA Today.
Over the last month, the Nets have been interested in off-loading Lopez and his $16.7 million player option for next season. The oft-injured 7-foot center has posted serviceable numbers at a position lacking in overall talent, averaging 14.6 points, 6.3 rebounds and 1.6 blocks in 29 games this season. He would join a Western Conference that includes big men like the Houston Rockets' Dwight Howard, the Los Angeles Clippers' DeAndre Jordan, and Dallas Mavericks' Tyson Chandler.
While barely maintaining the final playoff spot in the Eastern Conference, the Nets are desperate to create salary cap room. They're already the highest-spending team in the league with a $91.2 pay roll, and have more money devoted to player contracts next season, $76.7 million, than any other team.
However, Broussard indicated that while Charlotte and OKC are on board, the Nets are holding things up. Perhaps due to Miami's concurrent interest in Lopez.
Freeing up space now could make the Nets potential suitors for such stars like Cleveland's Kevin Love and LeBron James, Memphis's Marc Gasol or even Miami's Dwyane Wade.
Stephenson, who signed a three-year, $27.4 million deal with the Hornets only seven months ago, has failed to mesh with Charlotte's young squad. The Hornets are 1.5 games back of the final spot in the East, and Stephenson's done little to help the team ranked 24 th in scoring and 26 th in assists.
Though he's been a mercurial presence in the locker room with his former team, the Indiana Pacers, and the Hornets, Stephenson is still one of the more versatile guards in the league, notching 10.1 points, 4.7 assists and 6.6 rebounds per game.
The guard duo of Jack and Lamb should immediately help the Hornets backcourt, and take some pressure off top point guard Kemba Walker.
© Copyright IBTimes 2023. All rights reserved.