NCTzen Slam 'Sasaeng' Fan Over Video Of Her Filming NCT On Plane, Eating At Same Resto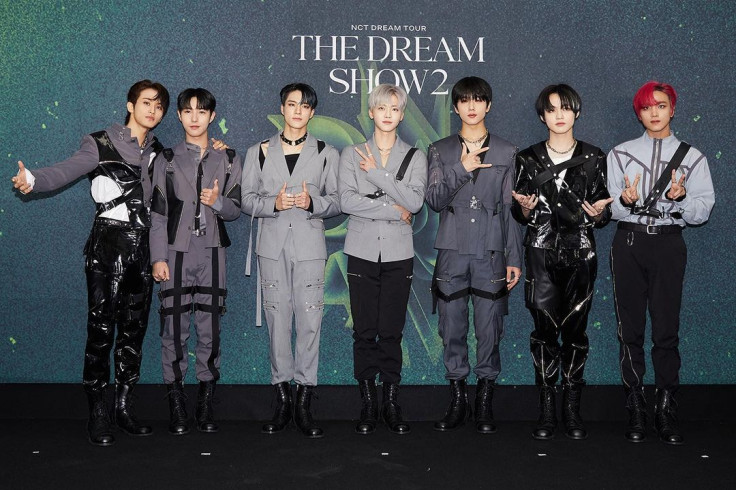 KEY POINTS
NCTzen called out a fan who allegedly stalked NCT Dream during its flight from Brazil
The fan, deemed a "sasaeng," was seen on the same plane as NCT Dream
NCT Dream recently performed at the Vibra São Paulo in Brazil
NCTzen expressed anger over how a fan seemingly exhibited stalker-like behavior toward NCT Dream during the group's private flight from Brazil.
On Thursday, a social media user with the handle @121618Y on Twitter urged the NCT fandom to report an alleged "sasaeng" — a term used for obsessive fans who invade the privacy of public figures in South Korea — who was spotted on the same plane as NCT Dream and allegedly ate breakfast at the same restaurant where the group dined.
The user uploaded photos from the "sasaeng's" Instagram and compared them to the latest updates provided by the group members, including Haechan and Renjun.
There, it was seen that the former boarded an airplane and wrote the caption, "Bye Brazil." She also posted a photo of her breakfast meal, which was quite similar to the breakfast Renjun ate and shared on his Instagram Story. The user also uploaded a video showing the "sasaeng" seated in front of one of the members, identified as Haechan. It is unclear, however, who took the video.
Following the post, NCTzen — the official fandom name of NCT — expressed disbelief toward the fan for invading the K-pop group's privacy. Some even noticed that the fan had already put her Instagram account private.
"This is too creepy. [She] literally [followed] him even in one plane. Girl better get [another] job," one user wrote.
Another commented, "Get the [f—k] out [oh my gosh] 'sasaengs' are so disgusting nowadays what's wrong with them????"
"She's so sick, let's just mass report her on kwangya119," a third user suggested.
"The way [SM] doesn't give a [f—k] about the safety of their artists is literally negligence [at this point because] the 'sasaengs' sitting by members on planes has been an ongoing problem for years," a fourth user said, calling out the group's entertainment label, SM Entertainment.
Another commented, "The type of [people] that idols should ignore. What a disgusting person."
NCT Dream — composed of Jaemin, Jisung, Jeno, Haechan, Chenle, Renjun and Mark Lee — recently kicked off the Latin America leg of its "The Dream Show 2: In You Dream" world tour at the Vibra São Paulo in Brazil Tuesday.
NCTzen could only hope this incident does not occur again since the group continues with the other stops of its tour in Chile, Peru and Mexico.
© Copyright IBTimes 2023. All rights reserved.