Netflix New Releases: 'Gilmore Girls' Available For Streaming Oct. 1; 7 Must Watch Episodes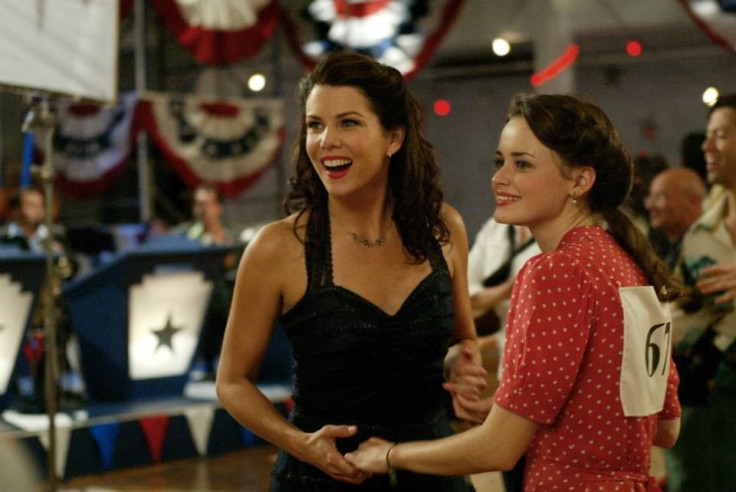 Hopefully you didn't have any plans for October because you'll be watching "Gilmore Girls" on Netflix. The streaming service will pick up the entire series on Oct. 1. All seven seasons of the dramedy will be available for binge-watching, Decider reports.
In case you somehow missed this fantastic show, "Gilmore Girls" followed Lorelai and her teenage daughter Rory as they navigated life with a lot of witty banter and pop culture references. Lorelai was 16 when she had Rory, and sometimes she seemed more like a teenager than Rory. The two were best friends, lived in a quirky small town called Stars Hollow and had a tumultuous relationship with Rory's grandparents.
In case you're not a binge-watcher (153 episodes is a lot) or you just want to skip to your favorite "Gilmore Girls" memories when it hits Netflix, here are seven must watch episodes:
1. "They Shoot Gilmores, Don't They?" (Season 3 episode 7)
The 24-hour dance marathon is one of the most iconic "Gilmore Girls" moments. Lorelai enlisted Rory as her partner in the dance marathon, but Rory had a lot of distractions. Her boyfriend Dean cheered her on in the stands, but Jess was making out with his girlfriend and making Rory jealous. This episode is one of the best moments of the Rory-Dean-Jess love triangle.
2. "Kiss And Tell" (Season 1 episode 7)
Rory had her first kiss with Dean, and she said "Thank you" before she ran away. This sweet first season episode definitely showed Rory's awkward side, and Lorelai didn't help Rory's embarrassment when she invited Dean to movie night. Rory freaked out, but she actually had a great night with Dean and her mom. Lorelai was kind of disturbed that Dean reminded her so much of Rory's dad. Although she was friendly, she warned Dean that he'd be in trouble if he hurt her daughter.
3. "I Can't Get Started" (Season 2 episode 22)
Sookie and Jackson finally got married, but the Gilmores were still searching for their happy endings at the wedding. Lorelai and Christopher seemed like they could finally make their relationship work, but a call from Christopher's ex changed everything. Jess returned to town and Rory finally admitted her feelings for him. More importantly, this episode started the catchphrase: "Oy with the poodles already!"
4. "Dear Richard and Emily" (Season 3 episode 13)
This was the episode that really gave fans insight to Lorelai's past. Viewers knew that she hadn't maintained a great relationship with her parents after Rory's birth, and the flashbacks showed the foundation of that relationship. We see why Lorelai chose to raise Rory on her own, leaving behind her rich parents and Christopher's lackluster marriage proposal.
5. "Raincoats and Recipes" (Season 4 episode 22)
"Gilmore Girls" was at its best when it involved the whole cast being insane together. In this episode, Lorelai invited people for a test run at the Dragonfly Inn before she officially opened for business. Richard and Emily revealed that they were separated, Kirk had naked night terrors, and Jason wanted Lorelai back. Both Lorelai and Rory stepped into new relationships -- Luke finally kissed Lorelai and Rory reconnected with Dean (who was still married).
6. "The Lorelais' First Day at Yale" (Season 4 episode 1)
Rory moved into Yale, but she panicked. She called her mom to come back immediately and Lorelai ended up sleeping over in Rory's dorm. It seemed like the first time Rory realized that she was a little to dependent on her mother, and she needed to step out on her own.
7. "Rory's Birthday Parties" (Season 1 episode 6)
Rory's grandmother insisted on throwing her a birthday party, but it isn't at all what Rory wanted. Emily invited all of the people from Rory's new private school that she barely knew to a formal, stuffy party. Lorelai had another party waiting at home for Rory that included all of her friends, music and feather boas. The episode showed the clear difference between Lorelai's past and present and proved that Emily really doesn't know Lorelai. Yet when Lorelai saw Rory and Dean share a moment outside, she realized that maybe she doesn't know everything about her daughter either.
"Gilmore Girls" will be available for streaming on Netflix starting Oct. 1. Which of your favorite episodes are missing from the list? Are there any you can't wait to rewatch on Netflix? Sound off in the comments section below!
© Copyright IBTimes 2023. All rights reserved.