New Airfare Rules: Understanding Your 'Passenger Protections'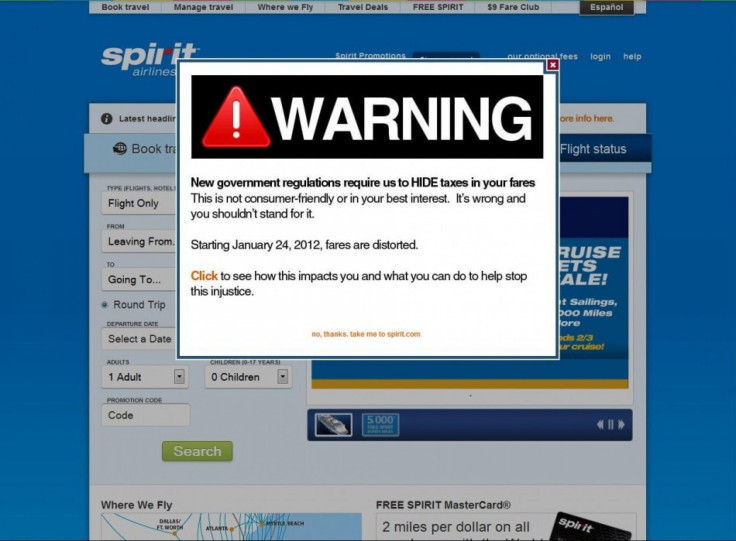 A series of new airfare rules put forth by the Department of Transportation (DOT) will go into effect Jan. 26 and offer travelers better passenger protections.
The most visible of the new rules is a law that requires airlines to include mandatory government taxes and fees in all advertised fares. Other rules pertaining to ticket cancellation policies and baggage fees went into effect on Jan. 24.
Airline passengers have rights, and they should be able to expect fair and reasonable treatment when booking a trip and when they fly, U.S. Transportation Secretary Ray LaHood said Monday. The new passenger protections taking effect this week are a continuation of our effort to help air travelers receive the respect they deserve.
Eliminating the Asterisk
If that airline ad for a $9 fare on Spirit or a $49 cross-country flight on Southwest seems too good to be true, that's because it is. With the new rule, advertisements that make airfares seem enticingly low will become a thing of the past.
The DOT will eliminate the asterisk pointing to a dense paragraph of additional taxes and fees that make a cheap ticket significantly more costly. In many cases, the additional charges can raise the ticket price by 20% or more.
For the last 25 years, the department allowed airlines and travel agencies to list government-imposed fees in a separate area, resulting in a paragraph of fine print and disclaimers.
Increasing use of Web ads, Facebook, and Twitter -- where actual prices are harder to decipher -- prompted the government to change the long-standing rule. All advertised airfares will include the non-optional fees and taxes, including fuel charges and the Sept. 11 Security Fee, when the rule goes into effect.
The Fine Print
The rule does not only affect airlines but also both online and brick-and-mortar travel agents that offer vacation packages including airfare. All travel providers will have to include mandatory flight taxes and fees in package costs.
Travel booking sites like Intrepid Travel and Monograms, and OTAs like Expedia, Travelocity, and Orbitz, have to include mandatory flight taxes and fees when advertising airfares just like the airlines.
Items like baggage fees, however, will not be included because they are optional.
Fare aggregators like Kayak already included taxes and fees in their fares so there will be no noticeable changes.
Aside from the new airfare rules, several other passenger protections were put in place:
Airlines can no longer increase the price of a ticket after it has been sold.
Airlines will have to inform passengers if a flight will be more than 30 minutes late.
Passengers will have the option to change or cancel a reservation within 24 hours of initial booking so long as the ticket purchase is made at least one week in advance of departure.
Airlines must be more upfront about baggage fees and they must be displayed on the first screen containing a fare quotation for a specific itinerary.
The department is considering several other protections such as requiring airlines to disclose fees for optional services when passengers book a flight, requiring additional carriers to file on-time performance reports, and enhancing the disclosure of code-share flights (those marketed by one airline but operated by another).
READ ALSO:
Who's Really Flying Your Plane?
FAA Pilot Fatigue Rule is a 'Landmark Safety Achievement'
Tarmac Delays: Knowing Your Rights as a Passenger
Shaking up the Airline Industry
Spirit Airlines, Allegiant, and Southwest asked the United States Court of Appeals for the District of Columbia to block the proposal, arguing that it violates their rights to free speech.
The airlines claimed that the federal agency has no proof that advertising base fares separately from fees and taxes is unfair or deceptive conduct, according to court papers. They further argued that the rule is arbitrary and capricious, saying that advertising fees and taxes separately has been done for years by virtually every other industry in the United States.
Spirit, for example, has built its business model around advertising $9 fares and then charging for both checked and carry-on bags, taxes, and additional fees. The airline got in trouble last year for advertising a $9 fare on Twitter and forcing costumers to click links to two more Web pages to find out the full price.
Spirit warned customers on Tuesday that the new airfare rule forces airlines to hide the government's taxes and fees in fares.
We believe that the better form of transparency is to break out costs so customers know exactly what they are buying, said Spirit's President and CEO Ben Baldanza. Spirit believes customers have a right to know how much of their fare goes toward government taxes and fees rather than hiding it in the fare.
If the government can hide taxes in consumer's airfares -- which they are mandating us to do starting this week -- then they can quietly carry out their hidden agenda and increase the taxes consumers bear, adds Baldanza.
The government has increasingly cracked down on airlines over deceptive advertising. Air Canada, JetBlue, Thai Airways, LAN Airlines, South African Airways, Orbitz, Virgin Atlantic and Sprit have all been fined at least $50,000 for advertising infractions in the past six months.
The new rules are part of a greater list of passenger protections the Transportation Department proposed in 2010 and adopted last spring. A number of new measures required by the rule took effect on Aug. 23, 2011, including requirements that airlines refund baggage fees if bags are lost and provide increased compensation to passengers bumped from oversold flights.
© Copyright IBTimes 2023. All rights reserved.