New York Times Vs BuzzFeed: Competing Models For Breaking News In The Era Of Twitter, Reddit, And Mob-Sourced Journalism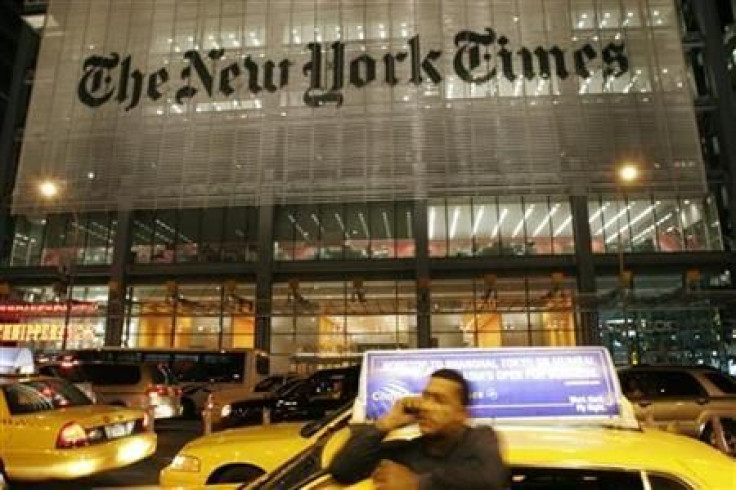 In the wake of the Boston Marathon bombings, their aftermath and the subsequent manhunt for the suspects, no small number of media commentators have written about the troubling state of breaking news. Messy and downright inaccurate reports from trusted outlets such as CNN left consumers confused and fellow journalists exasperated. And the fact that these breaking-news fails followed similar incidents during Hurricane Sandy, the Sandy Hook school shooting and other recent events has not gone unnoticed.
One such observation came from Poynter's Craig Silverman, who noted a pattern of breaking-news snafus emerging around a slew of recent big events. "It will happen over and over again," he wrote, "whether it be related to a hurricane, a mass shooting, a Supreme Court decision, a bombing and on and on. Welcome to the new normal."
But if breaking news is broken, as the narrative goes, there are no clear answers on how to fix it -- and, naturally, competing theories are emerging. On Thursday, the Atlantic's Megan Garber asked if BuzzFeed, the viral news site and talk of the media world as of late, could have the solution. Fresh off a recent infusion of $19 million from investors -- for a total of $46 million since 2008 -- the site has been rapidly expanding in almost every way, from new bureaus to expansive native advertising deals.
Now, as Garber reports, BuzzFeed has hired a news director to handle the day-to-day operations of its breaking news. Ben Smith, the site's editor-in-chief, told the Atlantic that more and more people have been turning to BuzzFeed as an outlet for breaking news, so it's no surprise that the site would need to recruit a brave soul to manage the madness.
It's also no small irony that the person BuzzFeed has tasked with taking on this challenge is Lisa Tozzi, whom BuzzFeed hired away from the news desk of the New York Times, which itself is in the process of tweaking its strategies. During its mostly dismal quarterly earnings report on Thursday, the New York Times Company (NYSE:NYT) focused largely on the one true bright spot in its struggling business model: circulation revenue, which grew 6.5 percent on the heels of its ramped-up paywall. The company also announced that it has several new digital-subscription options in the works, including a "lower-priced paid product designed to allow access to The Times's most important and interesting stories in a convenient, media-rich package for consumers looking for an efficient way to stay informed."
Exactly what such a plan would entail is unclear, as the product in question is still under development, but major breaking news could very well be included in those "important and interesting stories" mentioned in the description. If so, that could signal a change for the still-young business model of metered digital subscriptions. The Times, like other newspaper websites, routinely lifts its paywall during major news events such as Hurricane Sandy or the Boston bombings. But as of yet, there does not seem to be a consensus on what type of news does or does not constitute such an action.
If nothing else, a low-priced paywall option for important stories could offer news consumers a kind of quiet room, a place to filter out the chatter of Twitter, Reddit and traffic-fueled aggregation when major news breaks. Mark Thompson, the Times Company's chief executive, noted during a conference call with analysts Thursday that demand for such a product is strong, based on consumer research, and so it's no surprise that Times executives want to oblige readers by boosting one of the Times' few areas of growth.
"We want to deepen our relationship with our existing loyal customers," Thompson said in a statement, "but we also want to use a wider family of New York Times products to reach new customers both here and around the world."
Of course, while BuzzFeed and the Times have differing strategies for dealing with breaking news, neither can promise that it will make such news more accurate. So long as major news events send media outlets scrambling to report news first, breaking news will be a messy business -- whether it's coming through a metered paywall or presented alongside a cute listicle of "33 dogs who cannot even handle it right now." Like Silverman said, it's the new normal.
Got a news tip? Send me an email. Follow me on Twitter: @christopherzara
© Copyright IBTimes 2023. All rights reserved.
FOLLOW MORE IBT NEWS ON THE BELOW CHANNELS