'The Newsroom' Series Finale Spoilers: Charlie Returns In The Last Episode Of Season 3, What Happened In Episode 6? [RECAP]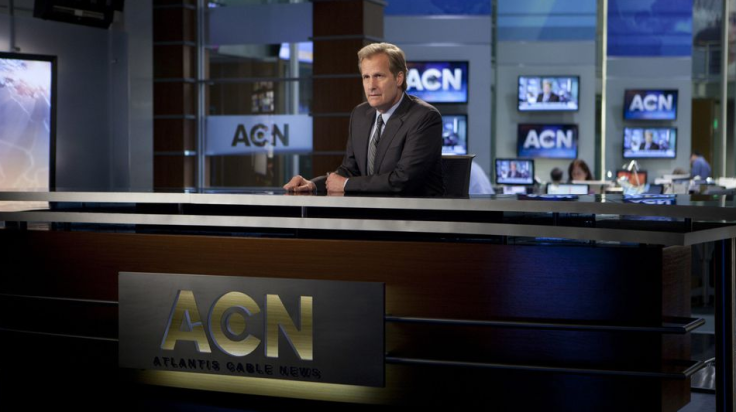 It all came to an end on "The Newsroom" Sunday night. The final episode of the third and final season of the HBO series brought the three-year story of ACN's "News Night 2.0" and Will McAvoy's (facetious?) "Mission to Civilize" to an end. After episode 5 of Season 3 saw the sudden death of Charlie Skinner (Sam Waterston). Will would have to come to terms with his friend's death and what they had accomplished in the course of the show on the series finale, "What Kind of Day Has it Been?"
The episode began with Charlie's funeral where the whole ACN team had gathered to pay respects. Mackenzie (Emily Mortimer) stepped out to make a phone call and came back to her husband excited about a blood test she took after their wedding night (and the night he went to prison). Is she pregnant?
Before fans would get an answer the show flashed back three years, before Will's viral Northwestern rant and before Mackenzie came in to start News Night 2.0. In addition to seeing Will condescend to then-assistant Maggie (Alison Pill) and Neal (Dev Patel) again, fans got some bonus time with Charlie. The news director got a drink with Will as he tried to convince the anchor to forget about ratings and do real news again. Charlie ended the rambling conversation telling Will he could live long enough to be a better father than Will's own alcoholic father.
The show flashed forward to the present. Mackenzie confirmed after the funeral she was seven weeks pregnant.
However, Mackenzie was then pulled away by Leona Lansing (Jane Fonda) to get a ride to the cemetery with Lucas Pruit (B.J. Novak). Leona hoped to help Pruit with some recent public relations disasters involving disparaging treatment of women, but Mackenzie was not sure why she was there in the first place.
Meanwhile, Maggie and Jim (John Gallagher Jr.) were on their way to the cemetery, and it appeared they were now officially together. She confessed she had gotten an interview for a producer's position in Washington. It turned out that Jim had put her up for the job.
In another car, Don (Thomas Sadoski) and Sloan (Olivia Munn) were telling Will about the fight in the newsroom right before Charlie's heart attack as the show went into another flashback.
In the flashback, Charlie visited Mackenzie in Washington where she was unemployed and devoted to being the world's worst bowler while recovering mentally from Afghanistan. Charlie offered her the executive producer job at "News Night." He hoped she could turn the show into a credible program and her presence would inspire Will to be a better anchor.
Still in flashback, fans got to see Sloan and Don meet at ACN where Sloan was complaining about Will's coverage of the subprime mortgage crisis. In a rapid-fire, witty conversation worthy of the present-day couple, they argued as Don defended his show and criticized Sloan's on-air explanation of the mortgage crisis.
Later, but still in flashback, Mackenzie appeared outside the Northwestern event that kicked off the series where the show revealed Mackenzie had met the girl who asked the now-famous "What makes America the greatest country in the world" question and even helped her get in the front of the line for the microphone.
Afterwards, Charlie sat in his office watching Will's rant on YouTube when he got a call from Mackenzie who accepted the job.
The show then traveled to Jim's apartment where Mackenzie arrived to bring him on board as her senior producer, showing him a copy of "Don Quixote" that Charlie had sent her as proof he was serious about doing the news with integrity.
Sloan then reappeared in Don's office determined to explain the sub-prime mortgage crisis. However, he responded with the news he was being replaced as producer of "News Night." After the conversation ended, Sloan went back to ask the producer to coffee, but he was not in his office anymore.
Back in the present at a funeral reception at Charlie's house, Will was clumsily letting out the baby secret to anyone who would listen.
Elsewhere, Jim tried to convince Maggie he had not put her up for the job to break up with her without saying it. However, she did not believe him, telling him she knew they were nothing serious.
At the same time Leona was counseling Pruit about needing a news director who would fight him at every opportunity, like Charlie had had with her, and instructing him not to fire Mackenzie, who still wondered why she was part of the conversation.
Back at ACN, Neal returned, shutting down the network's now tabloid-style website and reaming out the digital producers.
Back at the funeral reception, Will, who was suffering from a severe case of baby fever, went to spend some time with Charlie's grandchildren, starting an impromptu jam session of "How I Got to Memphis" with Charlie's older bass-playing grandson. Jim joined in.
Afterward, it was time to head back to the newsroom. First, though, Will finally made a speech following a private conversation with Pruit. He stressed the importance of continuing what Charlie had helped them start and announced Mackenzie as the new news director. Mackenzie's promotion seemed to be a decision that Leona was coaching Pruit to make the whole episode.
Back at the newsroom the promotions kept coming. Mackenzie made Jim the new executive producer of "News Night" and his first move was to make Maggie his senior producer. However, she turned the job down, preferring the field producer job in Washington. Jim came clean about his feelings, vowing to make a long distance relationship work. When Maggie asked why it would work this time he told her it would because he was in love with her.
Meanwhile, Sloan visited Don, who had been given a tie of Charlie's by the late news director's wife. She told Don her husband had hoped Don would fight him on the Princeton story. Don gave the tie to Sloan as they comforted each other about missing their beloved boss.
After some words of encouragement to Mackenzie about her new job, Will went to the news desk to do the news for the last time on the HBO series.
What did you think of "The Newsroom" finale? Tweet your thoughts to @Ja9GarofaloTV.
© Copyright IBTimes 2023. All rights reserved.
FOLLOW MORE IBT NEWS ON THE BELOW CHANNELS