NFL 2014: Philadelphia Eagles, Arizona Cardinals Show Importance Of Having An Experienced Backup Quarterback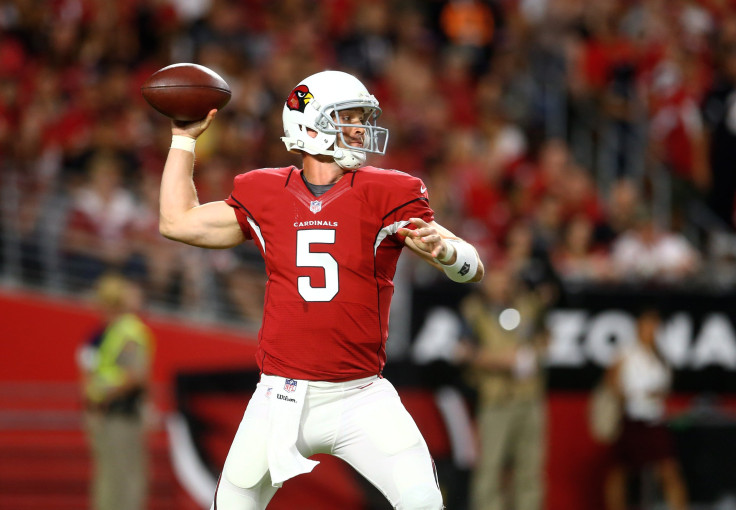 Two NFL contenders may be escaping a late-half collapse by focusing on an insurance policy at starting quarterback. The Philadelphia Eagles and Arizona Cardinals, both leading their respective NFC divisions, could both be without their top signal caller for the remainder of 2014, but shrewd signings are keeping them in contention among the top conference teams.
Eagles quarterback Nick Foles suffered a fractured clavicle in Week 9, and the injury has thrust Mark Sanchez into the lineup for anywhere from one to two months. Carson Palmer went down in Week 10 with a torn ACL is out for the season, and has been replaced by Drew Stanton.
Sanchez gets the call on "Monday Night Football" as a starter for the first time since the 2012 season. The 27-year-old replaced Foles in Week 9, and helped Philadelphia get a win in Houston by completing 15 of 22 passes for 202 yards and two scores.
Against a Carolina Panthers team that would find itself tied for first place with a victory, Sanchez gives the Eagles a strong shot to maintain their lead in the NFC East. The quarterback was much-maligned in his final seasons with the New York Jets, but he's proven capable of leading a winning team when he's surrounded by talented players, having reached the AFC Championship Game twice.
In an odd twist, Philadelphia may have a better shot at winning with Sanchez at quarterback. Las Vegas oddsmakers have actually increased the betting line in the Eagles' favor, with Philadelphia laying a touchdown against Carolina, after giving the Panthers six points to begin Week 10.
Teams with less serviceable backups have seen betting lines dramatically shift while their starting quarterback was sidelined. Brandon Weeden's presence made the Dallas Cowboys underdogs to the Cardinals, even though they started Week 9 as four–point favorites with Tony Romo at quarterback. The Tennessee Titans became less favored over the Jacksonville Jaguars in Week 6 when Charlie Whitehurst took over for Jake Locker.
The Cardinals are not expecting to take a major step back with Stanton at quarterback. The veteran went 2-1 as the starter when Palmer was injured in Weeks 2-4, including one win in New York and another against the San Francisco 49ers. On Sunday, he threw a 48-yard touchdown pass in relief of Palmer to secure a Week 10 victory.
"We can win the Super Bowl with Drew Stanton," Cardinals head coach Bruce Arians told reporters. "There is no doubt in my mind."
There is a precedent for backup quarterbacks taking over and leading their teams to a championship. During his sixth NFL season, Jeff Hostetler started in place of an injured Phil Simms and led the Giants to a victory in Super Bowl XXV. Trent Dilfer took over for Tony Banks halfway through the 2000 season, and led the Baltimore Ravens to their first ever title. Tom Brady is the most notable backup to win a Super Bowl, but he's in a class by himself.
Teams like Philadelphia, Arizona, and even the Buffalo Bills, who had Kyle Orton take over the starting duties in Week 5, have proven the value of having a veteran backup quarterback. Teams forced to play second-stringers with limited experience have suffered, as a result.
"I think it's hugely important," said Eagles offensive coordinator Pat Shurmur in August about having a strong backup. "You see time and time and time again where the backup is thrust into the starting role."
Some might argue that Shurmur may have the most reliable backup quarterback in the league. Sanchez has started 62 career regular-season games, as well as six playoff games. Stanton has never been a full-time starter, but he's been in the league since 2007, and wide receiver Larry Fitzgerald described him as "extremely prepared."
Not having a well-prepared backup quarterback often has far-reaching effects. Six teams have replaced their opening week starter with a quarterback that has three years or fewer of NFL experience. All of those teams have a losing record.
No team currently starting a rookie quarterback entered the season among the top contenders for the Super Bowl, but their struggles also highlight the importance of having a backup that has a few years in the league. Rookies Blake Bortles, Teddy Bridgewater, Austin Davis and Zach Mettenberger have combined to go 7-15 as starters.
Arizona has the NFL's best record at 8-1. A win on Monday night would give Philadelphia the second-best mark in the league.
© Copyright IBTimes 2023. All rights reserved.