NFL Free Agent Rumors: Denver Broncos Hosting Dwight Freeney, John Abraham? What About Elvis Dumervil? Pittsburgh Steelers, Baltimore Ravens, New England Patriots Options?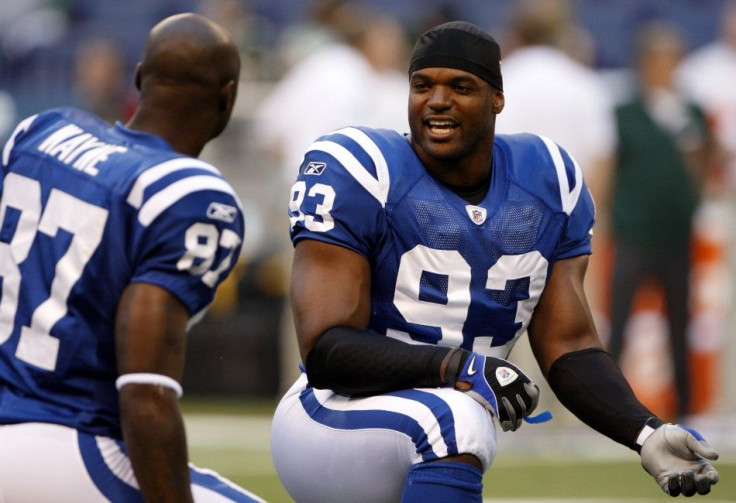 Just in case defensive end Elvis Dumervil's next contract gets stuck in transit again, the Denver Broncos have two very big back-up plans.
Denver president John Elway and the club will reportedly meet with veteran pass rushers Dwight Freeney and John Abraham Thursday, according to NFL.com.
The Broncos were forced to cut Dumervil last week after his new contract wasn't received in time, due to an awful mistake by his agent, Marty Magid, and a malfunctioning fax machine. If Denver didn't cut him by the deadline, they would have been forced to pay Dumervil $12 million next season.
The whole point of the negotiation was to pare down Dumervil's salary, but talks with the 29-year-old are now back to square one. He's since fired Magid, and hired Peyton Manning's agent, Tom Condon.
Condon also represents Freeney, who was cut by the Indianapolis Colts after 11 years of service. He, like Abraham, is seen as a "fallback" should Denver and Dumervil fail to get a deal done.
As soon as he was released by the Colts, Freeney was almost immediately linked to Denver because of his strong relationship with Manning. In 163 career games, Freeney has 107.5 sacks, though he appeared to slow down last year, notching just five sacks.
The 35-year-old Abraham was released by the Atlanta Falcons in a salary dump, but has garnered interest from the New the England Patriots, as well as the Seattle Seahawks before they inked Michael Bennett and Cliff Avril.
Abraham is first among active players with 122 career sacks.
Dumervil and Denver had reportedly come to a verbal agreement to reduce his salary to $8 million from $12 million next season, and even though they saved $7 million by cutting him, the Broncos still had to absorb a cap hit of more than $4 million. The Pittsburgh Steelers, and Baltimore Ravens were two teams tied to Dumervil, so he also has a safety net.
That cap hit, coupled with receiver Wes Welker's two-year, $12 million deal, take up enough space to make it difficult for the Broncos to bring back Dumervil. Along with Von Miller, Dumervil and the Broncos pass rush were tied with the St. Louis Rams for the most sacks in the league with 52 last year.
© Copyright IBTimes 2023. All rights reserved.