NFL News: What Are Peyton Manning, Tom Brady And Aaron Rodgers Worth If Colin Kaepernick Is Guaranteed $61 Million?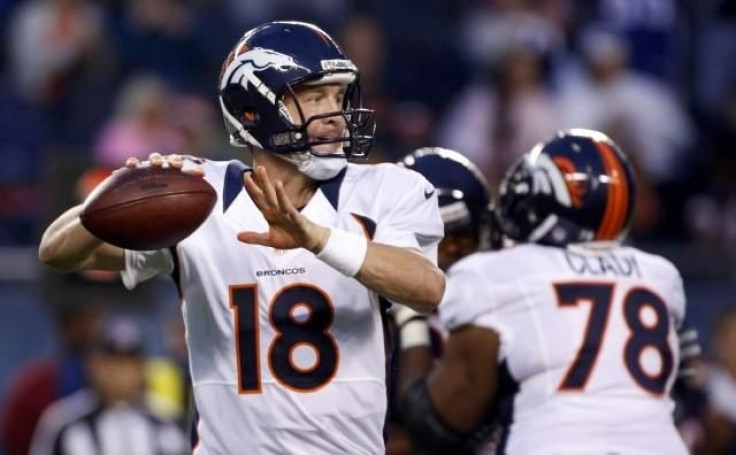 Questions over the premium placed on potential over on experience were raised this week in the NFL, as Colin Kaepernick became one of the highest-paid players in the league by re-signing with the San Francisco 49ers in a deal worth $126 million. The 26-year-old, who started just 23 games over his career, is guaranteed to make $61 million.
Kaepernick must reach certain incentives to receive his entire signing bonus, but he'll still make more than almost any other player in the league. His deal raised eyebrows considering Kaepernick was a reserve as early as the 2012 season, after taking the starting job following an injury to Alex Smith.
The 49ers appear to be pinning their hopes on Kaepernick's ability to perform like an elite quarterback over the length of the deal. That might be a tall order after he finished 10th in the NFL in passer ratings (91.6) in 2013.
Aside from Kaepernick's deal, questions surround the wisdom of a team devoting such a large portion of their payroll to a quarterback. Kaepernick is far less accomplished than veteran quarterbacks Peyton Manning, Tom Brady, and Aaron Rodgers. While none of them make as much as Kaepernick, their salaries still make up a large portion of their team's payrolls.
Are teams making a wise investment by signing quarterbacks to lucrative deals?
When Manning signed with the Denver Broncos in 2012, he agreed to a five-year deal worth a total of $96 million. His yearly average salary ranks him fourth in the league. After two seasons in the AFC West, the quarterback has done all he can to live up to his deal. Denver has won the division twice with a combined record of 26-6.
Manning has failed to bring a championship to Denver, but he's turned the Broncos into a perennial winner. Denver entered the 2014 Super Bowl as the favorites, though they came up short against the Seattle Seahawks.
In addition to bringing the Broncos on-the-field success, Manning is one of the most popular players in the league. Last season, only Russell Wilson had more jersey sales. The Broncos, who have not won a title since John Elway was quarterback, may place a particularly high importance on having such a marketable player as the face of the organization. Whether they win or lose, in Manning the Broncos have a respected player who guarantees not only jersey sales but also ticket sales.
Brady, Manning's adversary, has proven to be more than worth what the New England Patriots pay him. According to nfl.com, Brady doesn't even rank among the NFL's 26 richest contracts, in terms of yearly average.
However, the number is somewhat misleading due to the way Brady's contract has been restructured. He will still make $10 million of his signing bonus during the 2014 season, in addition to his $2 million salary, and the $5 million bonus that he'll get three weeks after the upcoming season ends.
Brady helped lead New England to three Super Bowl championships in four years. Even though he hasn't brought the franchise a title in 10 years, the veteran has put a lot of money in owner Robert Kraft's pocket. In each of the last five years, the Patriots have won the AFC East, giving New England a total of seven home playoff games. Brady also has the fourth-highest selling jersey in the league.
While Brady and Manning stand alone as the best two quarterbacks of their generation, Rodgers will likely be viewed in a similar light in a few seasons. Before last year's training camp, the Green Bay Packers gave Rodgers a five-year extension worth $110 million. His signing bonus was a record $62.5 million.
Rodgers had big shoes to fill after the departure of long-time starter Brett Favre. Since becoming the team starter in 2008, though, Rodger has been about as good as any quarterback in the league. The Packers have five straight playoff appearances, including a Super Bowl victory in the 2010 season.
With Rodgers at the helm in 2011, the Packers set a record for net income, raking in a total of $42.7 million. He continues to make the franchise money, even after a first-round playoff exit in 2014. Last year, his jersey ranked ninth in sales.
In the NFL, it's possible to have on-the-field and financial success without a high-priced quarterback. Last season, Russell Wilson had the league's best-selling jersey and led the Seattle Seahawks to a title, while making less than $1 million in salary. The Seahawks outperformed the 49ers last season, so a high-priced contract extension is likely on the way for Wilson.
The importance of the other parts of the roster may be more important. Many experts believe Seattle won the Super Bowl due to their exceptional defense. An emphasis on the 11 defensive players over a signal caller might be a more worthy investment.
However, Wilson and the Seahawks in 2013-2014 are an exception to the rule. Most of the league's top organizations are led by top-flight quarterbacks who commanded a large salary after several years of success.
Teams like the Broncos, Patriots and Packers appear to be doing more than fine after spending lavishly on their quarterbacks.
FOR FREE to continue reading
✔️ Unlock the full content of International Business Times UK for free
offer available for a limited time only
✔️ Easily manage your Newsletters subscriptions and save your favourite articles
✔️ No payment method required
Already have an account?
Log in
© Copyright IBTimes 2023. All rights reserved.