NFL Rumors: Sidelined Brock Purdy On Track To Start In Week 1
KEY POINTS
Brock Purdy is expected to start in Week 1 following his recovery from surgery
Injuries to Trey Lance and Jimmy Garoppolo allowed "Mr. Irrelevant" to shine last season
Purdy will need to prove that his performance last season was not a case of luck
The San Francisco 49ers saw a revolving door of quarterbacks last season due to injuries suffered by early-season starter Trey Lance and NFL vet Jimmy Garoppolo, which opened up opportunities for Brock Purdy and the 49ers appear to be riding the hot hand entering the new season.
NFL insider Matt Maiocco of NBC Sports Bay Area recently appeared on the Murph & Mac podcast to shed some light on Purdy's status this offseason.
"It seems like there have been no blips. Everything seems to be working toward September 10 at the Pittsburgh Steelers," Maiocco stated.
"But everything I've heard is that the progress and the [physical therapy], all that is right on pace, that there's been no setback and it's not necessarily all systems go. That'll come a little bit later. But as I understand it, they're very happy with where he is in his recovery from that surgery."
Purdy bucked all notions of being the 2022 NFL draft's "Mr. Irrelevant" after showing up and showing out when the chance was afforded to him in his rookie year.
Lance, then the 49ers' starting quarterback, suffered a season-ending ankle injury against the Seattle Seahawks in Week 2 which forced them to start Garoppolo, who was knocked out for the rest of the season thanks to an injury to his foot in Week 13 against the Miami Dolphins.
For 49ers fans, they have caught glimpses of Purdy throughout the season up to that point, though there was little confidence in his abilities to lead San Francisco to a postseason berth since he had no breakout game yet up to that point.
But including their win over the aforementioned Dolphins, Purdy forced the front office to reevaluate whether he should be the starter after winning all six of their remaining regular season games, putting up a total of 1,308 passing yards with a 68.32 percent completion rate, 13 passing touchdowns, plus a rushing touchdown and just three interceptions.
The Iowa State product would further cement his value in San Francisco with two playoff wins against the Seahawks and Dallas Cowboys before eventually being overpowered by Jalen Hurts and the Philadelphia Eagles in the NFC Championship game.
Purdy would find himself sidelined during that game after suffering a torn ulnar collateral ligament in his right elbow with a six-month recovery time following his surgery on March 10.
Should all things go to plan, that would mark him fully healthy by September 10–just in time for the Pittsburgh Steelers matchup.
Instead of becoming "Mr. Relevant" after his stellar play to close out the season, Purdy will again need to prove that his big showing last season was not a fluke once the 2023 NFL season begins.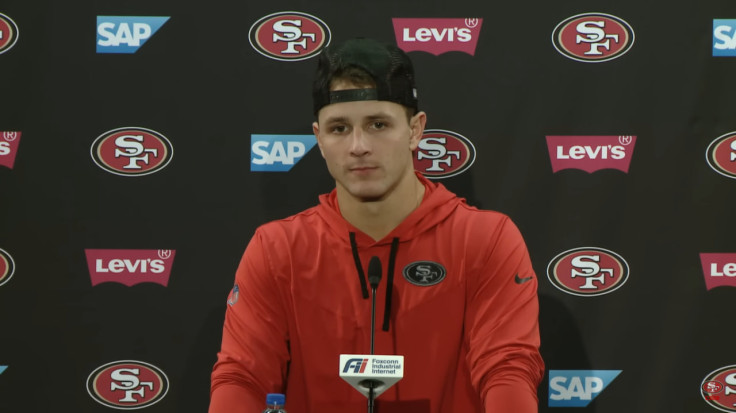 © Copyright IBTimes 2023. All rights reserved.