Niklas Kronwall Suspension: Defensive Leader Nixed For Game 7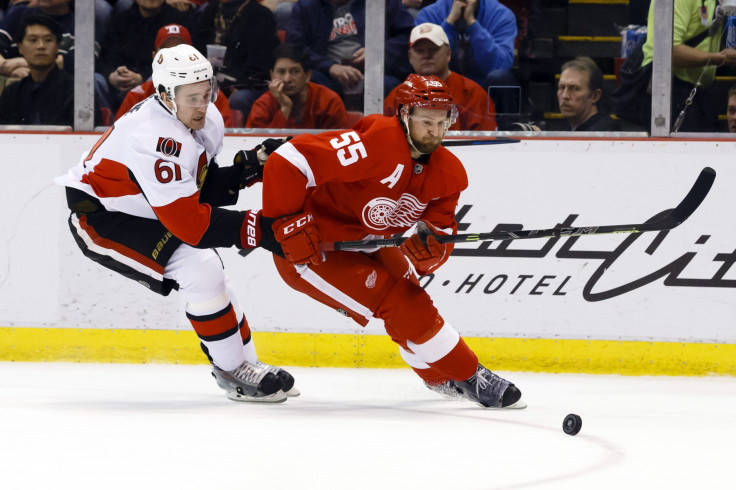 The NHL suspended Detroit Red Wings defenseman Niklas Kronwall for one game for a devastating hit the veteran laid on Tampa Bay Lightning forward Nikita Kucherov in the second period of his team's loss in Monday's Game 6 of the Stanley Cup Playoffs' first round. Because of the suspension, the Red Wings will be without their key defenseman for the series-deciding seventh game in Tampa Bay on Wednesday.
The 34-year-old Swede has earned a reputation as a brutal open-ice hitter over his 11 years in the NHL, but he has never been suspended for his trademark "Kronwalled" hits along the boards. Monday's hit too went unpunished on the ice, but further review prompted the NHL to initiate a hearing for charging. His unforgiving style and ferocity have made him a fan favorite, but the hit on Monday wasn't clean enough for NHL officials. The Department of Player Safety explains the suspension:
"Many charging penalties are adequately punished by a minor or major penalty. What causes this infraction to rise to the level of supplemental discipline is the force at which the hit was delivered and the significant head contact that resulted from Kronwall launching into it."
The NHL maintains that Kronwall propelled himself, airborne, to make the hit, but Red Wings coach Mike Babcock disagreed, calling the hit clean and arguing that Kronwall's "foot was on the ice when he made contact."
Neither Kronwall nor Kucherov made much of a fuss over the incident immediately after it took place. Kucherov left the ice for a time, but soon returned with no major injuries and continued to play. On hearing he would face an NHL review, Kronwall said he "thought it was a clean hit at the time" but admitted that "the impact itself carries you up" and that he could have gone airborne in making contact with Kucherov.
Kronwall leads the Red Wings in minutes on the ice, logging 23:35 per game in their series against the Lightning. Red Wings left wing Justin Abdelkader said the loss was "big" for the team, calling Kronwall "our leader on defense and leader in our locker room," according to the Detroit Free Press. Team captain Henrik Zetterberg echoed that sentiment. The Detroit-Tampa Bay series is the only one of eight in the first round to go to Game 7. The winner faces top-seeded Montreal in the second round.
© Copyright IBTimes 2023. All rights reserved.