Obama Fossil Fuel Fight? In State Of The Union, Obama Champions Science, Pushes For Climate Change Action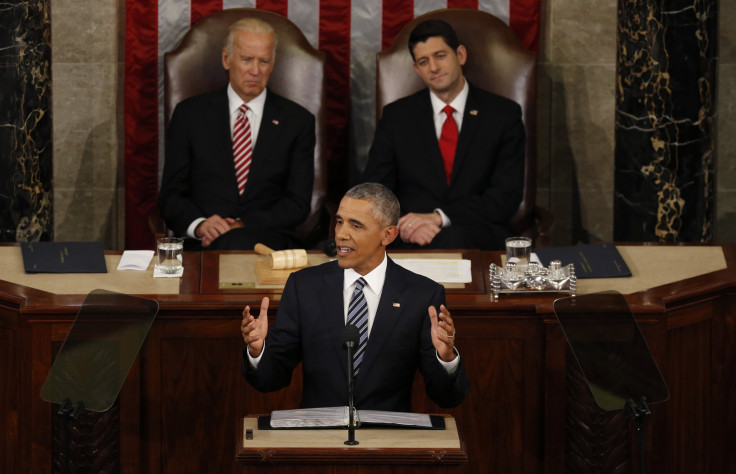 President Barack Obama championed science and particularly climate science, during his last State of the Union address Tuesday night. He said the "spirit of discovery" is in American DNA and that the same commitment is needed for developing clean energy resources.
"Look, if anybody still wants to dispute the science around climate change, have at it," he said. "You'll be pretty lonely, because you'll be debating our military, most of America's business leaders, the majority of the American people, almost the entire scientific community and 200 nations around the world who agree it's a problem and intend to solve it."
The president touted the achievements he's had in the area of climate change during his time as president, citing developments in solar energy and efforts to cut carbon emissions.
"In fields from Iowa to Texas, wind power is now cheaper than dirtier, conventional power. On rooftops from Arizona to New York, solar is saving Americans tens of millions of dollars a year on their energy bills and employs more Americans than coal — in jobs that pay better than average," Obama said. "We're taking steps to give homeowners the freedom to generate and store their own energy — something environmentalists and Tea Partiers have teamed up to support. Meanwhile, we've cut our imports of foreign oil by nearly sixty percent and cut carbon pollution more than any other country on Earth."
Climate change has been a major issue for Obama during his second term in office. While Congress did not act to pass major climate legislation despite urging from the president in previous State of the Union addresses, Obama acted by putting out a major climate change plan in August 2013. His strategy included the Environmental Protection Agency's greenhouse gas restrictions for power plants and a number of other initiatives that have been criticized by conservatives.
Obama's carbon rules are now facing challenges in the courts and in Congress, but the president has also touted the global climate talks in Paris as one of his major accomplishments. The U.S. was a major leader in the historic climate deal struck during international climate talks in Paris last month and Obama said at the time the deal could be "a turning point for the world," CNN reported.
During his speech Tuesday night, Obama said the country needed to sped up its transition to clean energy and help communities that rely on fossil fuels move to new sources of income. In particular, he hinted at the issue of fossil fuel development on public lands, which account for more than 20 percent of the country's total greenhouse gas emissions, according to a Center for American Progress and Wilderness Society report.
"That's why I'm going to push to change the way we manage our oil and coal resources, so that they better reflect the costs they impose on taxpayers and our planet," Obama said. "That way, we put money back into those communities and put tens of thousands of Americans to work building a 21st century transportation system."
Environmentalists have been pushing to keep fossil fuels in the ground to curb emissions and many reacted on social media Tuesday night to Obama's comments.
The president acknowledged that change on the nation's energy sources will not happen overnight, but he connected the topic to other discussions of national security and the economy in his speech.
© Copyright IBTimes 2023. All rights reserved.