Ohio's Miners Seek A Life After Coal As Industry Loses Steam in Appalachia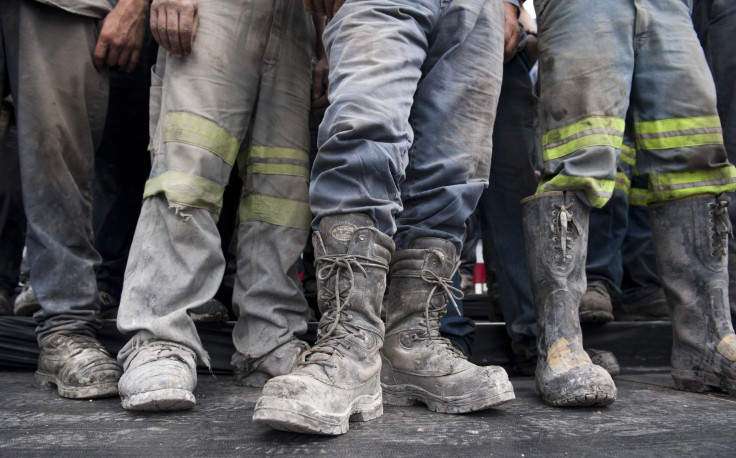 STEUBENVILLE, Ohio — Danny Hepburn hops into the cab of a rumbling white semi-truck, the words "Student Driver" emblazoned on the back in black block letters. An instructor rattles off the list of switches and gauges to review before Hepburn steers the beastly vehicle around a snow-covered parking lot. Hepburn, who was laid off twice last year at a nearby coal mine, is here to learn the trucking trade.
"I've got to go do something else," he says. "The way the coal industry is, I don't know if I'll ever go back."
Hepburn, 36, is among the thousands of U.S. coal workers to lose their jobs in recent years as the industry loses steam. Mining companies are suffering from plunging coal prices, weaker demand and stricter environmental regulations, prompting many firms to halt permanently or temporarily freeze production. With little hope of returning to the mines, some workers are hanging up their hard hats and embarking on new careers.
Hepburn is one of several laid-off coal workers gathered at Destiny Truck Driving Academy's training site on a frigid morning in mid-February. Rugged trucks sprawl across the gravel lot on the fringes of Steubenville, a city of about 17,000 people skirting the Ohio River. The students spent a week in a nearby classroom before coming to the truck pad. In a few more weeks, participants will be ready to apply for a Commercial Driver's License (CDL), the entryway to the trucking world.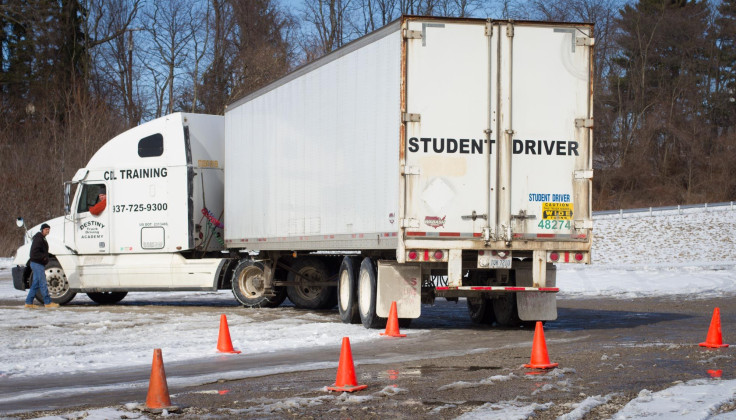 In this slice of Appalachia, nestled between Ohio's borders with Pennsylvania and West Virginia, trucking is among the few industries that boast abundant openings and decent wages, at around $20 an hour. The U.S. trucking sector is thriving as retailers order and transport more goods. Locally, Ohio's growing oil and gas sector is helping, too, by hauling in drilling equipment and shipping out wastewater.
Stocky and scruffy, Hepburn tucks his fists into a brown-and-green hunting jacket during a break at the truck pad. He recalls his first layoff, which came in May, just months after his third child was born. Murray Energy Corp., the country's third-biggest coal producer, slashed more than 1,800 jobs — 21 percent of its workforce — at its mines in Ohio, West Virginia and Illinois, including more than 300 positions at the Marshall County mine where Hepburn loaded coal into buggies.
Hepburn says he went from earning more than $1,000 a week, at $29.64 an hour, to just $364 a week on unemployment benefits. But the cash-strapped summer appeared short-lived: In November, his union, United Mine Workers of America, called him back to work as positions reopened.
Then came the second layoff, on New Year's Eve. Murray Energy, based in St. Clairsville, eliminated more than 100 positions at the Marshall County mine and hundreds more in Appalachia. Hepburn says he decided then to move on from coal. Now he hopes to start his own transportation company with his father, who still works in the mines.
"I'd like to run my own business," he says, squinting at the sunlight bouncing off the crunchy snow. "I get a little second chance in life, I guess."
Another miner-turned-trucker, Dale Connolly, says he is more stressed than optimistic about the future.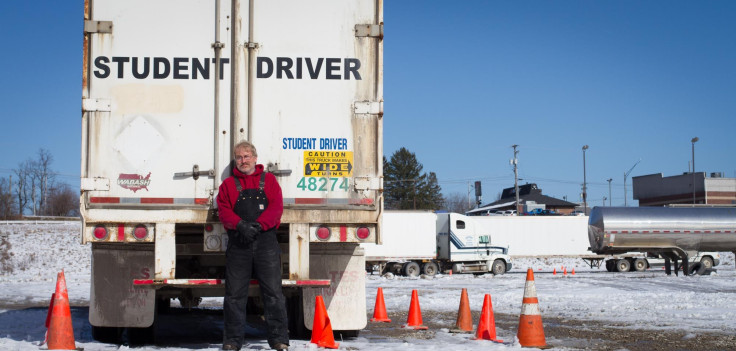 Wearing thick black coveralls over his red hooded sweatshirt, the 55-year-old remembers the Dec. 31 layoffs like a punch to the gut. He and his wife had just splurged on Christmas presents for their young granddaughter, vowing to start saving in earnest after the New Year. "I didn't get the chance," he says during downtime at the lot.
His unemployment benefits have since run out, and Connolly and his wife are cutting back on spending, making do with less. "We don't go anywhere we don't have to," he says. During his lunch break at the Destiny Academy, Connolly eats a packed lunch alone in the truck.
"If I could just stay above water, I'd be real happy," he says, looking ahead to the rest of the year. "That's all I care about right now, is to survive."
The miners are here thanks largely to a federal initiative for former coal industry workers. The Obama administration, aiming to boost communities battered by coal's downturn, recently awarded around $14.5 million in grants to a dozen states as part of its Partnerships for Opportunity and Workforce Economic Revitalization (POWER) program.
Ohio received $2 million, one of the biggest slices, to help dislocated coal workers pay for retraining and education programs in high-demand industries, including trucking. The funding is helping cover Hepburn and Connolly's fees of roughly $1,500, a sum they say they couldn't otherwise afford.
Workforce initiatives like these are gaining traction as layoffs pile up across America's coal country.
Mines are shuttering or pressing pause for a mix of reasons. Prices of metallurgical coal, the type used in steelmaking, plunged 18 percent last year from 2014 due to softening economic growth in China and an overall global supply glut. Thermal coal for power plants is losing ground to natural gas, which emits fewer pollutants and less carbon dioxide than coal. With the U.S. Environmental Protection Agency (EPA) tightening rules on climate change and clean air, utilities are increasingly converting their plants to gas and building more solar and wind power projects.
Ohio Coal Mines (U.S. Energy Information Administration):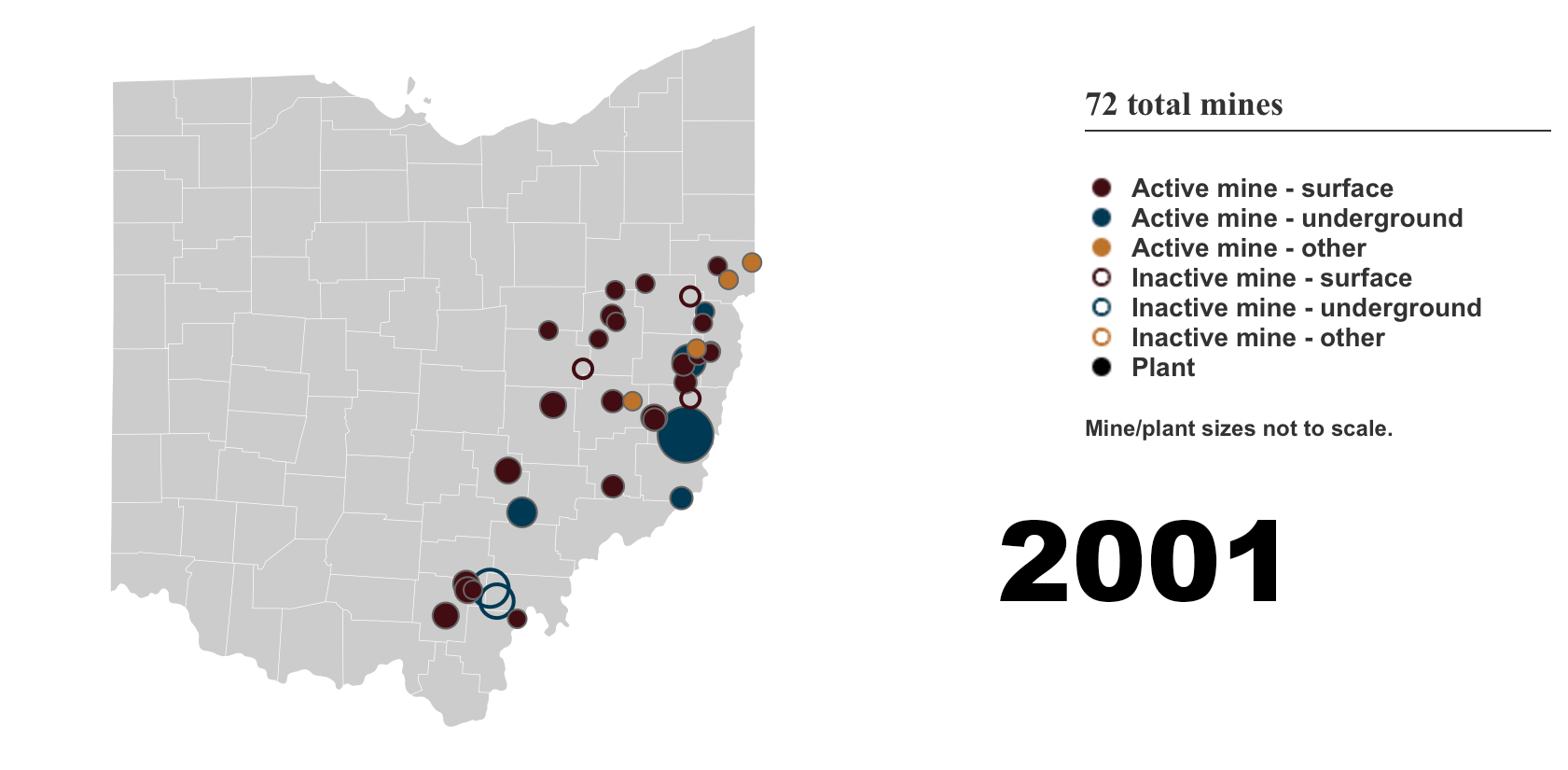 All the while, U.S. coal companies are floundering financially, with half a dozen firms filing for bankruptcy protection last year. Many are swimming in debt, the result of expansions and acquisitions made in years when coal's outlook seemed brighter. Coal production last year fell to about 900 million short tons, its lowest level in nearly three decades, the U.S. Energy Information Administration said in January.
Employment in the sector, meanwhile, is at a 20-year low. The average number of workers at U.S. coal mines fell 10.5 percent to nearly 80,400 employees from 2012 to 2013, a drop of nearly 9,500 workers, according to the EIA's latest data.
Few energy analysts see the U.S. coal sector resurging to its glory days.
The EPA's landmark policy to curb power plant emissions, called the Clean Power Plan, is expected to shrink coal's share of America's power mix to 27 percent in 2030, down from 39 percent in 2014, federal analysts estimate. So far, efforts to design coal plants that capture and bury carbon emissions have suffered from massive price tags and major delays. Coal companies, looking to eliminate costs and salvage profits, are likely to keep their workforce as slim as possible.
"For North America, the coal sector definitely is in decline," said Edgar Van der Meer, a senior analyst with NRG Expert in Toronto. "Coal-fired power generation is going away. It's become the black sheep of the energy mix."
Even in Ohio, a proud coal state, power plants are burning less of the black rock. Coal consumption has dropped about 21 percent to 1,104 trillion British thermal units (Btu), down from roughly 1,400 trillion Btu in the early 2000s, the Energy Information Administration estimated.
Production is similarly sliding, falling 11.5 percent to nearly 22 million tons in 2014, versus 2013 production, the Ohio Department of Natural Resources said in its latest report. The value of coal production dropped 9.7 percent to $1.08 billion in 2014 from the previous year.
In Steubenville and across this swath of eastern Ohio, coal's downturn feels personal. Many folks accuse the Obama administration's EPA of launching a "war on coal" and attacking their economic base. Federal funding for workforce development is critical, they say, but they'd rather have their mines humming and power plants running on coal.
"We love coal here," says Michael McGlumphy, the interim CEO at the Jefferson County Community Action Council, a nonprofit organization. "When I started here in 1994, coal was king. Coal was the big draw."
Mining alone employs nearly 2,800 people in the region, resulting in over $227 million in total wages in 2014, state data show. The numbers don't include the related industries, like conveyer belt manufacturers or coal buggy makers.
The community council helps adults who are unemployed, underemployed or recently laid off to develop work skills and build stable careers.
Its office sits on the single bustling block of downtown Steubenville — a mix of old brick buildings, vacant stores, quiet lunch joints and half a dozen churches. Elaborate murals painted on buildings depict the city's historical high points, like Steubenville's first telephone exchange with Bell Telephone Company in 1881. McGlumphy says minimum-wage jobs abound in the area's grocery stores, chain restaurants and retailers. But finding well-paying work remains a challenge for residents.
Steel mills here once employed tens of thousands of workers; Pittsburgh, the world's former steel capital, is just an hour's drive across the river. But as steel production shifted overseas, the local mills shuttered in the early 2000s. Now coal mines are sputtering, and the hulking coal power plants, both major employers, are at risk of closing. The oil and gas sector holds some promise for job growth, but working on a drilling rig means traveling around with a crew. The gypsy gig doesn't suit workers with families or firmly planted roots.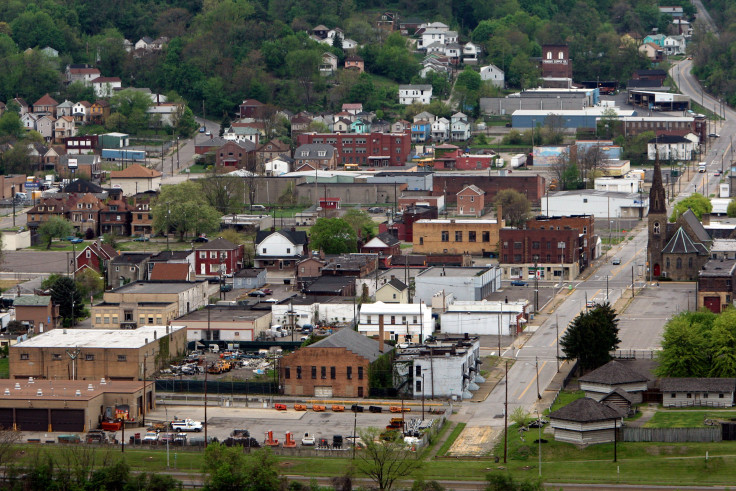 "The job market is rough. It's still a very depressed area," says John Fayak, a case manager with the Jefferson County council.
In December, Jefferson County had a 7.9 percent unemployment rate, seasonally adjusted, compared to 4.7 percent unemployment across Ohio and 5 percent nationwide, the Bureau of Labor Statistics reported. The county has suffered a brain drain in recent decades as young adults, seeing few job prospects, move to Columbus or other larger cities, Fayak says. Among those who remain, many are swept up in the heroin epidemic wracking much of Middle America — a challenge for employers that actually are hiring.
McGlumphy and his small staff say they hope to inject new life into the region's economy.
Their vision is two-fold: train workers to take advantage of the jobs that already exist; and build a highly skilled workforce in order to lure manufacturers and other companies to the area. They help workers from any field, but thanks to the POWER initiative, they're able to target coal workers in particular. The Community Action Council last fall received about $917,000 of Ohio's $2 million grant to assist laid-off miners and workers in coal-related fields in 10 eastern counties.
Under the program, eligible participants — who are mostly men — can use the funding to cover the cost of a two-year associate's degree, finish the final two years of a Bachelor's degree, or pay for short-term training courses, such as truck driving, heavy equipment operation or welding. The grant will help pay the education costs, up to around $12,000, as well as food, mileage and lodging expenses for participants in shorter programs.
Nearly all the 54 people enrolled since January are training for their CDL licenses and related certifications, the council said. Trucking jobs are plentiful, and most participants are eager to get back to work and earn an income. McGlumphy estimates about 3,000 commercial trucking jobs are available within the 100-mile radius of Steubenville, many of which are for shorter routes instead of grueling cross-country hauls.
Federally backed workforce development initiatives have delivered mixed results over the decades. Programs that don't link worker retraining to the actual job market — by training solar power technicians in a state with no renewables market, for instance — won't help workers land well-paying jobs or stable careers. Multiyear degree programs often negatively affect workers by removing them from the labor market and leaving them saddled with student debt, says Carolyn Heinrich, a public policy professor at Vanderbilt University in Tennessee.
Heinrich was the lead investigator on a Department of Labor-funded study in 2008 that reviewed such programs nationwide. They found five state programs showed negative results for at least one gender, implying that participants in those programs experienced lower earnings during the first five quarters after joining the program, since they were studying or retraining instead of earning a paycheck.
"There's much more variation in the outcome for people who take longer programs," Heinrich says.
But she and another workforce development expert, Carl Van Horn, say Ohio's coal worker program seems to avoid such pitfalls. Participants typically spend only one or two months in training, and they're going into fields for which there's high demand: trucking and oil and gas-related positions.
"This is the right design: It's flexible, it's employer-based training," says Van Horn, a public policy professor and director of the John J. Heldrich Center for Workforce Development at Rutgers University in New Jersey. "The question is really, down the road, how effective are they at delivering on that and are there enough open jobs to fill the needs in those communities?"
When it comes to trucking, there's little concern of running out of jobs in the short term, says Roger Rollins, vice president of the Great Lakes Truck Driving School near Cleveland.
He says he's never seen the demand for truck drivers and equipment operators so high during his 20 years in the business. The Great Lakes school is training several dislocated workers from McGlumphy's program, including coal miners. Its nine-week course, dubbed the "triple threat," includes commercial trucking, heavy equipment operation and about a dozen safety and training certifications for the oil and gas industry.
Rollins attributes the surge in trucking jobs to a healthier economy. Business is booming in the $700 billion industry as the economy expands and the strong U.S. dollar boosts demand for imported goods carried from ports to cities nationwide, although growth has cooled in recent quarters.
Oil and gas companies in Ohio and other shale-rich states like North Dakota and Texas in recent years hired more workers to haul drilling equipment, fracking fluid, sand, gravel and other materials needed to tap shale rock formations and extract fossil fuels. Yet with U.S. oil prices plummeting by 70 percent since their peak in June 2014, drilling activity has dramatically slowed. In Cadiz, an Ohio city just west of Steubenville, two new hotels built to house oil and gas workers are virtually empty.
Still, Rollins says the need for drivers and equipment operator remains in the sector, albeit in smaller numbers. Transportation companies in particular are filling spots with graduates straight out of trucking school. About five years ago, he says, around 70 businesses would recruit from Great Lakes. Today it's 350 companies hiring drivers directly out of school. "Students are leaving now with 20, 25 job offers," Rollins adds.
Employers also recruit from the Destiny truck school near Steubenville. Dale Connolly says he already has a position lined up truckload carrier Schneider National Inc., just as soon as he earns his CDL this spring.
Only into his second week of training, Connolly says he's still grappling with how to navigate a 60-foot semitruck and with getting comfortable behind the wheel. He expects to earn around $60,000 a year as a driver, about half of what he would've earned in a year in the mine. But Connolly says he hasn't sworn off the coal sector just yet. Given the chance, he'd head straight back to the mines.
"If they called me today, you'd see me running for my truck," he says, citing the paycheck, pension and health insurance provided by the coal worker's union. "It's just, I'd like to retire one day. I am older."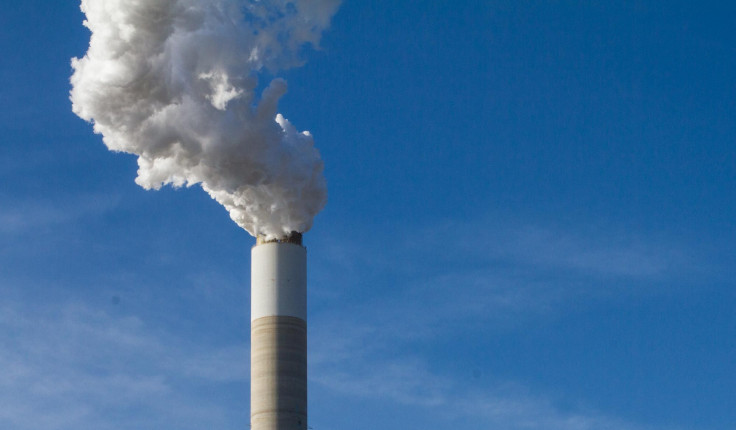 Back in McGlumphy's downtown office, the council CEO says he's hoping eastern Ohio's jobs boom can expand beyond the trucking sector. Thanks to Ohio's recent natural gas renaissance, energy companies are eyeing the state for related industrial projects, which McGlumphy says could boost the local economy by driving demand for related supply chain and service jobs.
A proposed $5.7 billion gas processing plant, for instance, would turn oil and gas into ethylene, a compound used to make plastics, adhesives and synthetic projects. Two partner companies, Japan's Marubeni Corp. and Thailand's PTT Global Chemical Public Co., are studying a site in Shadyside, a town 40 miles south of Steubenville on the Ohio River. If completed, the gas facility would bring as many as 10,000 temporary construction jobs and 300 permanent jobs, the companies estimated.
The Jefferson County team is trying to tweak the terms of their coal grant so that former coal workers can get trained to work at such a plant. The Shadyside facility would still take around seven years to get up and running — if it's built at all. McGlumphy says it's worth the gamble to train workers if it can help persuade manufacturers to set up shop.
They'll need any break they can get, he adds. Hopes for the new industrial plant come as two mainstay facilities are in jeopardy of laying off hundreds of workers: the coal-fired power plants.
American Electric Power Company Inc., one of the nation's largest utilities, said in December it will convert its Cardinal Plant from coal to natural gas by 2030 as part of a broader shift away from the higher-carbon fuel. Burning natural gas is less labor-intensive than coal, since the fuel is piped directly into the plant. The W.H. Sammis plant, a decades-old facility owned by FirstEnergy Corp., is at risk of shutting down entirely as the costs to comply with regulations mount.
Nationwide, more than 230 coal-fired plants have been closed or are slated for closure — or 44 percent of the 523 U.S. coal plants that were in operation just six years ago, the environmental group Sierra Club counted.
"It's just not fair," says Lori Hawthorne, who runs the coal grant program at Jefferson County Community Action Council. "What are we going to do? If both closed, we're going to be in a huge mess."
© Copyright IBTimes 2023. All rights reserved.