Oracle: 7 Things to Watch in 2Q Earnings Report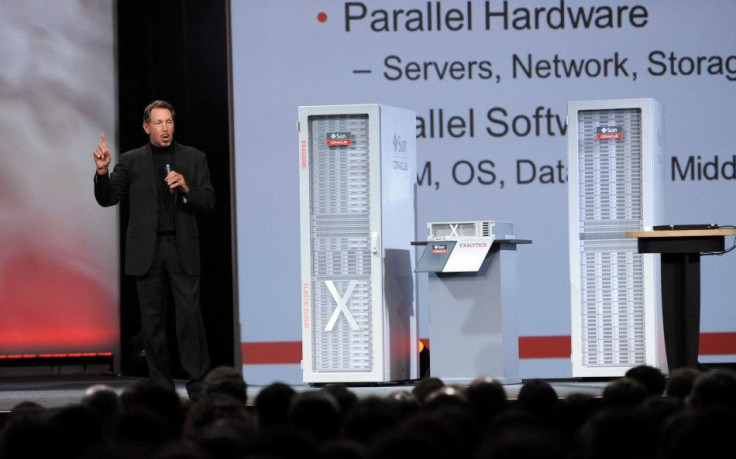 Oracle, the biggest developer of software databases and applications, is scheduled to report second-quarter results late Tuesday.
Analysts expect the Redwood Shores, Calif.-based giant headed by CEO Larry Ellison to report earnings on continuing operations between 56 and 58 cents a share, according to Zacks and ThomsonReuters. The estimates generally follow company guidance.
Oracle's second-quarter revenue is expected to range between $8.92 billion and $9.27 billion. Last quarter, Dell earned 46 cents a share on revenue of $8.4 billion, nearly 11 percent above the 2010 figure.
Here are some items to watch when Oracle reports:
Impact of the European debt crisis. Europe is a big market for Oracle as well as its enterprise rivals such as Hewlett-Packard, IBM and Cisco Systems, which all managed to fare well there last quarter. The reason was that businesses needed technology products to remain competitive despite other pressures.
Last quarter, Oracle reported sales for Europe, the Middle East and Africa of $344 million, up slightly from a year earlier.
Fattening of gross margins. Oracle has decided to step aside from certain lower-margin businesses and to focus on advanced services that possess higher ones. The approach ought to fatten gross margins in the future.
First-quarter gross margin was 76.4 percent, among the highest in the sector. Sales of new products announced from Sun Microsystems in the quarter and other developments could boost it to 78 percent or more.
Breakdown between hardware and software sales. Once a software pure play, the Sun Microsystems takeover put Oracle into hardware, selling high-powered servers and storage media.
Hardware revenue has been running generally around $1.1 billion each quarter, with the remainder coming from software sales and licensing, as well as support services.
Cash and use of its vast assets. Oracle reported holding cash and investments exceeding $41.6 billion in the first quarter. It's already announced plans to acquire RightNow Technologies of Bozeman, Mt., for $1.5 billion to obtain more cloud services applications.
Oracle also snapped up private Endeca Software, a Cambridge, Mass.-based developer of business intelligence analytics for what Nomura Securities estimated was as much as $900 million as well as private GoAhead of Bellevue, Wash., a provider of carrier-grade software.
While Oracle may well want to acquire more companies, investors have also clamored for Ellison and co-presidents Safra Catz and Mark Hurd, ex-HP CEO, to perhaps declare a special dividend or pay shareholders more.
Oracle shares are down about 7.5 percent for the year, trading around $28.92 Monday, compared with their 10-year record high of $36.50 on May 3. That gives Oracle a market value around $146 billion.
Third-quarter outlook. What forecast will Ellison & Co. give for the third quarter in terms of hardware and software sales, the European crisis and continued moves by enterprise into so-called big data?
As well, Oracle might make comments on rivals such as the new CEO of HP, Meg Whitman, whose Executive Chairman is former Oracle President Ray Lane, as well as the progress by IBM, which is scheduled to install a new CEO, Virginia Rometty, on Jan. 1.
Oracle's participation in the Cloud. Other companies including Apple and Amazon are deploying cloud services, largely on products from the technology giants. Ellison announced Oracle Cloud during the October OpenWorld conference.
What will management report about enterprise customers shifting to it since and into 2012?
Deferred revenue. A barometer for all big software players like Microsoft, BMC and Symantec, deferred revenue provides a read-out on software ordered but not necessarily installed at the end of the quarter.
Oracle closed the first quarter with $263 million in deferred license revenue. Jefferies analyst Ross MacMillan estimates that could be as much as 12 percent of the overall $2.1 billion in second-quarter license revenue.
A report on second-quarter deferred revenue will be a useful measure for third-quarter performance.
© Copyright IBTimes 2023. All rights reserved.