OUYA Console Release Date Set For June: GameStop And Best Buy To Sell Android Gaming System At $99 Price Point
Console priced at $99.99, controllers sell for additional $49.99.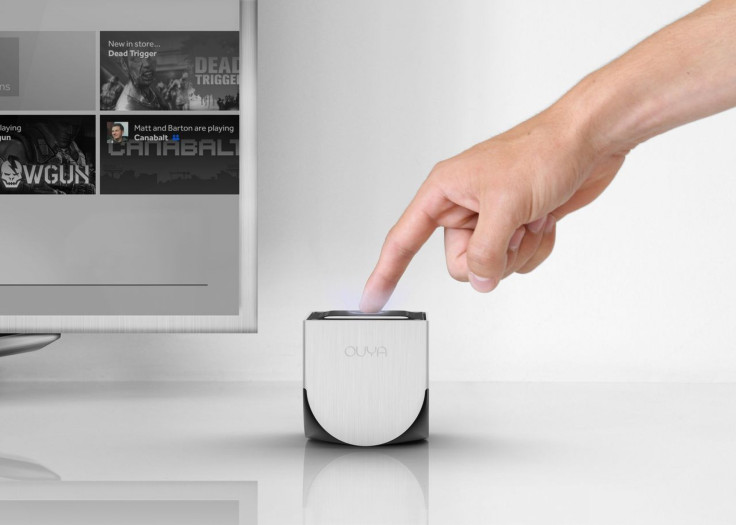 OUYA, the small and sleek video game console powered by Google's (Nasdaq: GOOG) Android operating system that became one of Kickstarter's most lucrative success stories last year, will hit the shelves this June at the relatively low price-point of $99.99.
Speaking in an interview with the Wall Street Journal, OUYA CEO and founder Julie Uhrman said that her company partnered with prominent national retailers across the U.S such as Target (NYSE: TGT), Amazon (NASDAQ: AMZN), GameStop (NYSE:GME), and Best Buy (NYSE: BBY) to bring the console to a host of different outlets.
Compared to the steep cost of new hardware from the big three game console developers -- Sony (NYSE:SNE), Nintendo (PINK: NTDOY), and Microsoft (NASDAQ: MSFT) -- $99.99 is a small price to pay for the console-quality living room experience that Uhrman promises her machine can offer. The $99 bundle comes with one controller, and Uhrman said that additional controllers will be made available for $49.99
In an interview with the IBTimes last November, Uhrman said that she saw the important of well-designed controllers increasing relative to the other pieces of console hardware given the explosion in competition for the living room between a variety of video game and television manufacturers. Anticipating this trend, OUYA found itself a promising partner by commissioning Yves Béhar, an acclaimed industrial designer known for his work on haptic devices like Jawbone's UP wristband and several of Jimmyjane's vibrators.
"We consider our controller to be a 'love letter' to console gaming," Urhman told the IBTimes in an email. "It has fast buttons, accurate sticks, and substantial weight -- it feels good in your hands!"
Retail prices for additional controllers are pricier than those offered through OUYA's own website, which will sell the controller for just $30. Uhrman admitted in the interview that $49.99 is a "premium price" for a single controller, but she insisted that including a touchscreen on the controller makes it worth the extra cost.
Uhrman has also stressed the importance of openness to OUYA's core development and design ethic to the point where she admits that the "o" in OUYA's name stands for "openness." The console and the controller, therefore, are both open to being integrated with other devices and peripherals -- even other controllers or television sets that offer their own video games.
The question this poses for OUYA is how sustainable a totally open ecosystem will prove to be as a business model. The entrenched console manufacturers have historically supported their products by selling the hardware at a loss and charging third-party game companies licensing fees to use the console's software development kit (SDK). For her part, Uhrman has remained outspoken in her insistence that offering this kind of access to the raw materials necessary to develops apps or games for the OUYA will only benefit her company in the long run, telling the Wall Street Journal that she would even welcome integration with devices such as Apple's (NASDAQ:AAPL) much-rumored TV.
"We are okay with that," she told the Wall Street Journal. "One of the promises of being open is you can use what we build for other things. But you can create accessories and peripherals for our device as well. At the end of the day, it makes our ecosystem richer."
© Copyright IBTimes 2023. All rights reserved.