Paul George Return: Indiana Pacers' Star Could Be Set For Big Season After Leg Injury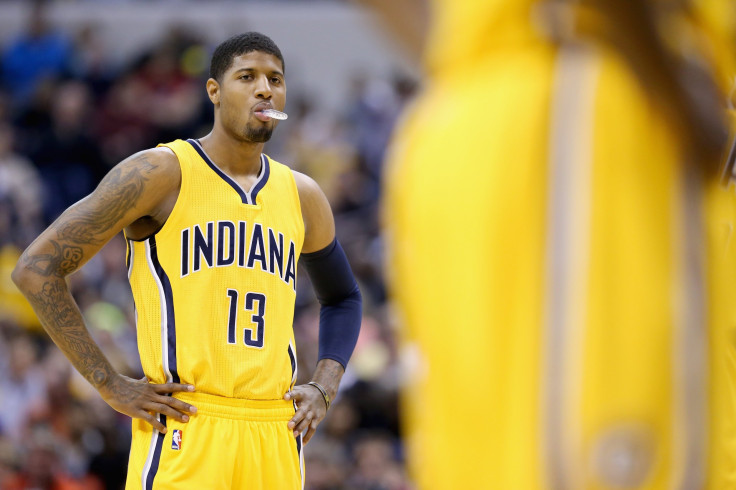 Paul George was a top-10 finisher in voting for the 2014 MVP award, but a broken leg has since derailed the Indiana Pacers star's rise to superstardom. But after missing almost all of last year as he recovered from his injury, George seems poised to return as one of the league's elite players.
George was able to play in the final six games of last year's regular season, but he wasn't the same player that led the Pacers to two consecutive Eastern Conference Finals. He didn't play more than 18 minutes in any contest, averaging just 8.8 points and 3.7 rebounds per game. George will start the 2015-2016 season having had an extra six months to get himself back into shape, and it appears that the 25-year-old is looking like his old self again.
George's limited playing time in April did little to alleviate concerns about his athleticism, but his recent trip to the Philippines for a Nike event should help ease some worries. The former first-round draft pick casually threw down a few acrobatic dunks, and showed no ill-effects from his injury.
After suffering his gruesome leg injury while playing for Team USA last summer, the small forward is hoping to rejoin the team and participate in the 2016 Olympics. George will reportedly be in attendance at the team's mini-camp meeting, but he won't play in camp or exhibition games.
There is little reason for George to risk getting injured again in another game that doesn't mean anything. Indiana has big plans for their top player after an offseason that saw them make significant changes.
Indiana traded Roy Hibbert to the Los Angeles Lakers and lost David West in free agency, as the Pacers sought to get younger and smaller. Hibbert has been a top defensive center in recent years and West was the team's starting power forward from 2011-2015, but the team has decided to focus more on a perimeter offense. That means playing George at power forward, even though he had achieved his success with Indiana while playing at small forward.
George might not have been thrilled with the idea when it was first presented to him, but Pacers president of basketball operations and Hall of Famer Larry Bird believes it will help George put up even better numbers.
"I just told him how I think he'll embrace the opportunity," Bird said. "I know what it did to my career. I always wanted to get down there and bang with the guys instead of just chasing guys around the perimeter. I think with him coming off this injury, it's a good opportunity. He'll guard some threes but he won't have to do it all the time. It gives him a year to get healthier and stronger, and I think it'll be a big plus for him and our team."
© Copyright IBTimes 2023. All rights reserved.