Peyton Manning Stats: 3 Quarterbacks Who Have A Chance To Break Broncos Star's Touchdown Passing Record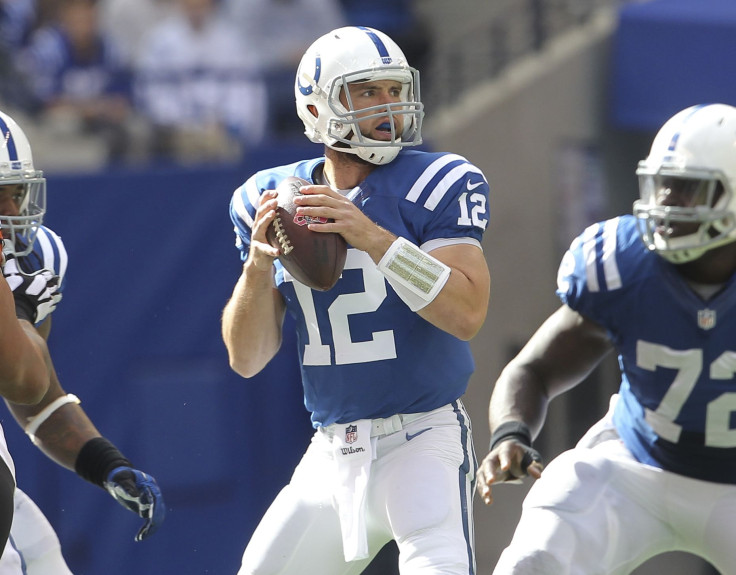 Even before he threw his first touchdown pass, quarterback Peyton Manning was considered a future Hall of Famer. The 13-time Pro Bowler has not disappointed, and on Sunday night Manning accomplished arguably the greatest individual statistic of his career when he became the all-time leader in touchdown passes.
Perhaps what makes the Broncos QB's 510 touchdown passes so extraordinary is that he isn't done. At age 38, Manning has shown little sign of slowing down and should continue adding to his record with more touchdown passes. Steve DeBerg, Warren Moon and Vinny Testaverde all played until age 44. Manning is expected to remain active beyond this season, and should he play until his early 40s, he could easily exceed 600 touchdowns. Even if Manning never throws another touchdown pass, his record will be extremely tough to catch.
Two active quarterbacks are behind Manning, but they aren't much younger, which makes them longshots to break his record. New Orleans Saints quarterback Drew Brees is 35, and the New England Patriots' Tom Brady is 37, but Brees trails Manning by 136, and Brady is behind by 138. In order for Brees or Brady to have any reasonable chance of becoming the all-time leader, Manning's career would need to end soon, and both challengers would have to prolong their careers into their 40s while maintaining their current touchdown pace. Neither seems likely.
In his 17th year, Manning has played an entire 16-game schedule in 15 seasons, for a touchdown-per-game average of 2.07, an astounding number that will be extremely difficult to match. While Brees and Brady appear to be out of contention, there are a few players who might be able to overtake Manning. But they would have to increase their number of touchdown passes per game and continue playing full seasons for several years, a pretty tall order.
The most obvious contender is Aaron Rodgers. The Green Bay Packers star has already thrown for 206 touchdowns passes in 101 games, and he might be the most accurate quarterback in football. What has hurt Rodgers is the three seasons where he sat on the bench behind Brett Favre, who happens to be second on the list. It also didn't help that Rodgers played just nine games in 2013 due to injury. But he is only 30 years old and currently plays at full strength, and his career touchdowns-per-game average of 2.01 in not far behind Manning's 2.07. Rodgers would need to stay healthy and probably play at least another decade to challenge Manning's total. Rodgers is having one of his best seasons in 2014, with 18 touchdowns after seven games. It will be difficult, but Rodgers currently has as good a chance as anyone to break the record.
Another player who could make a run is Matthew Stafford. The 26-year-old may still be years away from hitting his prime, and he has proven his durability by not missing a game since 2010. While Stafford has a penchant for throwing interceptions, his career touchdowns-per-game average (1.73) is impressive. He also has arguably the best wide receiver in the league, Calvin Johnson. Should Stafford continue to partner with Johnson and find some other complimentary receiving options, he could see his touchdown numbers steadily climb to put Manning's record in jeopardy. The biggest obstacle is Stafford's focus. While Manning is an incredible student of the game who spends countless hours educating his receivers on passing plays, Stafford has not exhibited the same type of dedication. Stafford would need to make a stronger effort to improve his accuracy and maintain his durability if he expects to challenge Manning.
The last candidate is the most intriguing. Andrew Luck had big shoes to fill when he replaced Manning as the Indianapolis Colts' quarterback in 2012, but he responded by already passing for 65 touchdowns in less than two and a half seasons. In comparing their first two professional seasons, Manning edged Luck in touchdown passes, 52-46, but at age 25, Luck has plenty of time to gain ground. He has already played in every Colts game since being drafted and has shown an exceptional ability to improve. Luck is currently tied with Manning for most touchdowns this season (19), and appears to have a emerging target in T.Y. Hilton. While Manning had Pro Bowl wide out Marvin Harrison as his top deep threat in Indianapolis, Luck may have an even better option in Hilton, who is just 24 and has already shown promising signs to emerge as the league's top receiver. Though Luck appears to have a very bright future ahead of him, he hasn't even played three full seasons, so he has a very long way to go until he approaches the all-time record.
There are numerous obstacles for Rodgers, Stafford and Luck to break Manning's record, the most obvious being to avoid injuries, and match Manning's remarkable drive and ambition. In the meantime, Manning will make things harder on all competitors by continuing to rack up touchdown passes with no mention as to when he might retire. He has stated that a player should play "until you suck."
For Manning, that probably won't be anytime soon.
© Copyright IBTimes 2023. All rights reserved.