Bernie Sanders Tax And Healthcare Plans: Think Tanks That Released Critical Study Receive Funding From Industries That Would Be Affected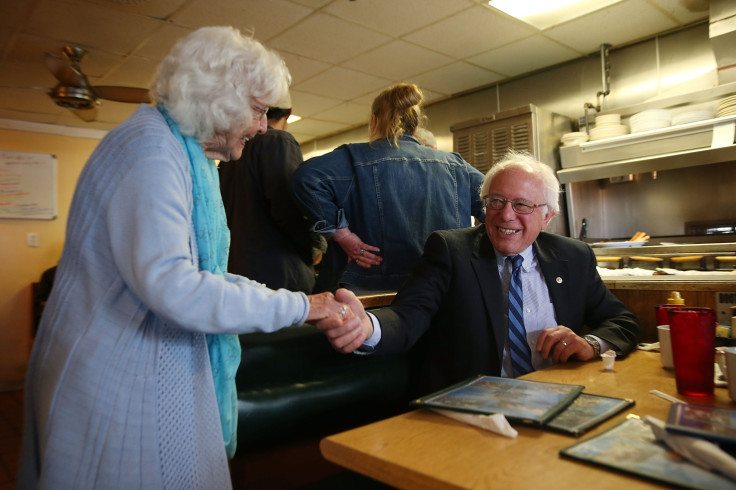 Soon after the Tax Policy Center released its analysis of Bernie Sanders' tax and healthcare plans last week, the negative headlines began to pile up about the Vermont lawmaker's push to extend Medicare coverage to all Americans. Though a new Gallup poll shows Sanders' plan is widely popular, news outlets across the country pounced on one of the findings, which said the plan would increase the U.S. budget deficit by some $18 trillion between 2017 and 2026. One paper, the Washington Post, posted four critical Sanders stories in just seven hours.
Left unsaid in the headlines and stories that condemned Sanders' healthcare proposal is that the Brookings Institution and Urban Institute, the two major organizations behind the Tax Policy Center, have received big contributions from the health insurance and pharmaceutical industries — industries whose profits could be reduced by Sanders' single-payer Medicare-for-all plan. That is on top of money the groups have received from Wall Street firms , fossil fuel companies, efforts connected to the billionaire Charles Koch, a foundation founded by the heirs to the Walmart fortune and others that Sanders has criticized.
The health industry donors to the think tanks include:
Health insurer Blue Cross Blue Shield of Massachusetts delivered between $300,000 and $600,000 in 2012 and 2014 to the Urban Institute, while insurer UnitedHealthcare gave Brookings between $2 million and $4 million since 2012.
Several of the country's top drug manufacturers and suppliers gave to Brookings. The think tank's donors include the Roche Group (donated between $1 million and $2 million since 2012), Sanofi ($125,000 to $250,000) and Amgen ($100,000 to $200,000).
Two foundations connected to the pharmaceutical industry also gave generously. The Robert Wood Johnson Foundation — which was started by a Johnson & Johnson founder in 1972 — gave between $210,000 and $525,000 to Brookings and an undisclosed amount above $3 million since 2012 to Urban. The foundation for global pharmaceutical company Bristol-Myers Squibb gave between $55,000 and $125,000 to Brookings.
MetLife, which has some health-related insurance business, gave a combined $300,000 to $750,000 to Brookings in 2013 , 2014 and 2015 .
Brookings and Urban both told International Business Times that their scholars conduct their research based on objective information and analysis, and that their institutions take measures to ensure independence. Both noted that their organizations have diverse funding and that they have policies against allowing funders to determine research results.
"Brookings' independence is critical to the promise we make to provide objective, fact-based research, and we have robust policies in place to ensure that independence, which we routinely review to maintain the highest standards for safeguarding it. We have a diverse funding base and no person, entity, or industry influences the research or recommendations produced by Brookings scholars," David Nassar, the vice president of communications at the Brookings Institution, wrote in a statement to IBT.
The Urban Institute explained its funding sources in greater detail. Laura Greenback, Urban's media relations manager, told IBT in an email that Urban receives 49 percent of its funding from government sources, usually in a competitive bidding process. Beyond that, researchers are also supported by the foundation (43 percent of funding last year), other nonprofits (5 percent), as well as trustees, individuals, corporations and universities (1 percent each).
"Urban's policies ensure researcher independence and guarantee that no funder shall determine research findings, insights, or conclusions of our experts," Greenback wrote. "Our scholars are independent and empowered to share their evidence-based views and recommendations shaped by research. The Urban Institute doesn't take official positions on issues, nor does it have an advocacy agenda of any kind."
The Tax Policy Center has also released analysis of several other candidates' tax plans, including Sanders' primary foe, Hillary Clinton. (Their analysis said her tax increases would target the top 1 percent of taxpayers, and noted that marginal tax rates would go up, "reducing incentives to work, save and invest." )
In recent months, several reports have raised new questions about the power of so-called cognitive capture — scenarios in which organizations that represent themselves as nonpartisan or academic, but which are funded by industries that could be affected by the studies, help shape research and the public debate. Brookings, in particular, has faced some of the toughest scrutiny: In October, Massachusetts Sen. Elizabeth Warren, a Democrat, questioned whether an economist with Brookings who conducted a study was unduly affected by cozy relationships with Wall Street and the funding behind his research. A 2014 report, too, noted that pension reform-minded reports from Brookings were sponsored by the Laura and John Arnold Foundation, which has pushed to reduce guaranteed retirement benefits for public workers.
The Tax Policy Center report noted that spending under Sanders' plan could add as much as $33.3 trillion in new spending over the next 10 years, which dwarfs the current $14 trillion in debt currently owed by the federal government. Opponents of Sanders' plan say that such spending, if not offset by other revenues, would send the economy into a strong downward spiral.
The Sanders campaign has said those estimates assume a much more expensive healthcare system than the candidate expects, and says low- and middle-income households would end up saving thousands of dollars a year.
FOR FREE to continue reading
✔️ Unlock the full content of International Business Times UK for free
offer available for a limited time only
✔️ Easily manage your Newsletters subscriptions and save your favourite articles
✔️ No payment method required
Already have an account?
Log in
© Copyright IBTimes 2023. All rights reserved.