Election 2016: As Hillary Clinton Looks To November And Donald Trump, Rift Widens Among Her Labor Allies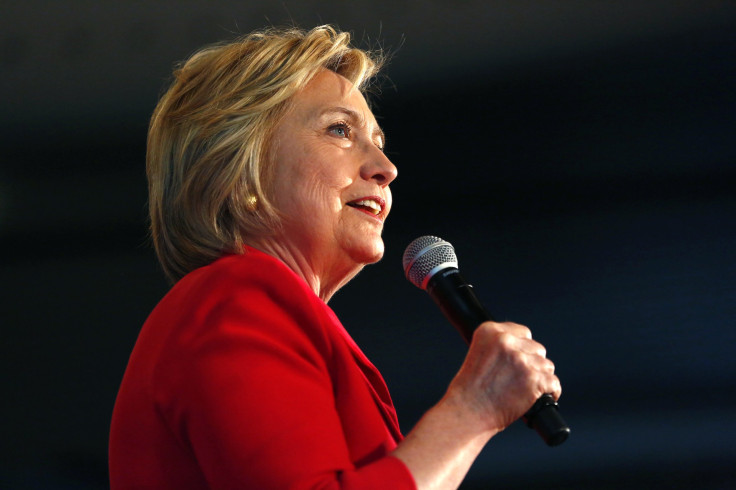 The Democratic primary season hasn't officially ended yet, but with what appeared to be a narrow win over Sen. Bernie Sanders in Kentucky, Hillary Clinton got closer than ever to the party's presidential nomination — and to the ensuing general election against Donald Trump.
Both the Clinton campaign and its allies in the Democratic establishment are readying themselves for what they expect to be a hard-fought race against the presumptive Republican nominee.
Those preparations have not gone off without a hitch. One major wing of the Democratic coalition is struggling to contain internal divisions over how to proceed. That would be the AFL-CIO, America's biggest labor federation, which faces internal dissent this week over its decision to form an anti-Trump super PAC in partnership with billionaire environmentalist Tom Steyer.
In two letters to AFL-CIO President Richard Trumka, seven construction unions attacked the collaboration as a "politically bankrupt betrayal" and a threat to labor movement unity. The building trades often have a tense relationship with the environmental movement, as they feel strict environmental regulations can threaten the livelihoods of their members.
The strife within the AFL-CIO is more than just a dispute over campaign strategy. For years, the labor movement has wrestled over whether to embrace various other progressive movements. The rise of Trump has exacerbated the disagreement because of Trump's appeal to many white, working-class members from more conservative unions.
The growing dissent within the labor movement is partly a backlash against the progressive leadership style of Trumka and others like him. As head of the AFL-CIO for the past seven years, Trumka has made a priority of forging closer ties with other liberal social groups, such as the immigration reform movement, environmental organizations, and Black Lives Matter. Such coalition-building speaks to the concerns of a rank-and-file population that is growing more diverse and less white with each passing year. It is also a conscious strategy to make sure the shrinking labor movement doesn't become isolated within progressive circles.
But some of those alliances have attracted ire from AFL-CIO member unions. It's not just the construction unions; police unions have publicly split with the AFL-CIO over Black Lives Matter, and border enforcement unions have vocally opposed the labor federation's pro-immigration reform agenda.
An AFL-CIO spokesperson declined to comment on the letters from the building trades, or on the larger tensions with organized labor.
If the 2016 race looked different, then maybe those disagreements wouldn't threaten the AFL-CIO's attempts to unify behind the Democratic candidate. But this year, the presumptive Republican nominee is Trump, an unconventional conservative who has sporadically defied GOP orthodoxy on issues like entitlements and free trade. For those more conservative, predominantly white unions that don't want to make common cause with Black Lives Matter or immigrant justice activists, Trump offers an appealing alternative.
He has the endorsements to prove it. The New England Police Benevolent Association endorsed Trump in December. At the end of March, the National Border Patrol Council did the same. Other unions, more traditionally aligned with the Democratic Party, have so far steered clear — but labor leaders often fret in public about Trump's magnetism to their members.
"I think he's touching this vein of the terrible anxiety that working-class people feel about their current status, but more importantly, how terrified they are for their kids not being able to do as well as they have, never mind doing better," Service Employees International Union President Mary Kay Henry said during a January radio interview.
Similarly, Sean McGarvey, president of North America's Building Trade Unions, said in April that he believes Trump is receiving some rank-and-file union support.
"I don't know how deep it is," said McGarvey, who co-signed one of the two letters protesting the AFL-CIO's collaboration with Steyer. "But I think if you scratch away the crazy stuff, when it comes to the same things Secretary Clinton is talking about, and Bernie Sanders to a point is talking about, with wage inequity and a stagnating middle class, and the reasons and rationale for that happening, I think that, you know, people are pretty angry."
These fissures are not enough to split labor in two or break its generally left-leaning orientation. To the extent that all unions everywhere are part of the same "movement," law enforcement associations and some others have long stood at arm's length from that movement's core.
But enough internal opposition to the AFL-CIO's 2016 agenda could undermine its attempts to support the Clinton campaign's get-out-the-vote efforts. And that, in turn, might further diminish labor's already diminished role within Democratic politics.
© Copyright IBTimes 2023. All rights reserved.