Election 2016: Jeb Bush Spent Millions Of Dollars On Planes, Trolleys And Consultants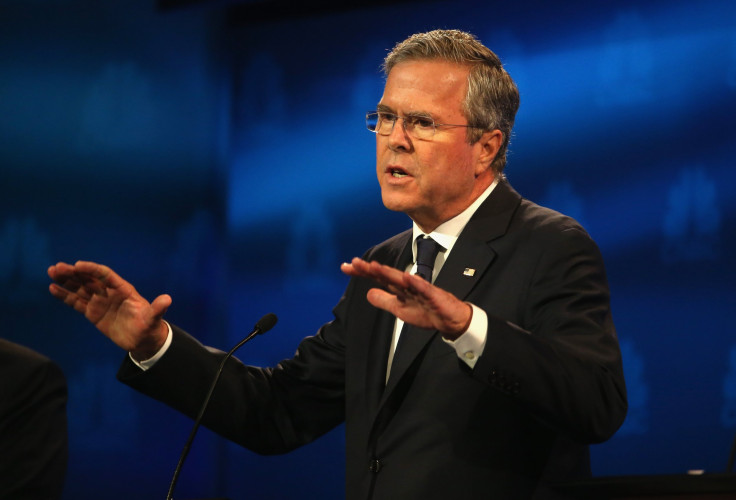 In July, 300 of Jeb Bush's top donors boarded trolleys to his family's summer compound in Kennebunkport, Maine. The former Florida governor was leading in Republican presidential primary polls, and his team was celebrating a massive fundraising haul. At the time, the trolley's cost of $13,000 was essentially a mere rounding error for a campaign flush with cash.
Four months later, Bush's presidential bid is in financial trouble and lagging in the polls. The situation appears to prove the lesson of the 1980s film "Brewster's Millions": namely, that one of the fastest ways to use up cash -- and have little to show for it -- is to run a big-spending political campaign. While Bush promotes himself as a reformer who will reduce government largesse, his presidential committee has burned through millions of dollars with huge expenses on staff, consultants, office rent and private jet companies, according to an International Business Times review of federal election data.
With fundraising help from George W. Bush and other members of the Bush family, the super PAC supporting Jeb Bush's campaign has raised more than $100 million. But Bush's campaign has moved to slash salaries, cut travel expenses and reduce staff. At the latest Bush family summit, two days before Wednesday's GOP presidential debate in Boulder, Colorado, his team worked to reassure donors he can still win.
Bush's campaign committee has taken in more than $24 million so far this year, and unlike a super PAC, which can raise unlimited sums, the campaign can accept individual donations no larger than $2,700. With the first primary still months away, Bush's campaign has already spent $14.5 million, or 58 percent of its funds -- providing a financial jackpot to staffers and vendors but leaving the campaign with just $10.3 million on hand heading into the fall campaign season.
Jeb Bush Presidential Candidate Profile | InsideGov
The Bush campaign has paid FP1 Strategies, the firm run by campaign manager Danny Diaz, more than $540,000, and paid Diaz himself $51,000. Diaz is one of several senior staffers who worked for Bush's super PAC before joining the campaign. The super PAC paid his firm $56,000.
Sally Bradshaw, Bush's first chief of staff when he was governor, is serving as a senior adviser to his campaign after working for the super PAC. She has been paid $230,000 by the Bush political apparatus since January.
Bush's campaign has employed a cadre of consulting firms, paying $1.1 million to James Foster & Associates, a Republican direct mail firm, $620,000 to Yuma Solutions, an information technology firm that has worked for Bush in the past, and $115,000 to Red Digital, a social media consulting firm. The firm also paid $145,000 to the Wiley Rein law firm.
Bush is downsizing the staff of his Miami-based headquarters. While the Tampa Bay Times described that office space as "dreary," the campaign has paid $410,000 to Hoffman Flagler LLC, the company that owns the building.
To travel the country, the candidate has spent over $1.1 million on private planes since July. Recently he's flown commercial, and the campaign has spent $255,000 on those flights.
© Copyright IBTimes 2022. All rights reserved.
FOLLOW MORE IBT NEWS ON THE BELOW CHANNELS