Hillary Clinton Endorsed By Eric Holder, Despite 'Too Big To Jail' Criticism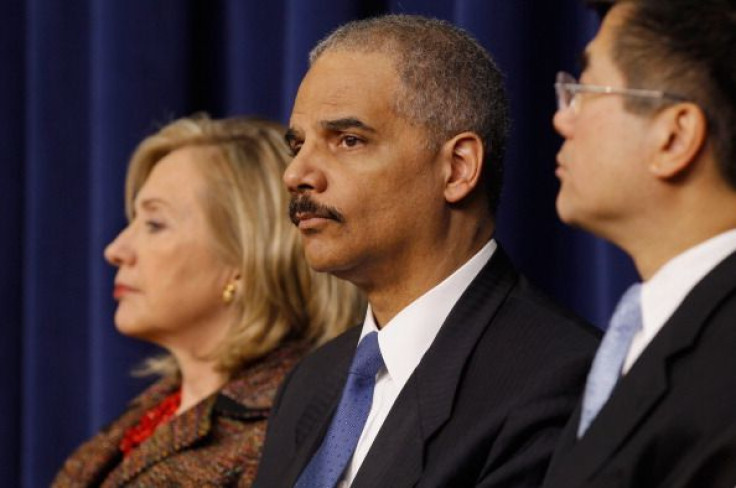 Along the campaign trail, Hillary Clinton has called for the government to prosecute Wall Street executives who break the law, in place of the corporate settlements frequently employed by the Obama administration. "No one should be too big to jail," the Democratic presidential contender wrote in October.
But on Wednesday, Clinton accepted the endorsement of former Attorney General Eric Holder, the man who oversaw a record decrease in white-collar prosecutions, and who inadvertently coined the phrase — "too big to jail" — which is often used to describe the Obama Justice Department's approach to corporate crime.
In 2013, when he faced questions about the Justice Department's failure to prosecute financial executives in the wake of the financial crisis, Holder admitted being "concerned" that some financial institutions might be too large to prosecute without triggering "a negative impact on the national economy, perhaps even the world economy." He quickly walked that statement back and asserted: "Banks are not too big to jail."
Holder previously served as a deputy attorney general in President Bill Clinton's administration. In that capacity, he issued a memorandum instructing federal prosecutors working on cases against corporations to take into account "collateral consequences, including disproportionate harm to shareholders and employees not proven personally culpable."
During the Obama administration, corporate prosecutions hit a 20-year low, as numerous companies accused of crimes were allowed to enter so-called "deferred prosecution agreements." In those settlements, companies generally admit wrongdoing and pay fines, while their executives avoid the threat of jail time. Clinton has said those agreements "should be used in limited circumstances" and not "in egregious cases of corporate crime."
Holder — who has described his Justice Department as "appropriately aggressive" — is now a white-collar defense attorney at a firm that lobbies for major banks, pharmaceutical companies and defense contractors. On Wednesday, he released a statement praising Clinton's "bold plans" to improve the economy and reform gun regulations. The statement did not mention her plans to rein in Wall Street.
The endorsement from Holder, the nation's first African-American attorney general, may help firm up Clinton's standing with black voters in crucial early primary states like South Carolina, where he's expected to campaign with her this week. But it may also cast doubt on Clinton's promise that, if she's elected, when "people commit crimes on Wall Street, they will be prosecuted and imprisoned."
During her 2016 campaign, Clinton has repeatedly faced questions about her ties to Wall Street and big corporations, as she's sought to win over the Democratic Party's liberal base. As International Business Times reported in July, Clinton and her husband, former President Bill Clinton, accepted nearly $4 million in speaking fees from firms that entered into the type of settlement agreements she has pledged to limit. Their family's charitable foundation has taken in at least $5 million worth of donations from such firms.
© Copyright IBTimes 2023. All rights reserved.
FOLLOW MORE IBT NEWS ON THE BELOW CHANNELS