Hillary Clinton State Department Approved Weapons Sales For Company That Made Sandy Hook Assault Rifle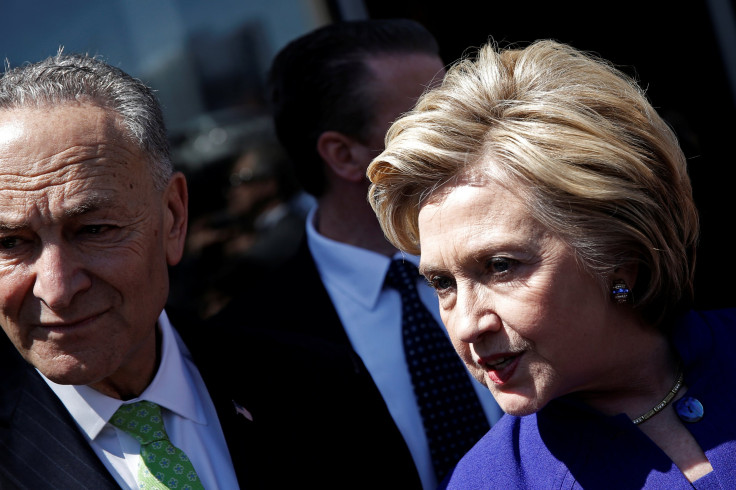 Hillary Clinton presents herself as a tough advocate for gun control. But the State Department she led for four years helped approve more than $100 million in weapons sales for a handful of companies — including the manufacturer of the AR-15 semi-automatic that Adam Lanza used to kill 20 children in Sandy Hook Elementary School in 2012.
The sales to foreign nations, noted in Defense Department documents, include $4.2 million in receipts from the Remington Arms Co., which was sued by families of the Sandy Hook victims. They argued that the company was culpable because it marketed military-grade weapons to civilians.
During the 2016 campaign, Clinton has accepted contributions from financial firms that own sizable stakes in the gun industry while criticizing rival Sen. Bernie Sanders as soft on gun safety. She has cited his opposition to laws that could hold gun manufacturers liable for mass shootings, explicitly invoking the Sandy Hook massacre in Newtown, Connecticut, to make her case.
"This is the only industry in America, the only one, that has this kind of special protection," Clinton said during last week's Democratic debate in Brooklyn. "He voted for the most important NRA priority, namely, giving immunity from liability to gun makers and dealers — something that is at the root of a lot of problems we are facing."
In debates or her stump speech, Clinton has not mentioned the arms deal that benefited Remington. (She also has not mentioned that while she led the State Department, various countries whose governments made donations to the Clinton Foundation received a boost in arms export approvals.) Under the Arms Export Control Act, the State Department plays a pivotal role in approving arms deals, with the Secretary of State specifically being "responsible for the continuous supervision and general direction of sales."
Clinton isn't the only Democrat who supported such deals. In 2011, Sen. Charles Schumer of New York — also a vocal gun-control advocate — praised the decision to award the company a U.S. military contract.
"Remington is a proud New York company with a world-class workforce that makes some of the finest firearms produced anywhere in the country," he said.
Two years later, Remington announced it had received a contract to provide arms to special operations forces.
This story was updated to include more details on how federal law explicitly empowers the Secretary of State to oversee arms sales.
© Copyright IBTimes 2022. All rights reserved.
FOLLOW MORE IBT NEWS ON THE BELOW CHANNELS