Barack Obama And Hillary Clinton Donors Profit From Gun Industry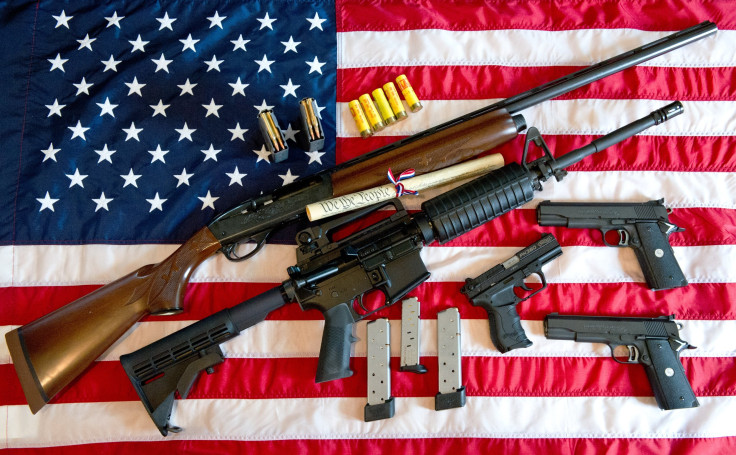 President Barack Obama is expected to make gun control a major thrust of his final State of the Union speech Tuesday evening. There will even be a seat left open near the first lady, symbolizing those Americans lost to gun violence. Meanwhile, Hillary Clinton has been depicting her 2016 opponent Sen. Bernie Sanders as too close to the gun industry, and picking up endorsements from gun-safety groups in the process.
But the leading Democrats' image as staunch opponents of the gun industry isn't the whole story. Some of Obama's and Clinton's biggest political benefactors are firms with a financial stake in the sale of guns and ammunition. And neither Obama nor Clinton has joined the growing push —backed by New York City Mayor Bill de Blasio — to pressure institutional investors to divest from firearms firms.
According to Nasdaq records, campaign finance reports and Securities and Exchange Commission filings reviewed by International Business Times, executives at the financial firms and hedge funds that hold some of the largest ownership stakes in firearms and ammo manufacturers have donated more than $15 million to the Democratic National Committee as well as to Obama and Clinton's respective reelection campaigns and super PAC. Those firms have also spent $4.1 million on donations to the Clinton Foundation and speaking fees to the Clinton family.
Some of the firms' executives have been among the biggest donors to the Democrats' and their political machine:
The founder of the hedge fund D.E. Shaw & Co., which is one of the largest shareholders of gunmaker Smith & Wesson, gave $1 million to an advocacy group created by Obama that has mobilized members of the public to persuade Congress to advance new gun control reforms. D.E. Shaw's website says its founder, David Shaw, is "involved in certain higher-level strategic decisions" at the firm but "is no longer actively involved in its day-to-day operations."
In 2012, executives at Renaissance Technologies — which owns stakes in Sturm & Ruger, Olin Corporation and Smith & Wesson Corp. — gave $6 million to Priorities USA, the super PAC then supporting Obama's reelection campaign and now supporting Clinton's 2016 campaign.
Executives at Goldman Sachs have collectively been among Clinton and Obama's top Senate contributors, as has Morgan Stanley in Clinton's case. Those two firms were both among the top 10 institutional shareholders of gunmaker Smith & Wesson in September. Goldman is also listed as the single largest shareholder for ammunition company Vista Outdoors, and Morgan Stanley is also listed as a top shareholder of Sturm & Ruger and the Olin Corporation.
BlackRock -- which is listed as a top institutional holder for Smith & Wesson, Vista Outdoors, Sturm & Ruger and Olin — has been publicly supportive of Obama, as executives at his firm showered his campaign with cash. The firm in 2013 also hired top Clinton confidant Cheryl Mills to its board of directors.
While Clinton has received campaign donations and political support from the financial firms betting big on guns, her family has also been paid a combined $1.5 million in speaking fees by Goldman Sachs, Morgan Stanley and the Vanguard Group.
Some of the firms investing in the guns and ammo industry may be accumulating the stocks on behalf of their clients — BlackRock, for example, told the New York Times in June that the firm owns passive stakes mirroring stock index funds. Others, like hedge funds, may be buying the ownership stakes directly for their own firms. In both cases, however, the firms are funneling crucial investment capital — and making money from — the firearms industry and also delivering campaign cash to key Democrats calling for stricter gun control measures.
While Obama has made gun control a signature issue of his second term, he recently signed legislation allowing the Pentagon to sell surplus handguns to the public, despite warnings from federal officials that the weapons in question are "virtually untraceable" and "popular crime guns." Clinton has been emphasizing gun control in her 2016 campaign only eight years after the New York Times noted that she "described herself as a pro-gun churchgoer" when pitching her candidacy to voters in 2008.
© Copyright IBTimes 2023. All rights reserved.
FOLLOW MORE IBT NEWS ON THE BELOW CHANNELS