New Report Shows Clinton Raising Money From Lobbyists That Have Represented Walmart, Fossil Fuel Firms And Wall Street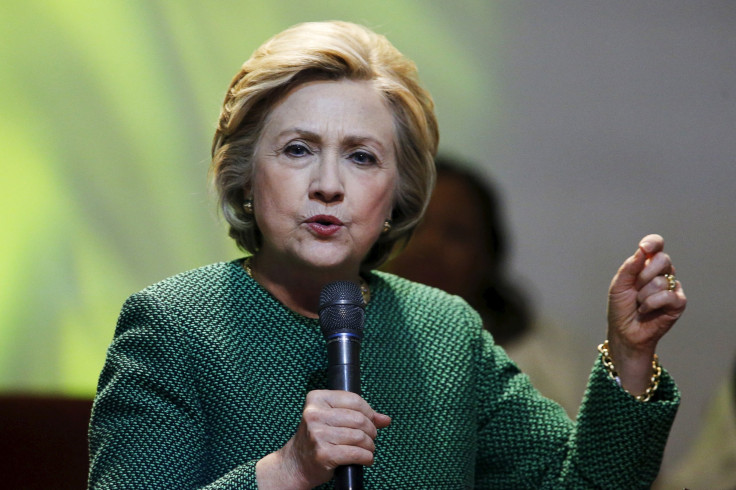 Amid an intensifying presidential campaign debate over the influence of lobbyist money over public officials, Hillary Clinton filed a campaign finance report Friday detailing more than $1.5 million her campaign raised with the help of lobbyists in the first three months of 2016. That is on top of the more than $4 million that lobbyists bundled for her campaign in 2015, bringing her total lobbyist cash haul to more than $5.6 million during her presidential run.
Among the top Clinton bundlers during the quarter were lobbyists from the firm Capitol Counsel. That firm that has represented financial services companies, pharmaceutical giants, Wal-Mart, fossil fuel firm Bass Enterprises Production and a major oil industry trade association, according to federal lobbying records. Capitol Counsel's David Jones raised roughly $276,000 for Clinton in 2016. Another lobbyist at the firm, Richard Sullivan, raised more than $100,000 for Clinton in the same time period. Previous filings show that in all since 2015, Jones has bundled Clinton more than $663,000 and Sullivan has raised her more than $423,000, for a combined total of more than $1 million from the two lobbyists at Capitol Counsel.
Other lobbyists listed as top Clinton bundlers on the reports filed Friday include:
— Frederick Humphries ($48,345), one of Microsoft's top lobbyists.
— David Leiter ($54,825), who federal records show has lobbied for ExxonMobil, Dow Corning and Cablevision.
— Steve Elmendorf ($ 23,275), who federal records show has lobbied for Citigroup, Goldman Sachs and a Wall Street trade association that says it is comprised of the "CEOs of 16 of the largest and most diversified financial services institutions with business operations in the United States."
— Tony Podesta ($35,560), a lobbyist who is the brother of Clinton's campaign chairman and who federal records show has represented the healthcare industry, major financial conglomerates, Walmart and oil giant BP. Podesta's eponymous firm, The Podesta Group, also recently registered to lobby on behalf of the government of Saudi Arabia, according to filings with the Department of Justice.
— Irene Bueno ($27,560), who federal records show has lobbied for Theranos, an embattled blood-testing company that has faced criticism from federal health regulators.
Protesters demonstrated outside a six-figure Clinton fundraiser in San Francisco this week, and her Democratic primary opponent, Vermont Sen. Bernie Sanders, has begun airing ads spotlighting her fundraising practices. Though there have been multiple examples of campaign cash going to Clinton from industries that benefited from her public policy stands — and though she has previously criticized Barack Obama for accepting such money from donors who benefited from his positions — she has maintained she has never been influenced by campaign money.
In a recent interview with the Philadelphia Inquirer, Clinton said she offers donors only the potential of help — but not a promise of action — when they make public policy requests.
"I always say I will look into something, but I always tell people there is no guarantee that if I look into something that you are going to like my answer," she told the newspaper.
© Copyright IBTimes 2022. All rights reserved.
FOLLOW MORE IBT NEWS ON THE BELOW CHANNELS