Tuesday Primary Election 2016: Marco Rubio Spent Big In Florida But Came Up Short; Sanders Outspent Clinton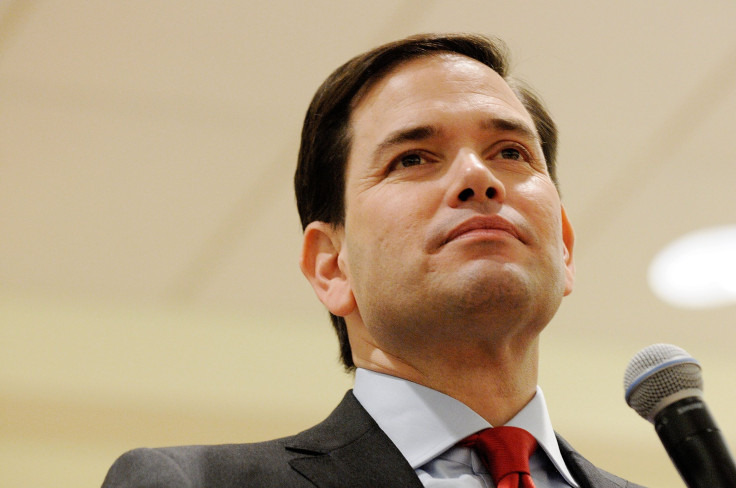 The presidential campaigns and their associated super PACs spent almost $54 million on television ads in the weeks before Tuesday's primary elections in Florida, Ohio, North Carolina, Illinois and Missouri — and the single biggest spender had the least to show for it.
Sen. Marco Rubio announced Tuesday night he would suspend his campaign, after he failed to win his home state of Florida. According to ad-spending data compiled by Morning Consult, a super PAC supporting Rubio's presidential bid spent $8.4 million in the Sunshine State — a major sum even in a state that's expensive to campaign in.
That spending was actually eclipsed by the $8.7 million spent by a constellation of outside groups opposing Donald Trump, who was Tuesday night's big winner. Rubio and his allies spent an additional $3.1 million in Illinois and Missouri.
While Trump has consistently spent less than his primary opponents on television advertising — relying instead on non-stop media coverage — he was the second-biggest spender among the GOP candidates in Tuesday's primary states. Trump spent $4.5 million, including $2.4 million in Florida, which he won, and $1.4 million in Ohio, where he finished second to the state's governor, John Kasich.
Kasich and his allies spent $2.1 million on advertising in Tuesday's primary states, the smallest amount in the GOP field. Most of that spending — $1.9 million — was directed to Ohio, considered a must-win for him.
Cruz, who came close to winning Missouri over Trump, spent $2.9 million in Tuesday's primary states. Although Tuesday was not his best night, he remains solidly in second place in the Republican primary race.
On the Democratic side, both Hillary Clinton and Bernie Sanders invested heavily in Tuesday's primary states — and as with the Republicans, the bigger spender was the bigger loser. Sanders' campaign dropped $9.3 million, compared to the $7 million spent by Clinton.
Sanders appears to have lost Missouri and Illinois by slim margins, after spending more than Clinton in those states. He significantly outspent Clinton in Ohio and North Carolina, and lost both. Clinton won delegate-rich Florida, where she outspent Sanders $859,000 to $679,000 on television. Sanders will likely continue to compete with Clinton for the Democratic nomination, but after being swept on Tuesday, he faces an increasingly difficult path to victory.
© Copyright IBTimes 2023. All rights reserved.