Prigozhin Effect? Russian Military Reportedly Sheds Another Leader Amid 'Growing Insubordination'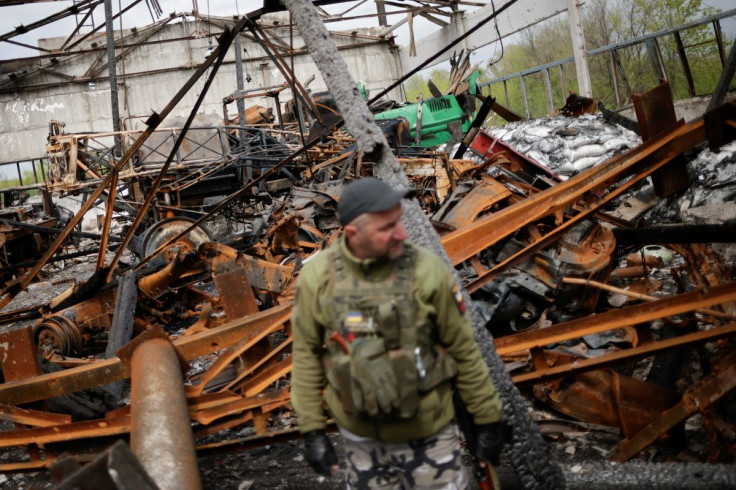 KEY POINTS
Maj. Gen. Vladimir Seliverstov reportedly had a reputation for speaking up on behalf of his troops
Army Maj. Gen. Ivan Popov allegedly bypassed top brass and directly complained to Putin
Prigozhin has publicly criticized Shoigu and threatened to topple Russian military leadership
The Russian military command has reportedly dismissed a commander of the airborne unit, and the dismissal could indicate insubordination within Vladimir Putin's army as the effects of Yevgeny Prigozhin's failed rebellion and earlier reported power struggles start to bite, experts said.
Commander of the 106th Guard Airborne (VDV) division commander Maj. Gen. Vladimir Seliverstov was said to be dismissed from his post Saturday, and this could suggest that there is "an ongoing purge of insubordinate commanders" by Russia's military command, five war experts with think tank the Institute for the Study of War (ISW) wrote in a Saturday assessment report on Russia's offensive campaign.
Russian sources said the reason for Seliverstov's dismissal, if true, is unknown, but there is speculation it could be tied to the airborne commander's "reputation for speaking up on behalf of his soldiers," the experts noted. While the ISW clarified that it has not received confirmation about Seliverstov's dismissal, Russian media reports about his sacking have a similar pattern to previous command change claims that were proven to be true.
Aside from the recent dismissal suggesting there is "growing insubordination" among Russian military commanders, ISW experts said it could also indicate that "the corrosion of the Russian chain of command in Ukraine is accelerating."
If reports of Seliverstov's dismissal are true, this shakeup within Russia's military comes just four days after Russian media reported that Commander of the 58th Combined Arms Army Maj. Gen. Ivan Popov was removed from his position after allegedly attempting to bypass Russia's general staff boss and overall commander, Army Gen. Valery Gerasimov, by informing Putin about his complaints regarding the situation in the western Zaporizhia region in southeast Ukraine, as per ISW.
The Washington, D.C.-based think tank further noted that there is an "indicative pattern of behavior" in the Russian command in Ukraine wherein commanders have challenged their seniors.
"Seliverstov's dismissal suggests that there is a deep concern within the Russian military leadership about the chain of command in Ukraine. Popov's (allegedly dismissed over his complaints against military leadership), Russian VDV Commander Colonel General Mikhail Teplinsky's and Wagner Group financer Yevgeny Prigozhin's challenges to Gerasimov's and [Russian Defense Minister Sergei] Shoigu's authority have established a precedent for insubordination that can hollow out support for the Russian military command," ISW experts wrote.
There were also reports that Seliverstov's VDV team "closely operated" with Prigozhin's Wagner mercenaries in January 2023 during the Bakhmut offensive, the think tank said. Gerasimov and his affiliates could have seen Seliverstov as "an officer in a hostile camp" due to his supposed ties with the Wagner chief and Teplinsky, who was reportedly dismissed from the Ukraine operational command in January amid power struggles in the top ranks of Russia's military.
Before the Wagner Group's failed insurrection last month, Prigozhin openly feuded with Shoigu and even threatened to overthrow the Russian military leadership for what the Wagner boss said was a systemic mismanagement of the war in Ukraine. "The evil that the military leadership of the country brings must be stopped," Prigozhin said ahead of his "march of justice" to Moscow on June 24.
Earlier this month, a captured Russian fighter revealed that Russian commanders in the Ukraine war command have allegedly been getting high on drugs and giving out "nonsensical orders" even as Russian troops' morale is low. The International Business Times could not independently verify the captured soldier's account.
The British Ministry of Defense (MoD) said Shoigu and Gerasimov are likely to face increasing problems from "direct criticism" by their own subordinates. Popov was "apparently dismissed" for expressing his concerns about the leadership instead of performance-related issues.
© Copyright IBTimes 2023. All rights reserved.